What will happen if to combine a back of a Mercedes and a frame of GAS in one car?
SUV "Monstrosa": Body S-Class, the frame of GAZ-66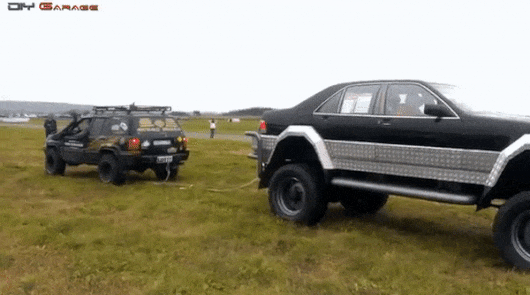 Class cars "monster truck", also known by the nickname "Bigfoot" was invented in the United States. Americans in their brisk business habit very quickly realized that the people loved weird awkward car not only with the aesthetic and technical sides. People wanted to see the incredible Hulk in motion, overcoming impassable swamp, and later in flight. Thus was born a whole industry of extreme entertainment.
Cars in the course of ridicule of evolution has been transformed from a makeshift garage conversions (initially it was the usual pickups with big wheels, the first of which in 1975 made Bob Chandler) in professional race cars worth hundreds of thousands of dollars. Newborn industry ran at full capacity.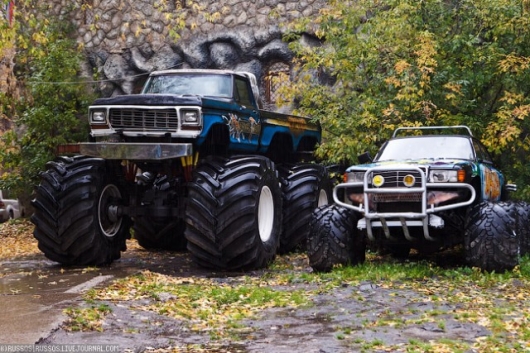 Nowadays, the layman is difficult to imagine that something similar can be done in your garage, instead of selling the apartment and not taking a Bank loan if you plan to build a candle factory. But really for the most part everything does not depend on the amount of money, and on the ability and availability of parts. It turns out that Monster trucks are built in Russia. Often, this is done using the most accessible parts of the body and the elements of the car.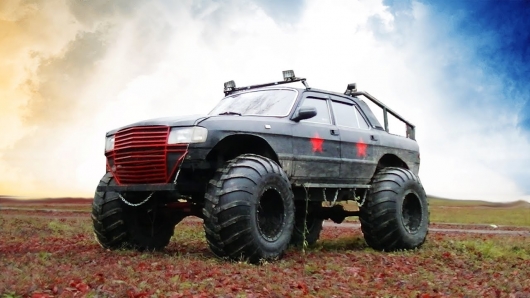 In the vastness of the Internet you can find photos of "Bigfoot" on the basis of "Gazel", "Volga", "Neve" and even "Lada". Under this business suit and old cars. But the steep on the right are crooks created on the basis of German luxury sedans – the BMW or Mercedes-Benz.
Watch the following video and you will see this:
As you can see, the Creator made from the German flagship sedan Mercedes-Benz S500 W140 models huge SUV. On top of the body of "wild Boar" down – frame from the "Shishiga", GAZ-66. Everything is a work of genius by the name of Ilya Nikolaevich Belyakov, who spent three years of personally collecting your SUV.
Under the hood of unreal vehicles 320 horsepower, of course the 5.0-liter V8 engine from Mercedes-Benz, mated with an automatic transmission Daimler, which, apparently, sending power through the transmission GAZ-66. And finally, the giant 38, and rollers Mickey Thompson. The rotors are from a DAF truck, and caliper – size kastomiziruet elements from the VW Touareg.
In the video reflects only a small part of the work performed. How much effort spent on it… you can see on Drive2. But most importantly, not wasted! "Monstrosa" is going. More like rushing!
Interesting addition: a 15-minute video with explanations: