What major mistakes to avoid when using a dynamic webbing: video
Explain why fatal to cling to a dynamic rope for a tow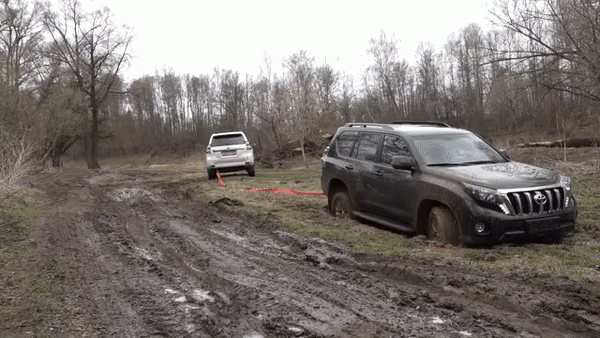 You know what a dynamic sling? No? So you're not fond of off-road. Briefly describe the principle of operation of this device, it appears that it is a bit non-standard automotive cable, which is able to provide a "powerful and smooth snatch to retrieve a car stuck in a viscous ground, the snow" and other substances:
Video taken from the YouTube-channel EXTREME 4X4 OFFRoad
Due to its excellent practical properties, dynamic slings have become one of the most useful tools in the Arsenal of a man, leaving not vnedorozhe. It is much easier and cheaper than a winch, but can be just as effective when removing any Behemoth out of the swamp. Unfortunately, people often use them incorrectly and dangerous to life, clinging the device over the towball, not as it should be, screw in the towing eye. Now we clearly show you why to catch the cable for the tow bar – is a really deadly idea.
It is important to understand that despite the fact that we are talking about dynamic rope, in fact, any rope can cling only for the intended power elements of the vehicle, and in any case not for the tow bar. At least you have a chance to break the latter, as a maximum seriously hurt others.
Video, of course long, but very well illustrates the different scenarios of development of events with a broken tow connection mounted on the cable. In any case, when the rope flew to the mannequins, without injuries is not exactly cost!
Why tow the hinges break?
Yes, these devices with the "hook" and the sphere on the end can carry large weights, however, these items are absolutely not designed for heavy, sharp or dynamic loads. As you can see, the sudden force may break the tow hinge and make it a missile.
This same kinetic energy, as seen and creates a sling. In theory it should break the car, but sometimes breaks them apart. "The whole process can be a bit nervous, as you are dealing with a huge number of forces, mass and stress. When you insert the tow ball into the equation, you have a very dangerous weak point," explains Australian off-roader Ronnie Dahl in the video.
If you are interested in how to use a strap to "snatch", watch the following instructional video:
Video taken from YouTube channel ATDrive – Test drives!