What car brands can be found less defective
5 car brands with the highest number of factory defects and 6 with the lowest frequency of marriage.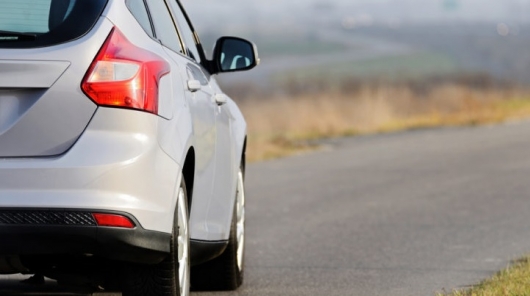 For each of us buying a car is not just a headache. This is a special metaphysics, a quest that can't pass each. Of course, we all want to buy high-quality and reliable car. Unfortunately, not all cars are created equal. Each machine for long-term use has pros and cons.
But in addition to lifetime of the car is an issue about the frequency of factory defects which, unfortunately, happens even with the most distinguished car brands. Want to know who in the history of automobile industry often withdrew their products in connection with identified mass marriage? Here is exclusive data from the company iSeeCars, which conducted the research, finding out which manufacturers often produce defective cars. Check what place in the ranking is the manufacturer of your car.
A new study iSeeCars.com includes more than 31 years of factory history analysis of reviews of automotive companies in connection with the identified problems at sold cars. It turned out that the Porsche has the lowest number of factory marriage. Volkswagen is Recalling their cars more often.
At iSeeCars analyzed data from January 1985 to September 2016, using the information of the National administration of safety of traffic (NHTSA). Based on the data provided, it was calculated three indicators: Level "opinion" shows, how often the car manufacturer made cars with defects relative to the number sold brand of cars; the "Timeliness of feedback" shows how quickly the automaker identify problems with their cars and initiates a factory recall within three years; "the Activity of opinion" reflects the degree to which the vehicles were recalled by the automaker as a result of its own investigations or investigations by NHTSA.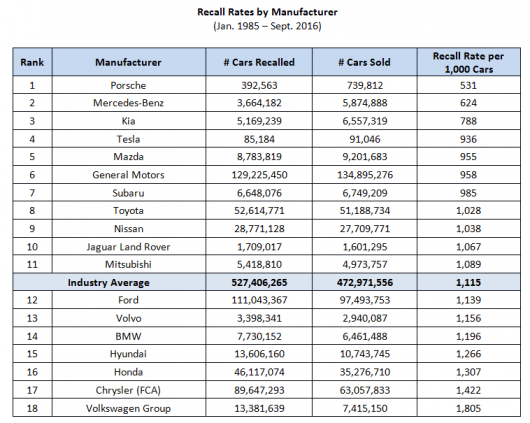 Of course, consumers don't like it when their vehicles are subject to factory review. After all, they spend their time to fix them (though, of course, is free). It is logical that each of us wants to buy a car that is less likely to be revoked for the elimination of marriage.
As we said, Porsche has the lowest rate of factory reviews – a total of 531 car for every 1000 cars sold, while Volkswagen is last in the list with more than 1,800 recalled vehicles per 1000 sold.
But we know that the feedback ratings are different. For example, in the period from 2014 to 2018 the first place by the number of the revoked vehicles took General Motors company (213 reviews). However, it is important to remember that General Motors produces a huge number of cars in contrast to many other manufacturers.
Another clause. Some brands though have declared less factory reviews than other leading manufacturers, it is still tarnished his reputation. The fact that their infrequent reviews of cars allocated from the point of view of the seriousness and scale. For example, the last two years Mercedes-Benz has recalled millions of models worldwide due to fire risk from faulty indicators of airbags and various part defects with the rear brakes. Now the U.S. regulator tests the Mercedes-Benz a fairly fast German brand informed customers about problems with vehicles.
Here is a list of manufacturers who announced the highest number of factory reviews over the past five years, according to iSeeCars.com:
General Motors
Reviews: 213
Affected vehicles: 54 942 962
Ford
Reviews: 209
Affected vehicles: 24 892 471
Chrysler
Reviews: 208
Affected vehicles: 40 726 068
Mercedes-Benz
Reviews: 117
Affected vehicles: 3 150 014
Volkswagen
Reviews: 109
Affected vehicles: 6 510 514
And it's the producers that have declared the fewest number of reviews in the period from 2014 to 2018:
Tesla
Reviews: 8
Affected vehicles: 210 727
Volvo
Reviews: 14
Affected vehicles: 190 444
Suzuki Motor of America
Reviews: 24
Affected vehicles: 482 866
Porsche Cars North America
Reviews: 27
Affected vehicles: 257 732
Subaru
Reviews: 35
Affected vehicles: 3 465 501
Land Rover
Reviews: 35
Affected vehicles: 477 080