Watch the incredible jumps of KAMAZ on a snowy road
Testing of KAMAZ in the Russian North – the best test for future races, the Dakar.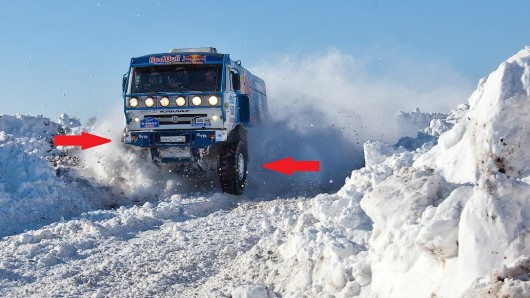 Team KAMAZ went to Murmansk in order to test a 10-ton truck on endurance. After a hard race Dakar 2017, KAMAZ has begun to prepare for the next competitions. And of course, to better prepare the car for the grueling endurance race, you need a real extreme conditions.

In the end, it was decided to test the truck in severe winter conditions in the North of Russia, where the conditions are similar to the heat of the desert.

During the tests the machine was carried out shooting from different angles. We offer you to watch a video in which you will see as Eduard Nikolaev, not just to prove their bravery and skill in racing the Dakar tests the machine for an incredible long jump at a distance of 37 metres.

Recall he and his team repeatedly became the winner of not only racing the Dakar, but also other heavy global competition (Eduard Nikolaev, the winner of the Dakar rally 2013 and 2017).

During the tests carried out tests of rubber and the suspension, which was subjected to incredible loads because of the jumping heavy machines.

Thus, during the tests the KAMAZ truck again flew in the air almost 40 meters.

Thanks to the special high-quality cameras were able to film how does the suspension of the truck, which has a stroke of 30 cm by the Way, thanks to the go suspension, the driver can make better use of their skills on a heavy track during the competition.

Why KAMAZ-4326 decided to send to Murmansk? Indeed, instead of the heat and sand of the Russian North can only offer the huge amount of snow and cold.
The fact is that the conditions in Murmansk are similar to those that can be found in South America or Africa. Thanks to this, the team gets a great experience for learning and consolidate their skills in order to confront a dangerous and treacherous dunes in the desert during heavy racing.
Reference: KAMAZ-4326, which is tested in Murmansk has won this year's Dakar rally. The car weighs 10.5 tons and capable of speeds of 140 km/HR, despite his height.
The car is equipped with the 16.2-liter V8 turbo engine capacity of 1000 HP, which is paired with a 16-speed manual transmission. This allows the heavy truck to accelerate from 0 to 100 km/h in just 11.5 seconds.
During the test, in Murmansk KAMAZ was equipped with tires Continental 14.00 R20 164 / 160K