Vraskachku: the new Mercedes GLE got the "smart" suspension of all
That is what the new Mercedes GLE suspension: live, dances to the music
The new Mercedes GLE seems to be only recently released, but already seeks to conquer his usual segment, offering a combination of luxury, comfort and advanced technology, among which first spotted the impressive electronically-active suspension is able to control the body.
Mercedes claim that this is the first suspension system on the market that can individually control the spring and damping forces at each wheel individually, which means that it may not only counteract the body roll, but also pitch (longitudinal slope), and subsidence at the same time.
New technology Mercedes-Benz "E-Active Body Control" is the owner of a 48-volt electrical system, combined with the latest version air suspension "Airmatic" with elements of hydraulics. It will be offered as an option on models with six-cylinder engines and more powerful top-end models. By the way, on the functioning of the air suspension in the Mercedes claim that it requires to spend half less energy than the previous generation, which was used in the S-Class.
Hydropneumatic system will help to generate efforts which, passing through the air suspension will allow a new generation of crossover GLE to develop not only any terrain, including speeds, but even out of the sand or really deep mud. This so-called "free driving".
Indeed, the most impressive feature of the new E-Active Body Control is "free driving" is a brand new feature for off-road driving, which will help GLE to leave, if the vehicle is stuck in sand or other surfaces:
When you activate the "free driving" the electronic crossover using the sensors to determine the environment, studying the surface type and elevation, and then, if possible, starts automatically to raise and lower the suspension by changing the pressure of the tires on the ground and, consequently, improving traction. In other words, GLE self begins to go vraskachku, as you can see in the following video:
The driver can also adjust the height on each wheel individually, directly during movement on the road, driving the scheme through the display of the touch screen. This can be useful, for example, in cases where one wheel is hung out in the pit, or, conversely, the spring on it is maximally compressed.
For riding in normal road conditions E-Active Body Control has a so-called function "Curve inclination function," or tilt in the rotation, working on the tilt of the motorcycle with the passage of the turn. In fact, this is the new iteration of the smart suspension Mercedes-Benz "Magic Body Control", GLE bends in a curve in the opposite rotation direction, eliminating a large part of the centrifugal force.
And even if the car is equipped with a multifunction stereo camera scans the road surface, the suspension can react to any bumps in the road directly ahead.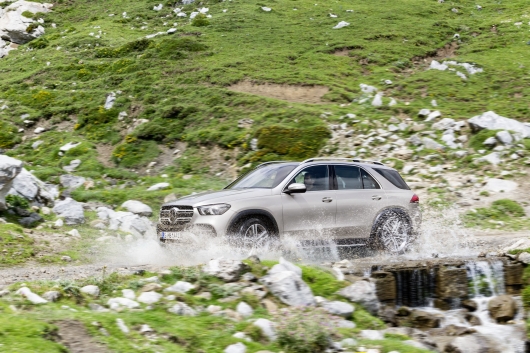 If it's not technical brute force, then we don't know what it is. It is a pity that a very small percentage of the GLE owners ever go off-road to test the function in…