Volkswagen is preparing a new cool SUV in contrast to the legendary Land Rover defender
2022 T-Rug – new indestructible SUV from Volkswagen (according to rumors, it will be a direct rival to the Land Rover Defender)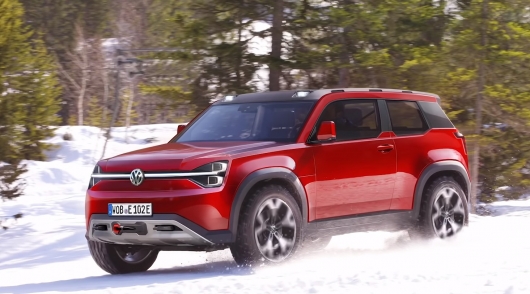 The German SUV from VW will abandon the internal combustion engine to jump onto the electric platform.
The information that Volkswagen is preparing a new range, the backbone of which will be electric vehicles based on new platform MEB, debuting next year with a compact hatchback ID has become a fact. A new report available at this time published by the magazine Auto Bild, indicates that electric modular architecture will also be used on the new indestructible and competent off-road SUV, which will be released in 2022. Presumably, the model will be called "T-Rug". At the moment we know that the new model will be offered in three -and five-door body style. The purpose – development of a competitor in opposition to reviving the Land Rover Defender, second generation or so of the Maitre vnedorozhe as a Jeep Wrangler.
Details on the German novelty at the moment vague, but apparently, the three-door model will have a length of about 4.5 meters, while the five-door variant will get an extended wheelbase with a total length of the order of 4.85 meters.
Which will apply to electric motors, which power and how much, remains a mystery shrouded in darkness. Despite links from AutoBild on insider information, German avoidany did not disclose any significant details, in addition to the hypothetical model – the "T-Rug".
However, despite that Auto Bild mentions that the SUV with zero emissions has not yet been approved for production, experts have thought: for engineers some of the most important parts of the car. For example, it is assumed that T-Rug will get a 2-motor arrangement with separate motor on each axle. Its maximum power should be around 400 HP, the power reserve will also be equal to 400 km.
If unusual SUV will give the green light, he reportedly will get a minimalist-practical interior with durable plastic which you can clean with a pressure washer.
Although these have not yet been confirmed details sound really interesting, we believe in a great future when we will see him with my own eyes in real pre-production version. The truth is that the Volkswagen Group is now on the hook even bigger fish, as it gets ready to launch its Armada of electric cars for urban purposes, and because the T-Rug will not generate a large amount, and priority, at least until 2022, the model will not be exact.
Rendering a photo on the photo above and the video below from the German Auto Bild autoitalia.