Video: Mercedes shows what can unique all-terrain vehicle the E-Class 4×42
Unique Mercedes-Benz E-Class 4×42 off road: to become a better G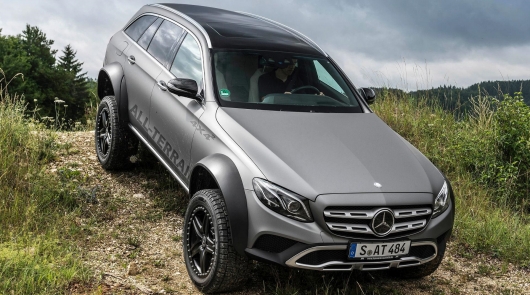 Leave your crossovers in your garage, we would prefer this wagon to drive off the road
Mercedes, of course, got his moment of glory came out two years ago as a direct rival to rival the Big three German car – Audi A6 Allroad. Model All-Terrain was launched to customers in Europe in the second half of 2016 as a strong, powerful, a raised station wagon E-Class with standard brand-wheel drive system 4Matic and the extra plastic body kit. He looked more interesting than ordinary roads. But Mercedes caught us by surprise with his subsequent project, created almost single-handedly and privately by a former engineer of the company.
It was another wagon, only he was much more extreme views and was much better prepared for off-road forays. Though the model was made based on the E-Class, but it is no less capable than the G-Wagen. Portal axles, off-road tires, four-wheel drive and unusual appearance. All this helped to make the E-Class not such as all and even select it on the background model All-Terrain. Read more about specifications you can read from our last year's material: the Mercedes-Benz E-Class All-Terrain 4×4, the concept which will impress off-road enthusiasts
Fast forward to today. Crazy ATV E-Class 4×42 again making headlines. The owner of a three-beam star has decided to demonstrate its capabilities, but don't just show up in another photo shoot, and ride there, which only drove the G-wagon and where never trod the wheel business-class from Mercedes-Benz. Steep hill, steep descents, a moderate and not very off-road. All this wagon Mercedes solved without problems and even effortlessly. German for the first time sat down behind the wheel of this extraordinary essentially a passenger car was very surprised. Just look at his reaction, it's priceless.
This car has only one problem – he's not for sale. Currently, the E-Class All-Terrain 4×42 is strictly a single instance and favorite project engineer jürgen Eberle. By the way, a gantry axis, inherited from the G500 4×42. Therefore you understand where are opportunities and how much it all might cost, go model in the series.
Under the hood the standard engine. So you'll find at models the E400 3.0-liter twin-turbo V6 with 329 HP and 480 Newton-meters of torque. Despite the fact that All-Terrain 4×42 was built for off road, we can see that inside it is still business class.
Build or not Mercedes this beautiful Swan in the flesh? Based on the history of recent years, the company who made these crazy vehicles like the G63 6×6, the above-mentioned Landaulet G650 and G500 4×42, could make universal E400 based on the jeep 4×42. If only they built it…