Uber brought the Spanish taxi drivers to nationwide strike
Many kilometers of traffic jams of taxis in Spanish cities: the largest strike in Spain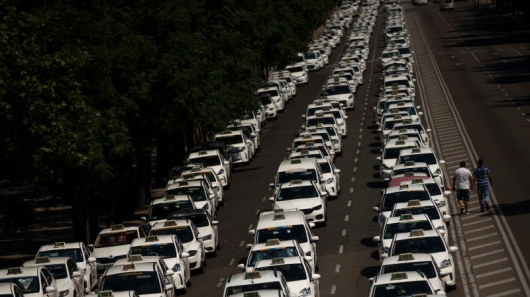 Two weeks ago in Italy the workers of the autoenterprise "Fiat Chrysler" was ready to take decisive action, after a very expensive purchase the perfect management company, and one owns a football club Juventus family. $ 130 million was spent on the best scorer of our time and this angered workers. They wanted to go out, so everyone noticed their problem… but apparently late. Much more serious was the sudden strike, but rather a revolt of the taxi drivers in neighbouring Spain. All the public attention has pirateology on Western neighbor Italy.
The strike is such that some cities were simply paralyzed, the movement they stopped because standing in the way of taxis. A huge cluster of monochrome machines checkered. The spectacle is majestic and stunning… if of course you do not need to go to the airport.
Taxi drivers Spain entered the third phase of the strike, designed to influence the government, which in the opinion of the workers should impose restrictions on licences online services passenger transportation Uber and Cabify. Protest indefinite and apparently will be fought to the bitter end. That is, while taxi drivers will not get their way.
The us blocked the main artery of the country, bus and train stations, and airports. Cars with checkered on the roof just standing in the middle of the streets and roads, no one's going anywhere.
Seriously, take a look at some photos.
Here In Barcelona: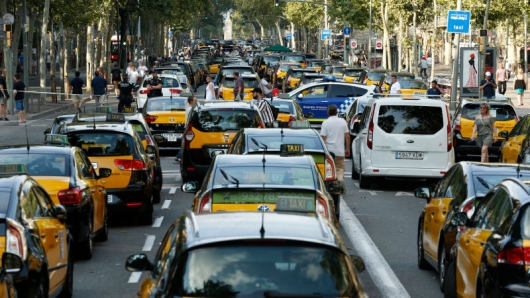 Grand via in Barcelona: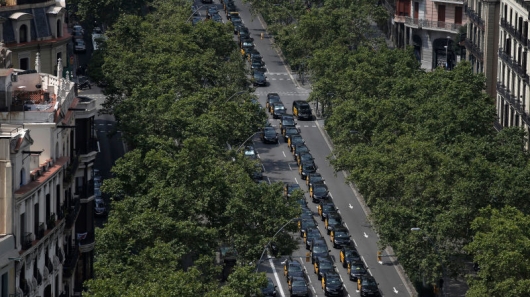 On the street of Grand VIA, the drivers were spotted on Sunday: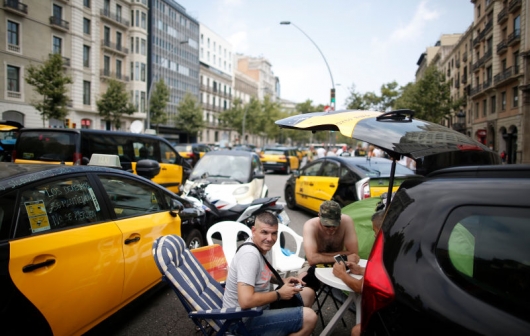 The airport also stood up last Thursday: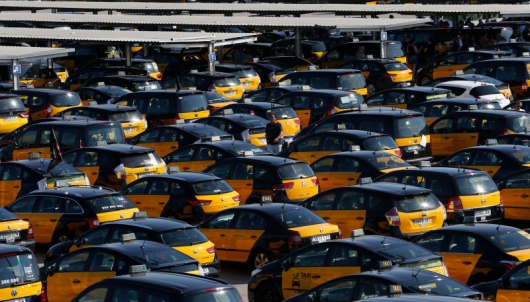 Within six days the strike spread throughout the country, Valencia and other cities:
So what caused such opposition of the trade Union of taxi? Workers of taxis around the world saying the same thing that companies like Uber are killing their earnings. Each time making a living becomes more difficult.
"Uber and Cabify threaten the viability of the taxi sector and 130 000 jobs, the Union believes such unfair competition is unacceptable," – said in a statement the Spanish trade Union of taxi drivers, reports Reuters.
Barcelona officials have decided to curb the activities of Uber and other services such as Cabify, but this provision was suspended by the Spanish judicial system, "which believes that it encroaches on national authority on transportation issues," reports El País. Knowing where this is going, last Wednesday, the drivers began their strike.
Representatives of the drivers Union met with officials at a four-hour meeting on Monday, reports El País. But the proposed solution did not suit the representatives of the Union.
It is expected that negotiations between the parties continue, they will join representatives of associations representing Uber and Cabify. In the country the height of tourist season, and there are problems. They need to be addressed! Later it becomes known, will the taxi drivers to continue the strike or not.