Toyota unveiled the most extreme crossover in the lineup (the RAV4 TRD)
TRD Toyota RAV4 crossover, which can be called a SUV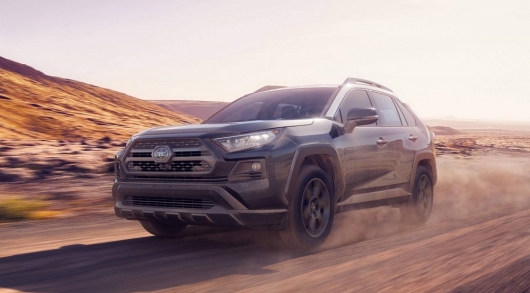 Opened yesterday at the Chicago auto show, the journalists have noticed one very interesting car new. We are talking about the new "charged" brand tuning Studio "Toyota Racing Development" the Japanese crossover Toyota RAV4 TRD. Reliable, compact and now even more beautiful, athletic and fast!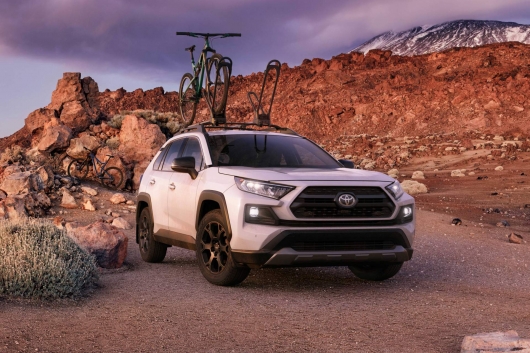 The crossover RAV4 TRD is equipped with a more durable semi-sports suspension is perfectly suitable for bad roads. Its development was engaged in a racing team "RAV4 Rally Race Team". On the SUV (the RAV4 is now in version TRD can call it officially) is an advanced system torque vectoring "Dynamic Torque Vectoring All-Wheel Drive", wicked off-road tires Falken Wildpeak A/T Trail All-Terrain and lighter 18-inch aluminum wheels the exclusive "TRD" is painted in matte black. Exclusive extreme TRD is distinguished by unique exterior and interior.
All the improvements should improve the throughput and the possibility for a more evil vnedorozhe.
Off-road suspension, inspired by racing rally cars now available on the RAV4
According to Toyota, the suspension TRD Off-Road designed "to gain control of the vehicle and isolation of small bumps to help more productive to smooth out the bumps and potholes". One of the main elements that alter the physics of the behavior of suspension became the new springs. They even painted in red, to just looking under the bottom of the owner felt belonging to a higher caste "off-Romanov". Don't forget about the new twin-tube shock absorbers with retuned valves hang up. With them the car will be less to shake and rock on the roads.
System torque vectoring all-wheel drive will be able to send up to 50% of engine torque to the rear wheels and redirect torque to the left or right rear wheel. Which also leads to increased control on solid surface such as asphalt. Also, when AWD is not required, disabling the rear powertrain optimizes fuel economy.
2.5-liter four-cylinder engine in the TRD version is now 203 HP
Further, submitted the new product for off-road trips with a standard system of selection of several landscapes of movement, which allows the driver to maximize traction by selecting one of three modes that are appropriate to specific conditions: mud and sand, stones and mud or snow, Mud & Sand, Rock & Dirt, and Snow. While you're in one of these modes of motion, information display Toyota Multi-Information Display will show the distribution of torque and traction with the ground.
Other standard features of the RAV4 TRD Off-Road include to the list: Hill Start Assist Control (HAC), Trailer Sway Control (TSC) and Downhill Assist Control (DAC).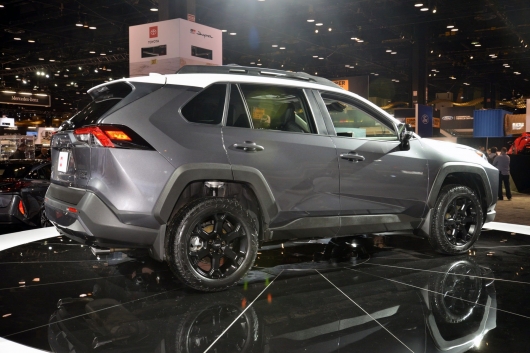 A 2.5-liter four-cylinder engine capacity of 203 HP is paired with eight-speed automatic transmission Direct-Shift Automatic Transmission, and the transmission offers a "sport", "normal" and "ECO" modes. SUV Toyota RAV4 TRD is designed to tow up to 1.5 tonnes, allowing it to carry quite large trailers.
You immediately realize that this is an unusual version of the Toyota RAV4
Outside you will be able to distinguish RAV4 TRD Off-Road from the normal RAV4 due to the features such as big wings, aggressive bumper and a revised radiator fallcreek. Led fog lamps are also different from standard. Observant citizens will notice the higher roof rails. The model is painted in two-ton color. The basis of the "Magnetic Gray Metallic" with white roof and rack, Kohler – "Ice Edge Roof".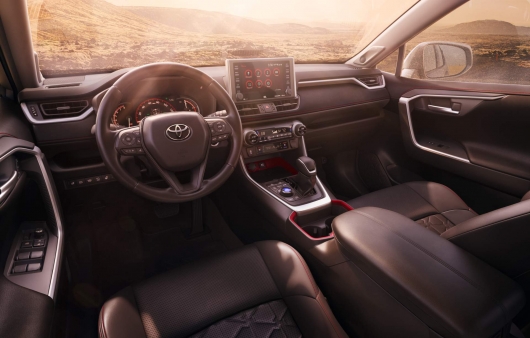 In the salon clients get the red stitching on the seats (seats covered with SofTex material) and elements upholstery and red accents in other parts of the interior: center console, controls, information system and Central display.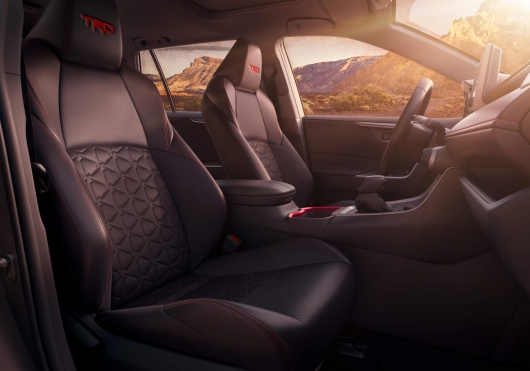 And yet, under my feet are installed exclusive all weather TRD mats, rubber carpet, you will see and in the trunk.