Top powerful and miniature cars
Top 25 miniature cars with powerful motors

Top 14 miniature cars with powerful engines and 11 cars with the "wild" mechanical animals under the hood
Naturally, that muscle car is equipped with a powerful power unit. But there are examples in the global car industry that contradict this pattern. Obviously, the creators thought that muscle cars are not enough, and released their miniature monsters on the market. So there was a small segment of compact cars with incredibly powerful motors.
The producers are quite easily put big engines in compact cars. And this is dictated by the desire to create the fastest car on Earth. But this combination does not always pay off — there are several examples of high-profile failures of high-speed crumbs. For example, the Jaguar XE SV Project 8 posted of the V8 in a small car. The result, Jaguar was forced to make only left-hand drive version of a car as a modification with right hand drive design failed due to the bulky engine.
But there are a lot of awesome cars which no problems were big engines in a compact body and became superstars of the automotive industry. These tiny wonderful machines may not seem so attractive. But is it enough to get behind the wheel, and then offer potential babies, hidden under the hood. They are very fast and compact dimensions make them comfortable enough in the city traffic. Here is the ranking of the most successful and interesting the little ones with powerful engines:
The Zippy Audi S1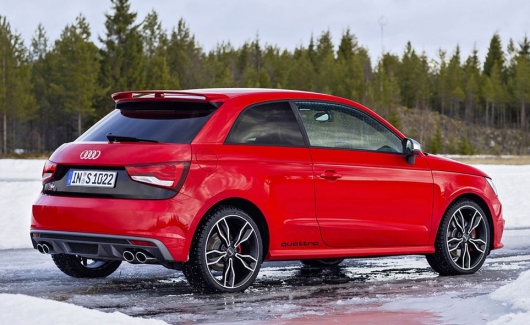 The history of the auto giant Audi starts in 1910. Since then, the company produces automobiles, targeted at a wide consumer audience. With the appearance of the A1 Sportback a few years ago there were rumors about the imminent appearance of the powerful versions of S1 in 2019. Model S1 is called the miniature car line S.
The car also is the native "brother" A1. According to the Autocar, S1 will complement a turbocharged 2.0-liter engine capacity of 250 horsepower. That's a lot for a car of this size.
Mini Cooper HardTop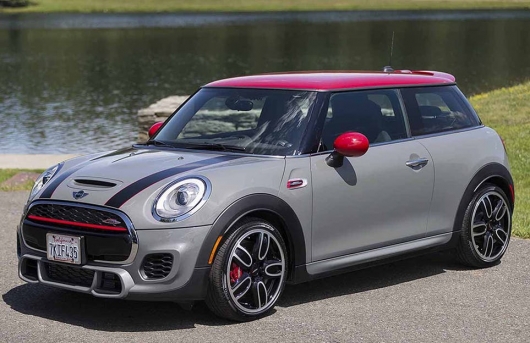 John Cooper Works JCW is also called, under his model comes with a 2.0-liter engine with dual direct injection. There is also the technology of variable valve timing, which was borrowed from BMW. The turbo unit comes with a 6-speed manual or 6-mode automatic transmission. It has a capacity of 228 horsepower with a torque of 320 Nm. This front-wheel drive that accelerates from 0 to 100 km/h in 6.1 seconds, the "mechanics" and 5.9 seconds — automatically.
Suzuki Swift Sport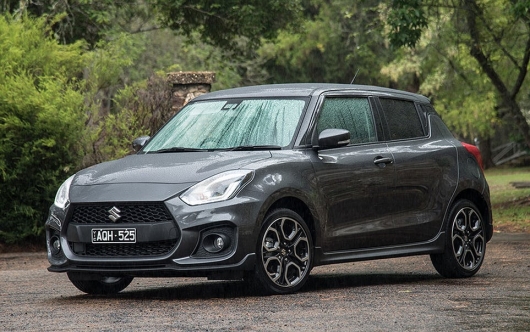 This is a fun little car cost $ 20,000, offering impressive fuel economy. "Japanese" is equipped with a 1.6-liter turbocharged inline engine DOHC VVT turbocharged which is rated at 123 horsepower and a torque of 147 Nm.
This baby comes with a 6-speed manual transmission or 7-mode "automatic". It has a top speed of 209 km/h and 100 km/h accelerates in 7 seconds. It is worthy for such compact dimensions.
Fiat 500 Abarth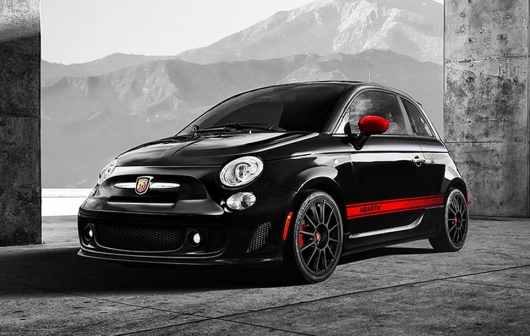 One of the most affordable fast cars. The cost of Fiat 500 Abarth is a total of about 19 000 dollars plus bonuses offered by the dealers. Although the 1.4-liter Multi Air turbo seems small, it produces 160 horsepower and a torque of 230 Nm. Its lightweight chassis with Koni suspension allows to reach 100 km/h from zero in just 6.9 seconds. It's pretty good for a vehicle of this size.
Cute, but not attractive Daimler SP250

Model – classic British auto giant. The creation of Daimler does not look very aesthetically pleasing, partly because of the miniature size, the car weighs only 940 kg. But it established a massive 2.5-liter V8 engine with an iron block.
It was one of the biggest engines of the early 1960s, which proved that you can't judge a book by its cover, or about the car! The V8 engine produces a power of 140 horsepower and a top speed of 199 km/h. acceleration from 0 to 100 km/h is 8.9 seconds, which is really amazing.
Speed Ford Focus RS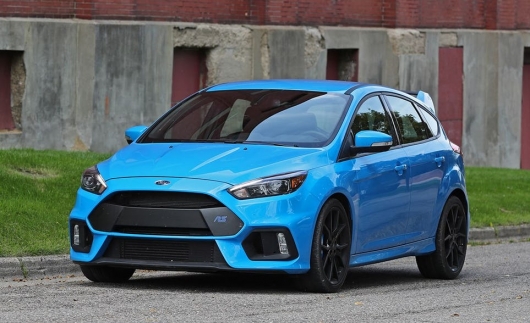 Ford Focus associated with small, family car. His inclusion in this list seems strange, as the installation of large, powerful engines on a family car does not make sense. Nevertheless, the Focus RS not only looks sporty performance hatchback with rear spoiler. He also named one of the best in its category, equipped with the legendary 2.3-liter Eco Boost engine from Ford. This power unit has a power of 350 horsepower and torque of 474 Nm. It accelerates to 100 km/h in just 4.6 seconds and a top speed of 265 km/h.
Super fast Volkswagen Golf R

Looking at the legendary compact car, it's hard to believe Volkswagen Golf is able to accommodate the massive engine. However, the Volkswagen Golf R is top of the range Volkswagen cars. The model is equipped with 2.0-liter turbo engine capacity of 292 horsepower and a torque of 379 Nm. Plus, there's the possibility of installing a proven 7-mode automatic transmission DSG with two clutches. Acceleration from 0 to 100 km/h is 4.8, which is phenomenal, given the dimensions of the car.
Limited edition Seat Leon Cupra 310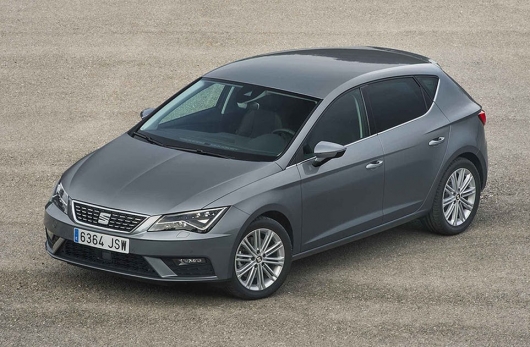 SEAT Leon is a small family car that has won the hearts of customers, received a lot of praise since the start of sales in 1998. SEAT has also released in 2017 limited edition of 100 copies under the name of Cupra 310.
Limited modification was completed with a reliable patched 2-liter TFSI engine, which gave enormous power to 310 horsepower and a torque of 424 Nm. The modernization of the unit was designed by the famous experts in automotive tuning, Abt Sportsline from Germany. The company claims that top speed is 259 km/h, and 0-100 km/h will need 5.5 seconds.
The festival of speed: Ford Fiesta ST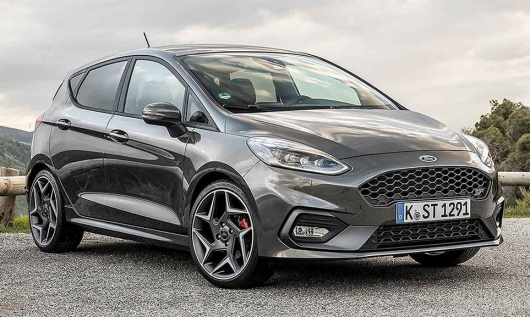 The smallest but one of the best selling cars in the domestic market. Ford has sold more than 16 000 000 Fiesta for seven generations on the markets of different continents. Fiesta is also produced in the advanced option with the emblem of ST. The modification is equipped with a 1.6-liter EcoBoost engine with turbocharging and direct fuel injection. A powerful unit compact car, the Fiesta ST produces a whopping 197 horsepower and 273 lb-ft of torque. It accelerates to hundreds on the speedometer in just 6.7 seconds, has a top speed of 230 km/h.
Subaru WRX STI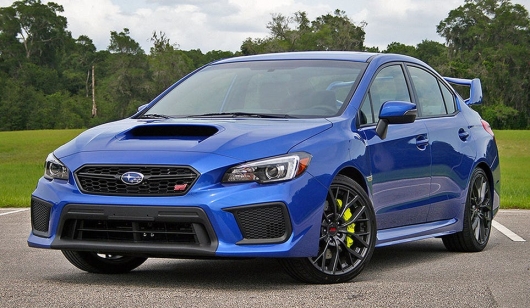 Speed is a "feature" of such automobile giants like Honda and Subaru. The creation of a brand latest model WRX STI is undoubtedly a legend, if we talk about powerful, compact sports cars. The reason impressive features a 2.5-liter 4-cylinder engine.
This turbocharged unit has a capacity of 310 horsepower and torque of 393 Nm . Small the WRX STI is also equipped with four-wheel drive system developed by Subaru. In addition, it accelerates to the mark on the speedometer 100 km/h in just 5.3 seconds, has a top speed of 255 km/h.
Compact and powerful Honda Civic Type R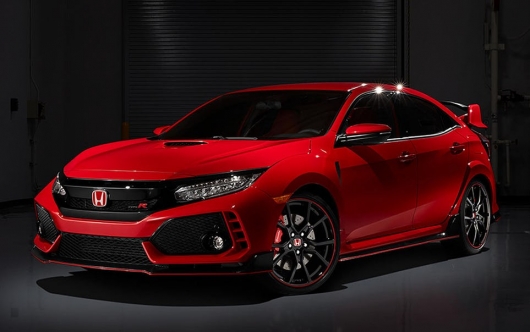 Honda is synonymous with speed and power. Model Civic has become one of the most famous in the compact class. Is the perfect choice for those wishing to quench their thirst for speed without serious costs. Type R is equipped with 2-liter turbo engine capacity of 306 horsepower and a torque of 400 Nm. Acceleration from zero to hundred is 4.9 seconds, top speed of 273 km/h is surprising and fascinating.
Hyundai Veloster TURBO

Hyundai Veloster Turbo is known as a powerful compact car with an efficient 1.6-litre turbocharged engine. The unit has 201 horsepower and 264 Nm of torque. In addition, the choices available are the well known 7-speed automatic transmission with EcoShift dual clutch produced by the Japanese brand.
The car accelerates to 100 km/h in 6.2 seconds and its top speed is 233 km/h. modification of the 2019 promise to equip multi-link rear suspension, which will improve the car's handling.
Lotus Elise – classic, not like the rest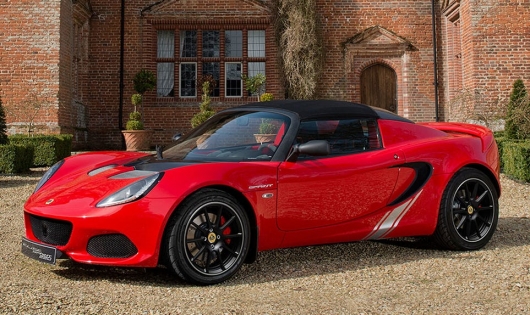 Lotus Elise Roadster, whose engine is in the middle. The car was far ahead of its competitors. The car offers buyers a noisy cramped interior where it penetrates the roar of the engine, and a small Luggage compartment. In addition, landing in a Roadster is easy. Despite this, the kid was named one of the best dream cars on the planet Earth. The maximum speed of 241 km/h, acceleration from 0 to 100 km/h in 5.8 seconds — an excellent performance for a small but stylish Roadster.
Plump, powerful Peugeot 208 GTI

This is the fastest and the most expensive version of a small hatchback from the French brand. 208 GTi features a throaty 1.6-liter gasoline turbo engine, which holds the assets of 208 horsepower. The car accelerates from zero to hundred in just 6.5 seconds, a top speed of 230 km/h According to Autocar, the chubby kid will compete with the Ford Focus ST, Renault Clio Renault Sport 200 Turbo and his brother, DS 3 Performance.
Incredibly fast Hennessey Venom GT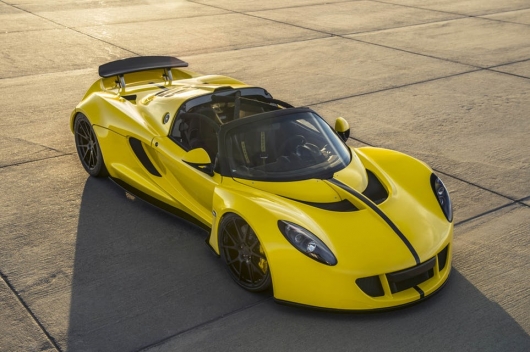 The car developed by Hennessey Performance Engineering, well-known tuning specialists from Texas. Venom GT technical base borrowed from the Lotus Exige and Elise. He named one of the best, because under the hood he installed a giant 7-liter V8 engine with twin turbo. In addition, he holds the world speed record in the category "fastest production car". The car is able to accelerate from 0 to 299 km/h in 13,63 seconds, this is an exceptional result for such a small machine.
Tramontana R – dream of flying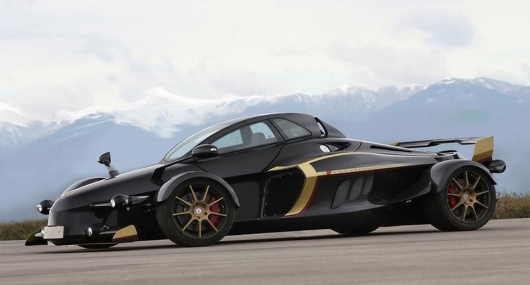 It is the dream of Formula 1 drivers and pilots of fighter jets. She attracted attention with a combination of stunning appearance and power. In this Spanish supercar under the hood, located 5.5-liter engine Mercedes-Benz V12 with twin turbo. Power 888 horsepower and a torque of 980 Nm eloquently about the capabilities of the supercar. The car is designed for two people, accelerates from 0 to 100 km/h in 3.6 seconds, reaches a top speed of 325 km/h, which is impressive, given the size of the car.
Muscle Car Shelby Cobra 427

Cobra is the exact definition of a sports car of compact dimensions. Here are concentrated the huge power in a small body. It generates a legendary 7-liter Ford FE V8 equipped with Holley carburetor. Power of 425 horsepower and a torque of 576 Nm is impressive. Beauty with classic design has a maximum speed of 264 km/h. the Engine made the Cobra 427 is a unique car — it stands out among competitors.
Aesthetically, the BMW M2

M2 is currently the smallest in the M series, but with the solid gear inline 3-liter turbocharged engine, capable of delivering 365 horsepower with torque of 465 Nm. The powerful engine is paired with 6-speed manual transmission or 7-speed automatic transmission with double clutch. Acceleration from 0 to 100 km/h takes 4.3 seconds for the manual transmission and 4.1 seconds with the automatic. These characteristics are phenomenal and proves the superiority of M2 in the class.
A bit odd Renault Clio V6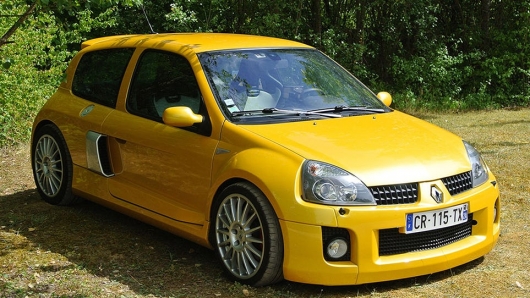 The layout of the Renault Clio V6 is different from classmates — miniature "French" motor is back in place of the rear seats and trunk. According to experts, this is one of the most insane vehicles ever produced by Renault. The baby is also considered one of the most attractive. Clio V6 accelerates from 0 to 100 km/h in 6.2 seconds, top speed 235 km/h.
Ford Capri Perana – a combination of beauty and speed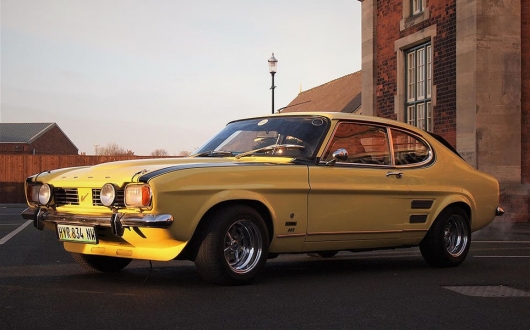 Not many people know about this classical model, as Ford has designed it exclusively for the South African automotive market. In 1970 Ford Capri Perana Ford armed with a huge 5-litre Ford V8 Windsor. Steel beast borrowed from the legendary Mustang. With a maximum speed of 226 km/h and acceleration 0-100 km/h is equal to 6.2 seconds, he won the championship of South Africa the touring that took place in the early 1970-ies.
Timeless classic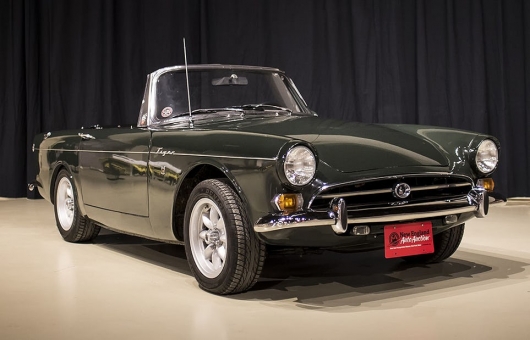 In the making of this classic, handsome attended Carroll Shelby, the legendary car designer and racing driver. Sunbeam Tiger really has become a high-performance incarnation of its predecessor, the Sunbeam Alpine Roadster. It was produced from 1964 to 1967. This 2-door, light pocket, the car was equipped with a powerful V8 powertrain Ford. This massive 4.7-liter engine capable of producing 164 horsepower, which in the 1960s was a colossal figure!
Beautiful Nissan Nismo 370Z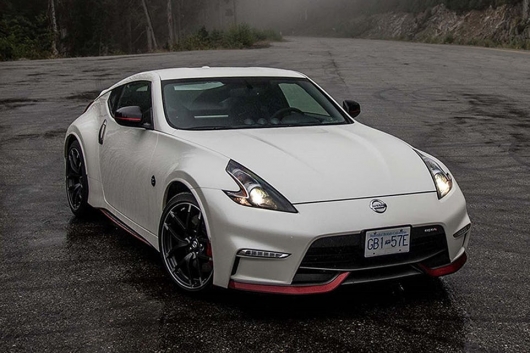 370Z established in 2008 and became the sixth generation of widely favorite line of Nissan Z-car. A year 370Z Nismo arrived in the dealerships and was an example of a technical contrast. In a small car is placed a massive 3.7-liter V6 powerplant. She has 350 horsepower and a torque of 374 Nm. Plus, this efficient model from the house armed with a high-performance Nismo clutch and transmission. Acceleration from 0 to 100 km/h in less than 5.0 seconds and a top speed of 249 km/h. This impressive performance.
Gorgeous Aston Martin V12 Vantage S

Aston Martin V12 Vantage is the best proof that size doesn't matter. This "British" has under the hood of one of the world's most powerful of power plants and is actually the smallest modern Aston to date. In addition, the S variant known as the fastest Aston ever produced by the company. With 510-horsepower 6-liter V12, the car can accelerate from 0 to 100 km/h in just 3.9 seconds and a top speed of a whopping 329 km/h.
Mercedes-Benz B55 – speed bomb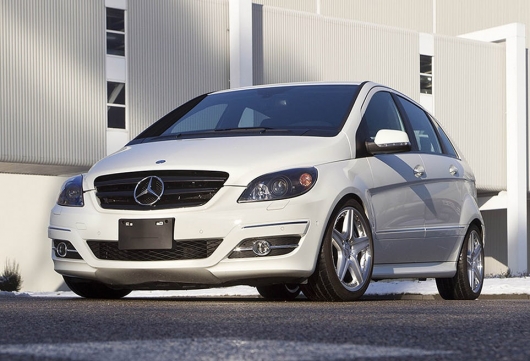 B55 is the result of hard work of a team of engineers at Mercedes-Benz. Took the B-class, to be exact — CDI B200, equipped it with a 5.5 liter E500 engine V8, which is capable of reaching a capacity of 378 horsepower and a torque of 530 Nm. V8 petrol engine is paired with the proven 7-speed transmission G-Tronic from Mercedes-Benz. B55 reaches 100 km/h from a standstill in just 5.2 seconds. According to Autocar, this is no ordinary Mercedes, and a new vision of the B-class old-school.
Chevrolet Corvette Stingray – best of the best

This Corvette is shocking, but in comparison with competitors offers the ideal balance between price and quality. Basic Stingray is equipped with a powerful V8 unit. He owns a 455-horsepower, which are in line from brake premium Brembo. Also the car is equipped with leather seats, functional infotainment system.
The V8 unit is paired with 8-speed "mechanics" or 8-state "automatic". On the Corvette you can take a trip on the weekend. There are enough spacious trunk, which is unusual for a car's compact proportions with a powerful iron beast under the hood.