Top 12 most interesting motorcycles that you can buy in 2017
12 of the best motorcycles to buy in 2017

In this article we have brought the best examples of two-wheeled machinery that can give you pleasure for its price. Many buyers want their motorcycle combines the comfort and ease of drive with a powerful and resourceful engines and compact size. Here are a few models that are preparing a serious blow to your budget.
Honda Rebel 300/500 2017 model year
Base price: in Russia are
Honda are not actively working on their younger models, updating them as frequently as it would like. Mini-stories for beginners Rebel 250 produced since 1985. Its design features are quite conservative, and this is reflected in the style. But in 2017, the model finally experienced a major renovation, while retaining the minimalist concept.
The appearance of this bike is quite balanced and Mature, that makes you think that he is worth more than its price. This is a modern approach to the creation of the entry-level model, which can involve not only cost.
Landing behind the wheel is typical for a class of roadsters, but the design features make it possible to compete with more sophisticated sporting rivals. In the basic version of the model 300 offers modest single-cylinder engine capacity of 286 CC., and for the model 500 is more powerful in 471 CC., which will cost $ 1600 more expensive. Add to that another $ 300 in brake mechanisms appears the ABS system.
Yamaha SCR 950 2017 model year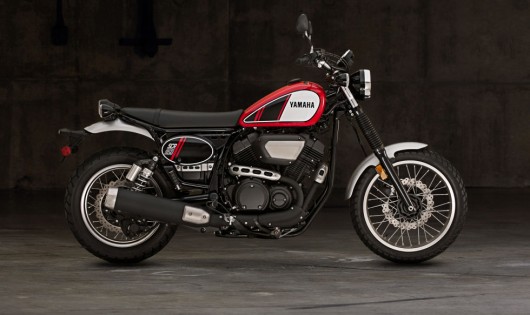 Base price: in Russia are
It is no secret that vintage style is very popular with motorcycle fans, that's why the new Yamaha 950 SCR is focused on classical performance. If you add wheels with a lace pattern spokes and old license plates, the motorcycle will look like something that has come in our day straight from the garage of Steve McQueen's 1970 sample.
The new model, built in the style of the scrambler, based on the chassis of the Roadster Yamaha Bolt, including the two-cylinder engine 942cc, air-cooled. However, the conversion in the SCR was achieved by adding higher suspension and steering to provide a comfortable upright fit.
Of course, given the rather modest technical performance SCR can not cope with the powerful representatives of the class of off-road bikes, oriented to overcome the mud under elevated loads. But thanks to the classic performance and modest fuel consumption, it will be a great two-wheeled vehicle for racing on weekends, and daily travel.
Suzuki Vanvan 200 2017 model year
Base price: in Russia are
Original Vanvan was released in the early 1970-ies, but the upgraded versions has allowed him to hold on the line for decades. But this year the situation has sharply changed, as the audience was presented a completely redesigned model. Do not expect much power from a single-cylinder motor a working volume of 199 CC., which is aggregated with a five-speed gearbox. But thanks to a weight of 128 kg, it must be sufficiently agile and dynamic for urban travel.
Vanvan created for comfort, as evidenced by the wide seat and vertical landing. Thus, the model is a good option for a first bike for those who do not want too much to spend on their hobby. A modest volume of the fuel tank allows to maintain the proportions in appearance, but the expense 6.43 litres don't count on a long trip without refueling.
Triumph Street Cup 2017 model year

Base price: 757.000 rubles
Triumph have proven that expensive motorcycle and classic style go hand in hand. In the past year, the company completely revamped and upgraded lineup of Bonneville, suggesting that several motors of various capacities.
New Street Cup looks very similar to a rather cheap and compact Thruxton and uses an upgraded version of the twin-cylinder engine with a displacement of 900 CC. in addition, a completely redesigned and the exhaust system. The motorcycle was executed in classical style, while planting it low enough with some tilt forward. On the wheel there is a small fairing that allows the rider to hide from the oncoming air flow. Unlike traditional series Bonne, Street Cup is equipped with a unique suspension, as well as technological solutions such as electronic throttle and ABS.
Honda CBR500R 2017 model year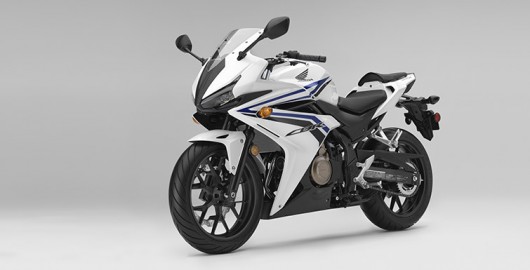 Base price: Russia is not represented, the closest model CBR600RA worth 890.000 rubles
The average sport bike the Honda CBR500R is one of those that attract attention is one only in appearance. This is a great option for beginner bikers, and for those enthusiasts who appreciate the compact size, low cost and structural strength. Two-cylinder engine displacement of 471 CC. has sufficient elasticity, and the suspension provides a level of comfort regardless of, whether you travel on city streets or in a desert canyon.
Last year, the CBR500R has received significant design changes, which were primarily the kinematics of the suspension and the intake system and the engine. He began to look even better than before, and the status of apologist biker movement, as always, remained unchanged.
Kawasaki Z125 Pro 2017 model year
Base price: Russia is not represented, the closest model Z250SL is 265.000 rubles
In 2014, Honda shocked the market by releasing the mini bike Grom, which became a hit. In turn, Kawasaki decided to grab their share from the sales of this successful model with a modest 125-CC motor.
New Z125 Pro has turned ultra-compact and lightweight (weighing 102 kg). In addition, it is much more affordable than the aforementioned Honda. In fact, it is the only bike in our list that costs less than $ 3,000. Low seat height is 80 cm, suggests that the bike is perfect for the rider with any growth.
Designed with an aggressive racing style which is confirmed and sport suspension settings. For city trips, the model turned out to be quite suitable, but if you plan to race on the highway, the engine power will be missed. But it is so compact and cheap that could serve as a reasonable alternative to full size motorcycle, which is confirmed by the fuel consumption of 2.4 l per 100 kilometers.
Ducati SuperSport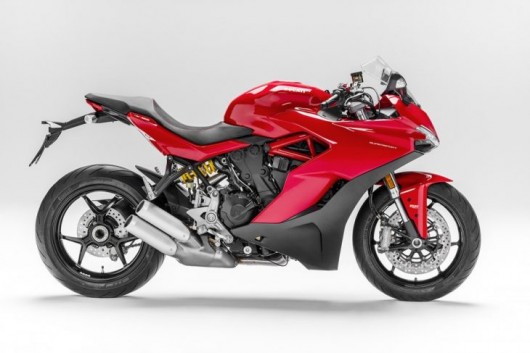 Base price: 819.000 rubles
Modern sport motorcycles have incorporated technologies that combine power with refined control and make it easy to switch from the regular road to the highway. However, Ducati is thinking about the creation of the motorcycle, which was supposed to be much easier. That is what got SuperSport, ideal for daily urban travel. Planting it close to vertical, which reduces the load on the wrists of the driver.
However, this is still a uncompromising sports car equipped with an engine with a working volume of 937 CC. liquid cooled L-Twin, with a capacity of 113 HP at 9000 rpm, With a mass of 210 kg of this may not suffice for the exit of a sharp turn, however, the Supersport is equipped with a system which matches the power characteristics under a specific riding style. In addition, in contrast to the modern powerful sports sedan, this motorcycle combines high traction with the vehicle ABS.
And because it is a real Ducati Supersport turned out to be surprisingly beautiful. And for those who want a more designed version of the Supersport S, which is 14 795 USD, but it has to its credit efficient energy-intensive suspension.
Harley-Davidson Road Glide 2017 model year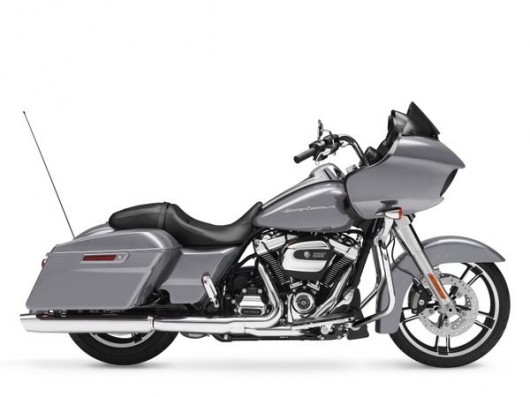 Base price: 2.283.000 rubles
This bike is worth the money, and it is not discussed. It is a fact that due to the long history of the company. The new Glide is the most affordable bike in the line. Despite this, it is equipped with an impressive engine Eight Milwaukee V-Twin cylinder capacity 1753 CC. Harley is not so often pleases fans completely redesigned motors, so a new generation of models that really counts. This powerplant is designed to bring the company to a new technological level, but also to solve problems with increasingly stringent requirements on emissions, environmental safety and noise. On assurances of designers, the engine produces 10% more torque than its predecessor thanks to its 4-valves per cylinder and high compression ratio. In addition, issues of decrease vibration, heat dissipation and efficiency.
But the new engine is not the only feature of the model because the company's engineers have equipped the new high-performance Glide suspension perfectly cope with the irregularities, as well as having the ability to adjust and adjust to the peculiarities of driving. All of this closes simple fairing, which looks perfectly on the motorcycle and does not violate traditional canons.
Kawasaki Versys-X 300 2017 model year
Base price: in Russia are
Imagine a standard motorcycle for exciting trips — this image should have the big dimensions, powerful engine and strong suspension that provides long-term availability to travel for any distance. This raises the logical question of why for the sake of economy in the lines of big name companies there are models that stand out of the traditional canons.
New Versys-X 300 certainly looks that way. It has vertical landing, which allows the biker to have wide viewing angle provided by the stock windscreen. This is a budget model for the country, from which we should not expect outstanding performance on the highway or on serious off-road. When this clearance 18 cm provides permeability is slightly higher than the average of the initial modification.
Kawasaki Ninja 300 is one of the most popular affordable sports cars, and engine Ninja found a place in the context of the Versys frame-X 300. As larger and more expensive models, Versys-X 300 can be equipped with a full range of accessories and options auxiliary lights, and even a package for bad roads. This bike is available in several colors that will allow you to find its fan.
BMW G310R 2017 model year
Base price: 309.000 e rubles
A potential buyer is unlikely to think about BMW as a producer of low-end models, but the new 310 R G aims to change this stereotype. Motorcycle equipped with an engine displacement 313 CC. liquid cooled and rated at 34 HP at 9500 rpm And even this much, since G310 weighs almost 159 lbs. But brilliant does it with an unmatched level of skill with which it is built — it doesn't look like a cheap and affordable model. And as the more expensive BMW, this equipped with ABS.
Control, as befits a – level. The price of the novelty yet to announced, but the direct competitors are the Honda CBR300R and Ninja 300 Kinasaki cost about $ 5,000, so, as expected, the novelty will be positioned in this price segment.
Ducati Monster 797 2017 model year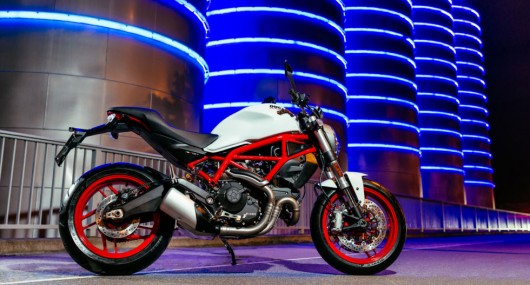 Base price: 523.000 rubles
Original Monster debuted in the early 1990-ies as one of the first modern "naked" sport bikes who have been deprived of the outside panels of the fairing to a naked chassis, allowing you to demonstrate to all comers aggregate component of the design. Monster became an instant hit, but over the last few years, competitors have grown in size and got more powerful versions, and, in addition, become more expensive. That is why the new 797 is a unique combination of power and handling with compact size, small engine and affordable price.
The Midsize Twin engine has a capacity of 75 HP at 5750 rpm. When considering these rather modest indicators, it should take into account the fact that the curb weight of the bike is 193 kg, so that the pull is sufficient. If the incessant UPS and downs are part of your plans during the trip on the weekend, you can be absolutely sure, because Ducati has big brakes Brembo front and Kayaba upside-down telescopic fork. 797 looks better than more expensive rivals, but the developers have taken care of that the price did not shock the potential buyers.
KTM Duke 390 2017 model year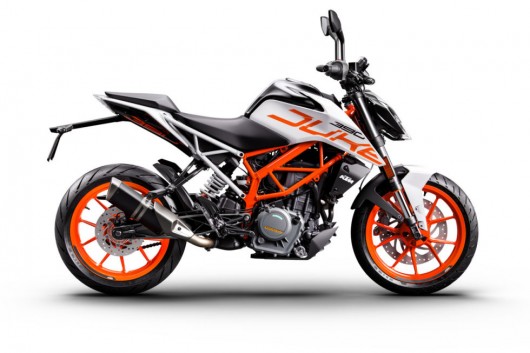 Base price: 339.900 rubles
KTM may not be the most famous motorcycle brand for many buyers, but the Austrian company makes some of the most aggressive sports bikes in the world from the point of view of design and design features. These motorcycles have a history and roots that go deep into many years of racing experience on the road, where the company has had some success in using their developments in the field of creating powerful single-cylinder engines.
Refreshed 390 Duke got 44 HP, Packed in a single cylinder motor, and because it weighs only 136 kg, responsiveness and pickups on the road can only envy. This bike is meant for beginners, but it will be interesting for everyone interested in country travel. Improvements 2017 include upgraded suspension, brakes, increased productivity, more seat and some stylistic changes, adding the appearance of aggression.
Author: S. Vasilenko