This Volkswagen beetle is worth 500 million dollars pizza
As the Volkswagen beetle became an error price of 500 000 000 dollars.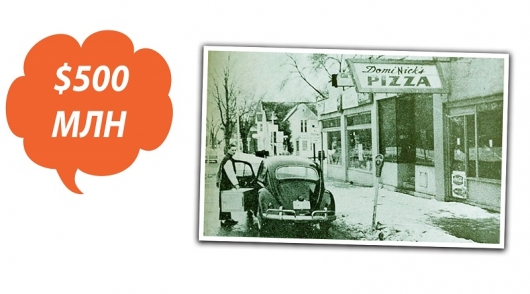 You probably never heard about it before, despite the fact that this event in the history of a huge company is not a secret. We are talking about the old German "Beetle", the value of which today is half a billion dollars. And all this pizza business Domino's Pizza.
The story involves a mistake to $ 500 million co-founder of this company. Pizzeria Domino's was founded by brothers Tom and James Monaghan, who in 1960 for only $ 500 and bought a small pizzeria DomiNick. $ 500 in those days, equivalent to today's 4200 dollars. But even by today's standards that was very profitable.
The brothers took another $ 900, paying them a former owner of the pizzeria, to get a 15-minute lesson, and then started to work. Tom had trouble paying their studies at the University of Michigan, so he had to leave the Institute. As a result, it was quite a lot of time to work at the pizzeria. And I must give credit for That – he was very dedicated to his work.
First, the two brothers parted, and started to work for half a day. But the upshot was that James became less to appear in the school, as it worked even on the post office, where he was paid better and more stable than in the pizzeria. Eight months later James tired to go to work in a pizzeria and asked his brother to buy him his share in the young company.
Tom agreed to the proposal. In payment That gave my brother an old VW beetle that was previously used for a pizza delivery.
In 1959, the average market price for the new Beetle was $ 1625, the equivalent of today's 14 000 US dollars. In 1961 a used Volkswagen beetle 1959 model year kept their original cost and cost in today's money of about $ 12,000 or thereabouts.
Between 1961 and 1999 there has been an explosive growth of the company Domino's Pizza. As a result, in 1999, Tom sold 93% of its shares for $ 1 billion.
So half of the shares, sold for an incredible sum previously belonged to his own brother, who gave a share of the company, taking in exchange a Volkswagen beetle, bought in 1959, Tom.
This means that the value of the 50% stake, sold to brother in exchange for a car has increased from 12 000 USD (the equivalent of a "Bug" in 1961) to approximately $ 500 million.
The old "Bugs" today are often sold at car auctions around the world. But even rare instances can never be estimated at $ 500 million. Even if you bought 50 years ago, the old "beetle" for $ 300, so he went up to half a billion dollars, you would have to wait until, till the sun will become a red giant.
So here's another example of people that did not believe in the company, sold his share, and then regret it all my life. In our example, the price of failure – an old Volkswagen beetle.
It is also worth noting that Tom Monaghan was an enthusiastic motorist, with unusual flavors. He had a love for cars AMC. He was also a connoisseur of classic and sports cars. In the end, he managed to gather a unique collection of cars (244 PCs.).
In his garage were cars like Dusenbergs, Bugatti and Packard.