This table shows how much is enough fuel for a flashing light bulb gas tank
How long can you drive on an empty tank? [Table cars]
Have you ever wondered how much you can drive kilometers after on your dashboard would have a flashing light warning about the dangerously low level of fuel? No? And after all this do you need to know not to get into an awkward situation.
It is no exaggeration to say that we all passed through it. Some motorists must have started at such moments to panic, thinking that the fuel tank was left completely on the bottom and that's it the car will completely stall, stand rooted to the spot. Others, on the contrary, did not signal any attention, also, ignorance in the belief that they still abound, and you can drive a couple hundred miles.
As you might guess – both categories of motorists in this situation is wrong. But how to find out truthful information? How long can you drive on a nearly empty tank?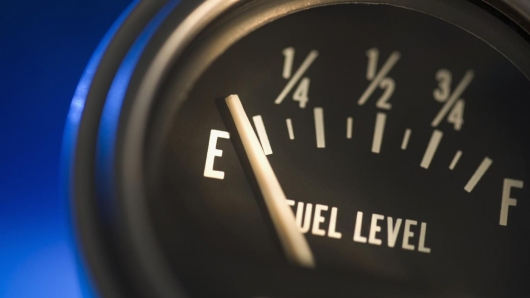 Theoretically, if you're a born experimenter, you can take a chance and see how far you can go on the remains of fuel, registering the mileage at the beginning of the flashing bulbs. As soon as the first signs of "fuel starvation" your experiment will end. You will be able to calculate the results and be pleased with myself to ask a passing motorist to share with you fuel. Really do not recommend doing so at least for several reasons:
This is dangerous because, shut up car at speed, until you have time to slow down, disconnect all ancillary systems, including hydro/electric power steering and vacuum brake booster. All controls will be "heavy", the machine will be harder to manage and it can lead to accidents.
Second – the fuel pump just will not thank you for this "drought". It can even burn.
And finally, with no reserve fuel in the canister can do for a long time to be stuck on some remote highway in the middle of nowhere.
Fortunately, there are more sensible ways to find out approximately how many will be able to pass your "swallow", as soon as on the dashboard will be the first sign of the imminent withdrawal of fuel from the tank.
The rating was compiled by the American website "YourMechanic" and it lists the 50 best-selling models of cars in the US with the mileage and the remnants of fuel in the tank at the moment of switching on the signal icon. We, for convenience, converted miles to kilometers and gallons to liters, to make it clearer and now you can see how many kilometers will rise your car.
Do not worry if you are unable to find your car in the list (not your make, model, etc.). As you will see in the table, manufacturers will unify the sensors measuring the remaining tank of fuel and the moment when the icon will light up indicating a fuel almost every car has in the tank from 10 to 13 liters of fuel. And on this you can drive 100 km in a city mode, or all of 150-170 km out of town (approx.) By the way, European and Russian manufacturers adhere to approximately the same values. So, what about cars from the Old world that works too.
Therefore, it is possible with certainty to state a fact: if the light blinking, you have an average of at least 80 km in search of refills. In rare cases kms can be about 40, but this is also enough to find a gas station, isn't it?
How far you can get on an empty tank (as soon as the blinking warning lamp)?
Mark
Model
The number of remaining gasoline at the beginning of the flashing warning light (liters)
Mileage, which can be overcome with the lit-up warning lamp
Ford
F-150
1/16 tank
56-128
Chevrolet
Silverado
N/A
40
Ram
1500
13,64
101-140
Toyota
Camry
11,82
104-146
Toyota
Corolla
9
96-135
Nissan
Altima
13,64
130-183
Honda
Accord
11,82
112-150
Honda
CR-V
10,46
100-125
Honda
Civic
8,64
94-128
Ford
Fusion
1/16 tank
56-128
Ford
Escape
1/16 tank
56-128
Toyota
RAV4
10,91
91 to 119
Chevrolet
Equinox
N/A
80
Nissan
Rogue
13,64
125-160
Hyundai
Elantra
N/A
48
Ford
Explorer
1/16 tank
56-128
Chevrolet
Cruze
9
90-135
Ford
Focus
1/16 tank
56-128
GMC
Sierra Denali
18,18
103-148
Hyundai
Sonata
N/A
64
Jeep
Cherokee
13,64
106-150
Nissan
Sentra
9
97-128
Jeep
Wrangler
The 12.73
75-93
Chrysler
200
13,64
111-174
Chevrolet
Malibu
9
80-115
Jeep
Grand Cherokee
13,64
106-144
Toyota
Tacoma
13,64
101-120
Subaru
Forester
11,82
100-133
Kia
Optima
N/A
48
Toyota
Highlander
13,18
93-115
Kia
Soul
N/A
48
Toyota
Sienna
13,64
86-120
Subaru
Outback
11,82
104-136
Nissan
Versa
11,82
128-167
Volkswagen
Jetta
To 8.41
91-136
Honda
Odyssey
13,64
91-135
Honda
Pilot
Of 11.37
72-100
Ford
Mustang
1/16 tank
56-128
Ford
Edge
1/16 tank
56-128
Chevrolet
Traverse
Of 11.37
67-96
Toyota
Tundra
18,18
96-115
Jeep
Patriot
9
74-96
Toyota
Prius
7,27
122-130
Hyundai
Santa Fe
N/A
64
Kia
Sorento
N/A
64
Chevrolet
Impala
9
70-115
Ford
Transit
1/16 tank
56-128
Mazda
3
10,46
111-135
Mazda
CX-5
11,82
108-146
GMC
Terrain
N/A
80
Sometimesiamanasshole знатьЗаконодательствоТехосмотрЛайфхак
Knowledge base