This Chevrolet turn signals were removed: the strangest option for half a century
Chevrolet Turbo Titan III – the only car with a retractable turn signals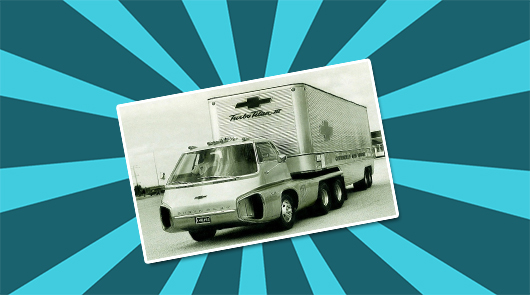 Automotive concepts that exist to show the future of the auto world. Often these strange artificial creatures can terrify the unprepared person. He sees this "something" and think: are we waiting for such a future?! For what?
But the vast majority of cases, these strange-looking model and remain in a single copy, without claiming the laurels of the pioneers. Where they belong. Here is an example of why concept cars is in a sense useless, which focused obviously dead ideas. Of course, we're not talking about the fact that all the prototypes do not become ancestors of any interesting ideas, no. We only emphasize that we should not blindly believe in an imaginary car future that draw us designers.
One of the most striking examples is the Chevrolet Turbo Titan III 1966 issue (once Chevrolet did make trucks). Looked at the time it is really cool – the whole futuristic, aerodynamic, monolithic piece of steel and chrome, and he had a strange device – retractable turn indicators.
I wonder how long thought the engineers of those years on the idea of implementing such a common piece of security that could not only give signals to other road users, but also getting in a groove, sedigas flush with the car fender?
Okay so retractable headlights, in the dark you just included the raising mechanism is activated, and you raced on her way, lighting the night road. But the turn signals! The automakers even from such retractable devices, such as lights, refused fast enough. Cons construction was known to all: excess weight, moodiness mechanism opening/closing.
It would be difficult to imagine a workflow activate the turn signals, which are included in the city dozens of times per trip. Broken mechanism in the road, the truck instantly became a source of increased danger. In view of this, we think wise act waiver Chevrolet from the experimental prototype of the concept, which was destined to survive solely on the old digitized pictures.
However, on the turn signals the strangeness of the concept did not end.
The turbo Titan III was seen in installing a 280-HP gas-turbine motor 35,000 rpm gas turbine and one of the most bizarre management systems. Even describing it is difficult, better take a look at it: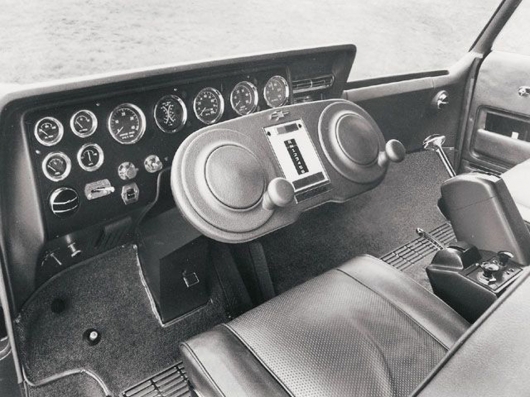 Well, the exterior design, it represents a quite standard pattern – type "car of the future", which considered the American autoretract, soon to appear on the roads of the country. In principle, there was, but not in real life and virtual – in the games of the Fallout series there is a similar truck on a nuclear course. Also, if you look at the prototypes of half a century ago, it's safe to say that modern trucks still have traits in common with their natural ancestors. For example, the maximum closed from the incoming air flow body.