The tuning company from Japan made a stunning kit SUV Land Cruiser 200
Here's how, according to the tuning company, should look Kruzak.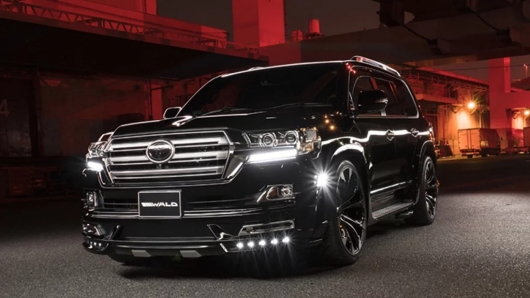 Toyota Land Cruiser 200 (in our country many people call it "Kruzak") is one of the best SUVs in the world in its segment. This car has everything that a man wants from a SUV. Then you and impeccable reliability, quality, conservative design, good equipment, lots of space inside. But the main thing this car will never let you down on steep slopes and off-road tracks. But, despite this, many wanted to be the 200th "Kruzak" looked no worse than a Lexus. Fortunately for lovers of exclusive body kit for the Japanese SUV a tuning Studio released a stylish body kit. That company Wald International has recently unveiled a new set of tuning kit for the "dvuhsotki".
Installing this package body kit, Toyota Land Cruiser 200 will look no worse than the Lexus (if not better).
So, the company Wald International offers two different body kit for the SUV comes from Japan.
The first set is called "Standard" and includes a stylish aggressive front and rear bumper aprons. Also included is a rear spoiler, led rear brake light and front LEDs.
The second set tuting for "Kruzak" turned out to be more extreme. So, it is in addition to the above components, also includes wide wheel arches, which are built-in marker led lights.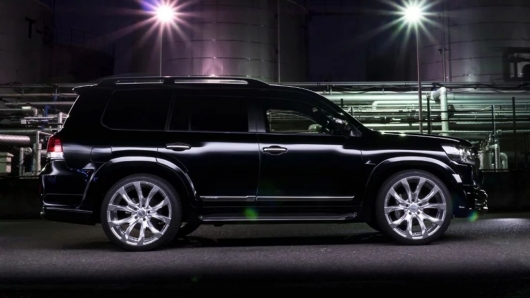 Also, both sets of tuning includes new wheels in size 10 × 22 inch (for the second set can be also used wheels with 10.5 × 22 inches).
In particular, there is an extension for the second tuning kit which includes the 24-inch wheels (10.5 in × 24-in). Also in this expanded package includes new brakes. Including brake pipes in stainless steel.
But that's not all. The company also Wald gave the SUV a new exhaust system stainless steel, dual pipes with side (with each side of the car). By the way, according to the representative tuning, exhaust pipes not only look beautiful and stylish. The fact that the new exhaust system is able to surprise with its aggressive sound.