The toughest cars that can drive 500 000 km
What is the mileage of your car?
Up to 50 000 km 50 thousand – 100 thousand km 100 – 200 km 200 – 300 km 300 thousand – 500 thousand km More than 500 thousand km
Vote
Results
Here hardiest cars on the Russian market.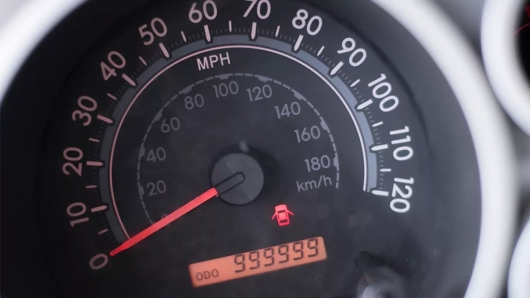 Each of us wants his car served as long as possible. But here's the question: which car has a large stock of the resource? It is well known that not all cars are the same. There is less reliable, but there are better. Unfortunately, a simple answer to the question, what kind of car reliable is not possible. A lot depends on how the owner treats the car.
Nevertheless, to judge the quality and reliability of a car in the used car market. It will suffice to examine proposals for the sale of a car with high mileage. It is logical to assume that once the car has driven great mileage, then most likely it has a good margin of safety, quality and reliability.
We decided to explore the market of used cars in Russia, selecting for you car with a mileage of more than 500 thousand. I Think that is a good indicator of endurance of the car. Especially in the harsh Russian conditions. So there you go. Here are our TOP cars with high mileage.
By the way, before you make a selection, we thought that we would find not a lot of cars with high mileage, as car owners in Russia often prefer before selling their old iron horses to wring the mileage on the odometer. Imagine our surprise when we found on automotive message boards for more than 250 ads about selling used cars with a mileage of 500 000 km.
So there you go.
Ford Focus 2007
Mileage: 512 000 km
If you believe the ad, the Ford Focus drove 512 thousand kilometers. Judging by the fact that the author of the ad indicated that the car has a license for taxi transportation to 2021, then we have a car of taxi. Although the color gives it so.
It is clear that with this mileage the car from the taxi may not be in good condition. Nevertheless, the very fact that such a high mileage clearly speaks in favor of the reliability of this model. And who said fords lauchie and not pass 500K miles?
Nissan Patrol 1999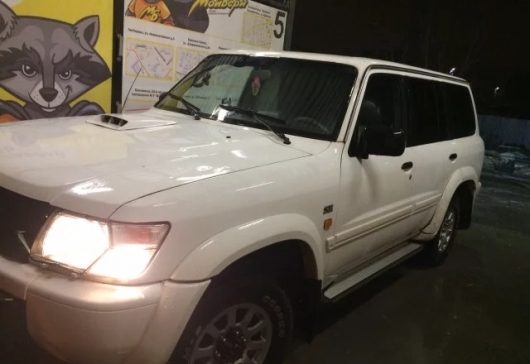 Mileage: 500 000 km
Why do think that the early cars were worse? Here is an example of endurance of the Japanese SUV. We found the announcement of sale for 490 000 Nissan Patrol 1999 model year with mileage 500 thousand km For the 2.8-litre 130-strong motor is a very good indicator. Especially if most of the mileage made in Russia. You know, what's our fuel.
Apparently, the owner of the car the engine wasn't touched, as well as the transmission. And in the near future to repair the engine are also not threatened. I think that if the author of the ad wrote the truth, this car has not held one hundred thousand kilometers. We think this car will rot the body or frame, than come out of the motor.
Toyota Carina 1996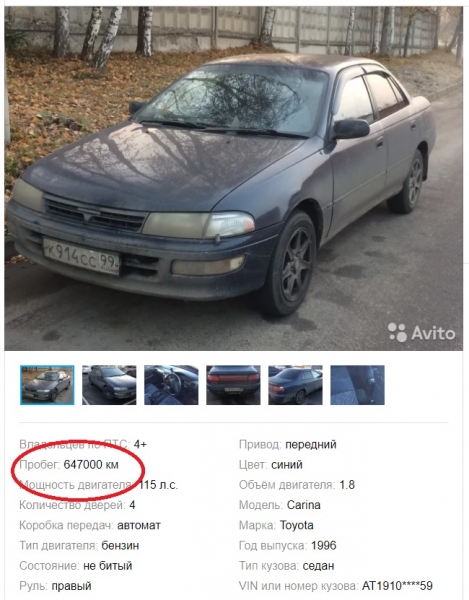 Mileage: 647 000 km
We do not doubt that when we do a selection by message boards about selling used cars with high mileage, you will find a lot of cars of the Japanese automobile industry. Especially Toyota cars. And so it happened. You will not believe, but from the whole sample, 75 percent of the cars with high mileage for sale on the day of the study, was Toyota and Lexus.
Probably, this fact alone already indirectly confirms the reliability and quality of cars of these brands. Although, of course, is the reliability of the Japanese auto industry no longer needs. And so the whole world knows that Japanese cars are one of the hardiest. Here's another example of Toyota reliability.
Before you screen the announcement of the sale of Toyota Carina 1996 release, which has passed for 647 thousand miles And for this car I want is only 160 000. Yes, of course, in addition to the engine in this car may be still a lot of problems. Nevertheless, the fact remains. Mileage more than 600 thousand kilometers is already serious.
Toyota Land Cruiser, 2003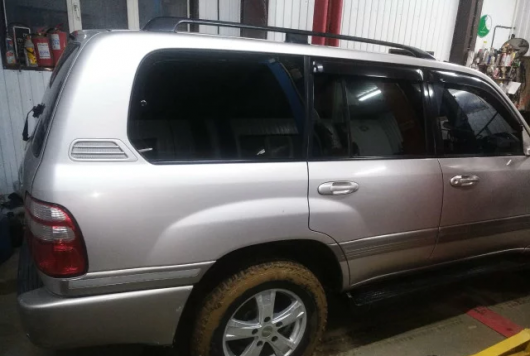 Mileage: 501 000 km
Don't like cars, but still believe that the Japanese auto industry the best in the world? Then buy an old Toyota Land Cruiser. Here is a live example of the indestructibility of this model. We found in the sale of kruzak, 2003 issue with a range of 500 thousand. You will not believe the author of this ad pointed out in the description that the car is in good condition – that is, I sat down and went. We checked it out. And indeed it is. This SUV as it can really give odds to many more modern cars with much lower mileage.
Audi A6, 1995
Mileage: 510 000 km
Don't like the Japanese and the American auto industry? Then if you look to the car, potentially having a long life, maybe consider an old Audi A6 with low mileage? Or are you afraid of German cars, which in recent years blamed for fragility, lookest, etc.? Don't worry, before the Germans really were doing a quality, reliable and durable cars. Don't believe? Here is an example.
Before you Audi A6, which will soon turn 24 years. This car, according to mileage and age, was fire, water and copper pipes, as well as our terrible gasoline, low-quality motor oil curved hands maintenance foremen, etc. But despite this, the car is alive and well. And this despite the fact that the mileage of the car is 510 000 kilometers. Isn't that proof that before Audi did great reliable cars? Your task – to find on the used car market this car with low mileage, buy it and enjoy.
Volkswagen Passat, 1994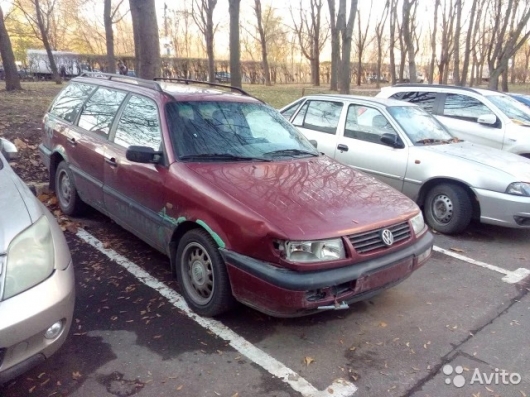 Mileage: 500 000 km
Here is another old indestructible German car. This time we found in the ad Volkswagen Passat 1994 model year with mileage 500 thousand. However, the car, judging by the description, sold for parts in connection with the cancelled registration account in traffic police. But, writes the author of the ad, the engine and box in the car work flawlessly. We believe in the word.
But in General, it is no secret that this model of Passat has such mileage. Among car owners of this model many of those who travel by car of such mileage. Meet the car and with great mileage. Moreover, the engines of such vehicles are not moved.
Mercedes-Benz C-class, 1997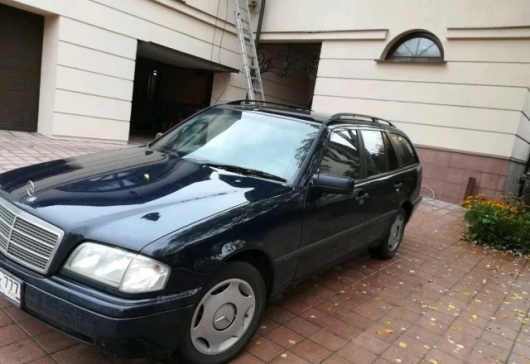 Mileage: 521 000 km
Here's another old German car. This time the Mercedes C-class 1997. This car is sold for just 260, 000. However, the mileage the car had 521 000 km. Well, at least not twisted and did not lie. View similar cars of this age and you will be surprised that most old cars will be low mileage. It is logical that almost all the cars have twisted mileage.
The owner of this car obviously didn't hide the mileage on your Mercedes. And rightly so.
BMW 3 series, 1986
Mileage: 548 000 km
Perhaps fans of BMW cars would get upset at us if we did not include in our unusual rating of the reliability of these machines. It is worth noting that we came across not a lot of cars with large mileage, for sale. It was basically a 5-series BMW. But this machine has interested us most. Although there is nothing surprising in the fact that "treshka", 1986 issue drove 548 000 km For vehicles BMW of those years is a normal resource. Today, the modern car owners BMW of this mileage can only dream of.
Volvo 940, 1993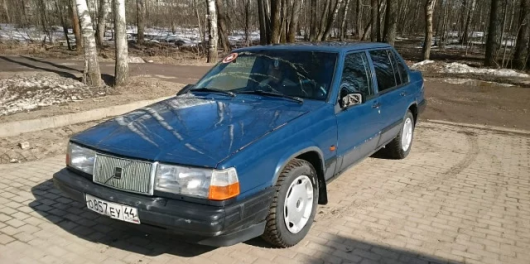 Mileage: 600 000 km
For those who don't like German, American and Japanese cars, can offer to consider the purchase of an old Volvo. However, to find with low mileage Volvo old very hard. But if you are lucky, with proper care and maintenance of the car it will serve you faithfully like a Swiss watch. Here is an example. Before you Volvo 940 1993 of release with run of 600 thousand.
GAZ 3102 Volga, 1999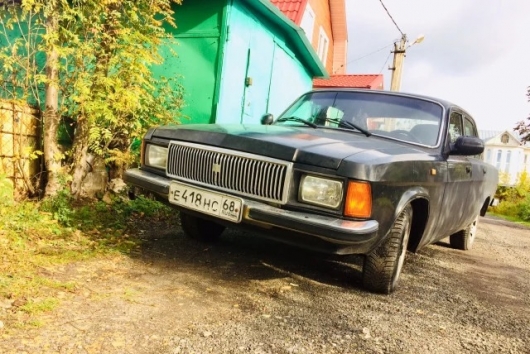 Mileage: 499 999 km
Well, for fans of the domestic automobile industry, we found an old Volga 3102 with a native mileage 500 thousand. Judging by the description, the engine is not capitalist. But the body is significantly affected. And who said that our country has never been able to do the engines? Yes, with metal we have always had problems. But the engines of our country has always sucked. And even if they're noisy, low powered, gluttonous, but nevertheless, many Russian engines are quite reliable.
It's a pity that today to find low mileage old Volga is practically impossible. But if you find, believe, problems with the motor of this model you will not know. Of course, if you maintain it properly.
GMC Yukon, 1995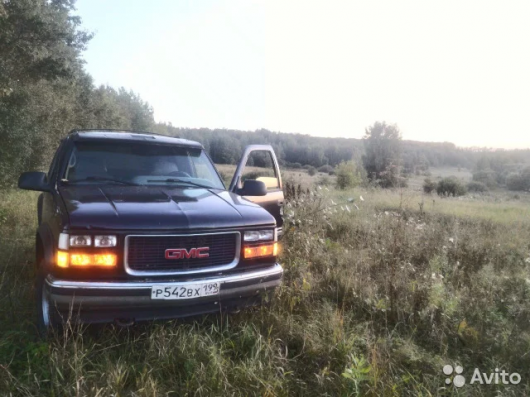 Mileage: 535 000 km
I think in addition to Ford in America all cars are unreliable? In vain. Here is an example of survivalist. Before you American GMC Yukon with mileage 535 thousand. according to the description of the author of the ad, the engine of this machine does not supply the slightest signs of wear. But this is not surprising. Especially for machines of those years. In those years, many automotive brands in the world produced a car for the ages.