The new Brabus 700 Widestar: that's what the aftermarket G-class new generation
The premiere of the BRABUS G-class new generation.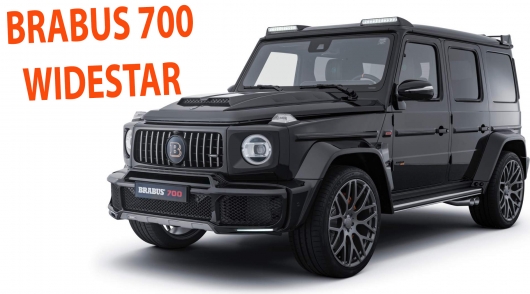 Brabus chose a place the official premiere of their new monster SUV, the Brabus 700 Widestar, which was established on the Mercedes-AMG G63. The debut was at the prestigious exhibition of yachts "Monaco Yacht Show-2018", which opened its doors on September 26.
As the name suggests SUV from Brabus power tuning the G-class will reach 700 HP Is made possible thanks to the upgraded 4.0-litre turbo V8 engine, which added 115 HP by the Way, this power is available at 6100 rpm.
Peak torque was also surprised by his power. Thus, in contrast to Mercedes-AMG G63 with a maximum torque of 850 Nm, the Brabus 700 Widestar is 950 Nm available during engine operation between 2500 and 3500 rpm.
Powerful, incredibly aggressive, the engine is paired with a nine-transmission Speedshift TCT. The motor transmits torque via all-wheel drive system. This allows tuning the G to start from 0 to 100 km/h in just 4.3 seconds.
The maximum speed of the SUV is 240 km/h. But in fact the car maybe more. Maximum speed electronically limited to protect the tires.
In addition, the SUV received a new exhaust system, which has a special valve for aggressive throaty sound.
Brabus ensures that the SUV 700 Widestar will not go unnoticed on the road, not only for its crazy sound that is guaranteed can Wake up the whole block, but a more aggressive appearance.
So the tuner equipped the SUV wider wheel arches, which increased to 100 mm, forged wheels in size from 20 to 23 inch exhaust with stainless steel pipes, wider rear bumpers and brutal wing, which installed on the roof of the car.
Well, of course, the Brabus designers have not forgotten her business card, setting it in front of the support strips of LEDs.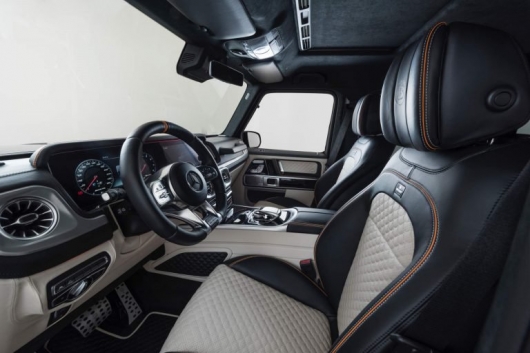 As for the interior, Brabus can adapt it to the wishes of the client, offering many solutions. For example, the interior can be used Mustikka leather and Alcantra in a wide range of colours. Including the tuning company offers wood trim and carbon fiber, which is also available in many colors and styles.
In Monaco as the debut of the SUV is provided with a copy of a two-tone execution of the interior, which is trimmed in leather, combining vanilla and black. The Central section of seats exhibition copy made from perforated leather Mastic.
Well, congratulations to Brabus with another masterpiece that soon will appear in Russia, where it has been waiting for wealthy people, which are the traditional fans of the SUV G-class from Brabus.