The most spectacular stunt of the destruction of the week: Jeep Grand Cherokee survived
Video: What would happen if a fire hose to tie to the engine and the tree?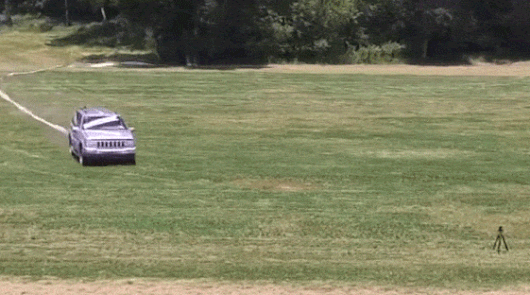 The mad experiment of the week: trying to pull the engine from under the hood of the Jeep Grand Cherokee with a fire hose. Would this madness? You will learn in a minute!
It has long been observed that people who earn a living shooting videos for YouTube is ready to go on any crazy things for the sake of ratings and hits. To understand this desire you can – the more views the more money they earn. But sometimes ideas are so delusional that just, help!
Here is one of the living examples of crazy ideas. To do this, take any car, preferably an SUV, it is beautiful fly. A good wind long fire hose around automobile engine, and the other end to attach to the tree. Important! Length fire hose should allow the car to accelerate at least milking 100 km / h.
With the help of simple devices like ropes to fix the gas pedal is pressed to fasten the wheel to prevent it from dangling and put the gear selector in position "Drive". The rest of the car will do it myself, but in the final adventure, the course will take physics, and will show whether the engine mounts would not allow him to depart from under the hood, even if all this power is applied directly to the motor.
Action in the video starts with 3:40 minutes. The video gives a complete answer to the above question. It's good that there are these crazy experimenters! Without them, YouTube would be boring.
P. S. Please note, after the execution engine looks quite intact. Even from their seats was off. But to start him more, it was not meant to be.