The most incredible accident of the week (Nobody was hurt): Video
In the truck on the highway and finally the inattentive driver, the finale is wonderful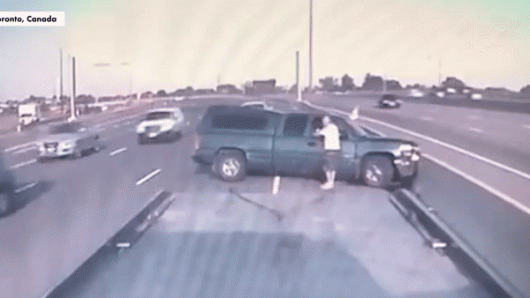 Life is not a Hollywood movie script, but there are moments when the writers of blockbusters very far from those scenes which writes reality. At least in real life the price of the good or incredible events could be life. Even the "special effects" that fall on the film, at times ready to bring the amazement of the audience more than the most beautiful footage from the new Transformers…
This video is definitely one of them. The footage you see the truck. Initially it crashed one car, resulting in a large green car ran into a chipper. Probably, it was clearly not a day of the green "American", because later exactly in the trunk to him at speed came a second car, whose driver was most likely distracted from the road.
According to the Daily Mail, the collision occurred on highway 401 in Toronto last Saturday around 19 PM. The most striking thing is that despite his cruel nature, all three persons who took part in the incident somehow came out of it alive!
"When this car was coming [to my truck] on the front page, there was no attempt of slowing down. There was no hint of the detour standing on the road in the truck," – said Adil kanan, the man whose camera filmed the accident.
"You could say that whoever ran this car, he didn't know that this [the truck] was in front of them. Many other vehicles that drove by the accident, had enough time to slow down and drive safely, which they did."
In the collision two people were hurled into the air, before the truck hit him behind the tow truck. A third person can be seen in the moments before the collision, he was thrown from a blow on the middle lane hyvee.
In General, a terrible accident in which all were still alive and not even injured. Amazing! Hollywood has a rest!