The ice against the door handles: You shall not pass, handle the Range Rover Velar!
Traveling handle Range Rover Velar vs ice: who?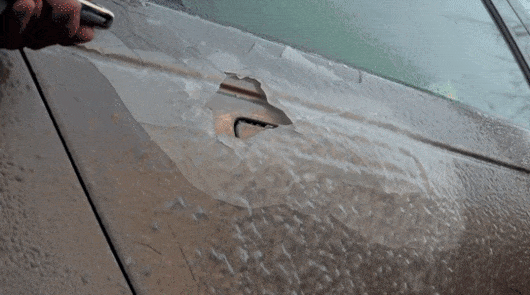 I remember a couple of years ago and several times in the early years, in the Moscow region in the beginning of winter, all car owners are faced with a sudden scourge of icy rain. This insidious weather phenomenon familiar to people from Northern coastal areas, the same St. Petersburg, Murmansk and the far Eastern port city of Vladivostok. But for residents of the Central Federal district of the Russian Federation, this freak of nature was a real test of endurance. In some cases after a winter Parking open the door, hiding under the ice, it was very difficult.
But it looks like soon we are waiting for similar natural occasion – note to what is happening outside the window right now, dear Muscovites and guests of the capital. The roof is dripping, and according to the forecast, at the end of the week you hit a good frost. Here's going to be hell for hurrying motorists. And worst of all have drivers who bought pricey new-fangled Velar, which has the outer door handles are made absolutely outside the box – retractable. What will happen if they freeze? You will manage the extension mechanism of ice?
Armed with this question, for practice come from the specialists from the magazine "Behind the wheel". The results of their experiment you can see in the video, which was done as soon as the first crossovers Velar appeared on the Russian market:
Video taken from YouTube channel "Behind the wheel"
As you can see the result was twofold. With a small icing of the mechanism to cope quite well, but namizni plenty of ice is to open one of the doors of the crossover will not happen, not enough power servo. In principle, this is thoughtful engineering sense is a kind of fuse for the interior parts of the opening mechanism, so that nothing is broken.
Lifehack for opening the door shown in this video. It is not necessary to dig the ice with a screwdriver, door keys and other sharp objects, enough to try to footbal frost hands. Not helped? Well, you will have the chance to get inside. If at least one of the door handles will open. Not convenient of course will then climb into the driver's seat, but what to do. Beauty requires sacrifice!