The first Toyota Supra GR sold for $ 2.1 million!
Model Toyota Supra was sold for $2.1
The first Toyota Supra new generation was sold for the record sum of 2.1 million dollars. Therefore, if you consider that classic of the same Supra, pushed under the hammer for half a million dollars, is expensive, think again.
Such a cosmic amount the customer paid for a model with VIN number ending in "unit", at the 48th annual auction Barrett-Jackson. Proceeds from the sale of the first historical Toyota will go to charity, and the coupe will go in the garage to the collector.
The car, nicknamed the "Global #1", as they say, will not be like any later model Toyota Supra 2020 worldwide. And really, gone with the auction model is the only Supra in the world, WINES which ends with "20201", which was built on the series "Launch Edition" and which was painted in a unique color.
In particular, the appearance made in a matte gray color called "Phantom Matte", with glossy red covers mirrors and matte black wheels complement the appearance. Inside the first sold the coupe got the interior red and black leather and carbon fiber inserts. However, that's the difference between Toyota Supra for 2.1 million dollars and the normal version of the model ends. We can say that except the price tag is the only exceptional feature here is external painting, because everything else is included in the subsequent production models.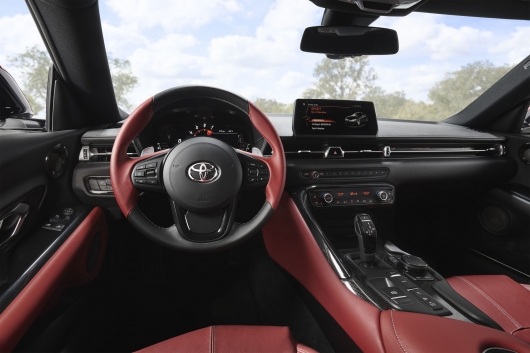 The interior of Toyota Supra 2020 GR Launch Edition
The unknown winner of the auction also received in addition to buying a racing suit and two VIP passes to the April race NASCAR Toyota Owners 400 in Richmond, Virginia. A unique ticket includes the opportunity to ride behind the wheel of Pescara and also make a few hot laps with a professional NASCAR racer Michael Waltrip.
All the other Supra in the series will cost from $55 thousand Thus, one buyer paid in one fell swoop the order of 36 new "Supra" in the minimum configuration, it does not receive virtually no significant benefits. Well, of course, but the first production car and a nice weekend next spring.