The concept Audi E-Tron GT first official pictures before the premiere in Los Angeles
Audi E-Tron GT, the first photos of a competitor Tesla Model S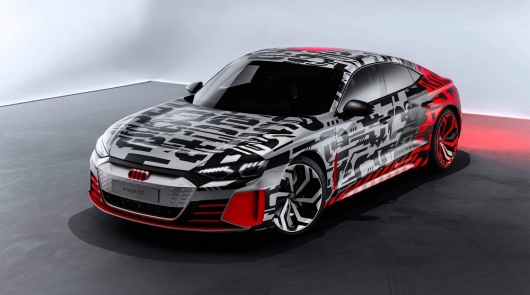 The concept Audi E-Tron GT has received official confirmation in the photos. Rival Tesla Model S – a fully electric model from Audi, was exposed on the eve of the debut at the LA Auto Show.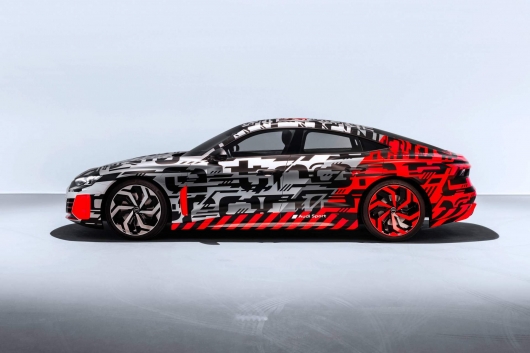 And so, the prototype e-Tron GT is the third all-electric model of Audi, which will soon be added as a serial machine to the two previously presented versions of electric cars: crossover e-Tron and e-Tron Sportback. Besides the fact that it is a fully electric version of Audi, we note another unusual concept car thing – paint in camouflage color. Not made to cover the debut of the model in complex camouflage livery, it might confuse the viewer confused. Really have to give Audi credit, this camouflage applied to the body solely to beauty, so consider all of the interesting curves you definitely will.
As in the case of the Tesla Model S against which the e-Tron and developed in the first place, the electric car from Audi technical is not a thoroughbred sedan. His body, it is rather a five-door liftback with sports style. Note the slanted back roof line, the average low stance, huge rear diffuser and decals Audi Sport.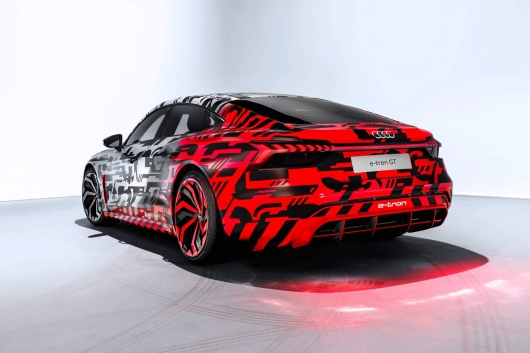 Yes, this car seems designed by the same people who were responsible for the car Audi RS, which means that this electric car will have to provide impressive performance.
Unfortunately, Audi has released the photos without any accompanying information, but a report on the new German magazine Bild claims that the e-Tron is identical to the GT uses the platform developed by Porsche for Taycan. Thus, Audi should be able to sprint from 0-100 km / h in less than 4 seconds and to overcome more than 400 km on a single charge.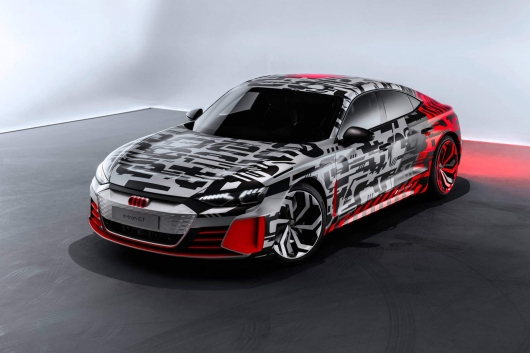 Structurally, the production model will be very similar to the concept, which Audi will present tomorrow at the auto show in Los Angeles. Judging by the photos, we would dare to say that the prototype and the production model will look the same – the car seems to us to be completely ready to produce, at least externally.
The images also show a very strong similarity of the electric vehicle with the latest version of the Audi A7 Sportback. External lighting (headlights) the bumper and lack of the e-Tron radiator filesresearch can be attributed to the differences, but the overall shape of the car is basically the same.
Audi will launch its flagship electric car e-Tron GT in 2020.