The company ZF has developed a revolutionary new electric drive
Electric drive by ZF will be integrated into new cars in 2019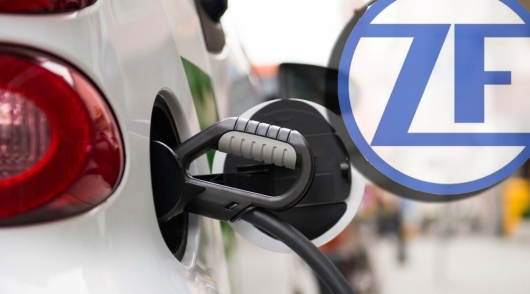 In the beginning of the month, ZF presented its new electric drive system and announced that its production begins in 2018.
Modular technology of electric drive – a new solution from the company ZF is suitable for electric vehicles, hybrids and fuel cell vehicles.
German supplier of automotive equipment said that their new solution provides the power to 204 HP (150 kW) and fully integrated into the drive axle so that it can be placed both in front and in rear wheel drive cars.
You asked the question: why do you need to know about this new technology? All really simple – the system eventually will be very soon integrated in a number of models wide range of brands, and it has almost endless potential for the next technological leap in hybrid and an electric car.
4 significant advantage of the drive from ZF
Think about the possibility that your next car will get up to 204 horsepower only on the rear axle and the front wheels will additionally be able to acquire the exact same individual electric power unit. Total – more than 400 horses in total. Sounds great and here's why:
1. This will lead to a perfect ratio of power-to-weight vehicles that were not previously available to a wide range of vehicles, from budget to sports cars. This approach will provide even higher power and torque like electric cars and hybrids with an auxiliary internal combustion engine or fuel cell vehicles.
2. Another highlight of this system is maximum torque of 380 Nm, which is able to provide such an electric motor. Extremely good result, given the small weight of the integrated drive circuit.
3. By the way, about the weight. The actuator's weight is only 113 pounds, and it can be integrated in a variety of automotive architecture. All you need is a battery to supply power to the system. Since e-axle has a compact size, the battery can be placed over the axle with the outside of the body or inside the passenger compartment.
4. Another significant breakthrough made by company ZF with this new system is the use of an asynchronous motor (ASM). This motor does not require magnetic materials, thus reducing the need to use rare earth materials such as neodymium or dysprosium. With this solution, the system will be cheaper, and its production will not cause harm to the environment as the creation of other common motors, for example synchronous motors with excitation from permanent magnets (PSM).
Possible use (which car company will be the first owner of the technology)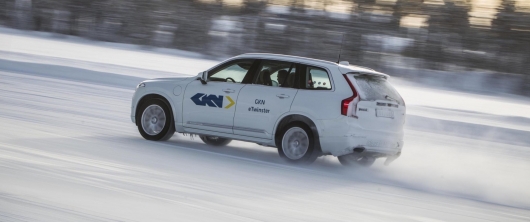 Due to the above advantages (low weight, compactness, high performance), a new development German supplier will be able to easily fit in cars of German manufacturers in the coming years. With them electric cars and hybrids will weigh less, and cost of production will decrease.
Despite the fact that ZF did not specify which brands she talks on the pencil you can put several major European companies. Is purely personal speculation that Volkswagen this would be the ideal option to get out of a reputational hole.
The approach will be beneficial to all. ZF hoisted on their products concerns, and the second, in turn, do not have to invest huge amounts of money in developing its own alternatives.
The performance and size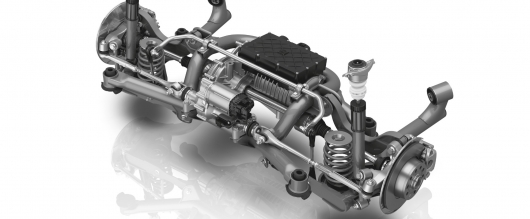 A new module from ZF integrates an electric motor and two-stage transmission in a single housing. It also has a differential, and a special cooling unit. All components are equipped with power electronics and special software. This approach can significantly reduce spending on the manufacture and further development of the technology with an eye on future generations of electric cars.
Unit length along the – axis of 45 centimeters, width – 38 cm. Its height is about 51 cm. To fasten the electric drive power part is outlined in the photo above.
The electric motor develops speed up to 13,000 rpm, and built-in gearbox got the gear ratio of 9.6: 1. ZF uses two stages in the transaxle to reduce noise and to provide dynamic acceleration without the inclusion of a greater number of gears.
A competing system from Britain
ZF is not the only car company began to develop electrical drive technology. The British company "GKN Driveline" has created a technical solution called "eAxle", which has already sold over 300,000 units. However the British motor weak – develops 80 HP (60 kW) and 240 Nm, but it has already produced, and this is a big bonus.
Weight in the specification of the product by the British is not specified.
Electric mobility is the future
No matter how strong is your commitment to internal combustion engines, you have to admit that the day will come when vehicles of the new generation will have the same electrical axis. The Germans at ZF confident in such an outcome, and this year established a new division "E-Mobility" in which they are working on the future concept for the construction and development of the patented technology described above.
When such a big company like ZF invests in similar technologies, this is a clear indication that the automotive industry is in a phase of transformation that will ultimately bring more EVS and hybrids on the road.
New car production is likely to begin in 2019, and the first system of axes elektricheskih will be made in 2018 and probably will first appear on the production model in the same year. However, the wide dissemination of new solutions "e-axle" from ZF will take several years. We expect that customers will have a wide range of cars fitted with this system in the 2019-2020 year.