The 2019 BMW X7 concept shown in network
2019 BMW X7 has been shown in the photos prior to debut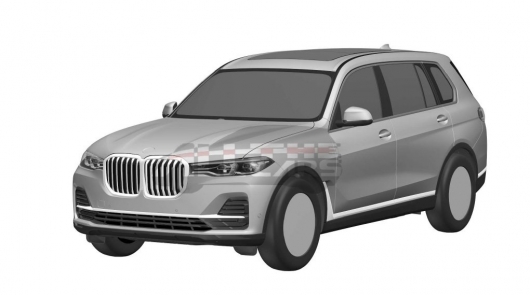 Photos 2019 BMW Z4 came from the patent office last month, now it is the turn of a large SUV X7.
Submitted by the patent images show that the upcoming competitor to the Mercedes GLS will resemble a larger version of the X5 SUV. However, despite the similarity of styles between the two models there are some differences.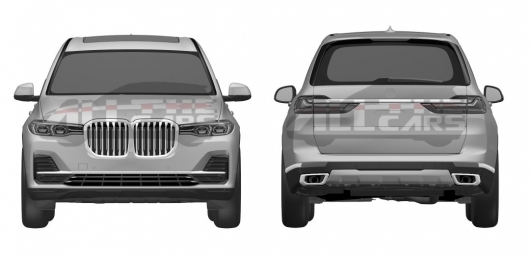 Two models have massive front grille, this they have in common, however, lights X7 made unique, such as are used on the X5 SUV. X7 also gets a more conservative front bumper with a chrome bar that visually accertive the lower air intake and crashes into the side ducts.
The Board crossovers definitely show more differences. So, X7 in the lower part is chrome plated molding, simulating the element of its flagship sedan 7-Series. The X5 such molding n observed. This is not the only visual difference, as shown in the photo the model has less pronounced curves on the sides, with a flat bottom line at the door of the X5.
In General, the biggest differences-figuratively and literally-can be seen in the profile because X7 is longer, it has a massive rear door that will help to make the entrance and exit of the seats of the third row much more convenient. The roofline is also made flat, installed a unique window for the third row, which has more angles than that used on the smaller model.
At the rear, the only notable features style dual exhaust system and unique rear lights connected by a thin strip of chrome trim. These features are hardly worth mentioning, but a closer look at the fifth door implies that the model will have the traditional panoramic glass roof and a small hatch above the third row.
Despite all the differences, the BMW X7 and X5, both models will have several of the same engines. It is expected that the range will include a turbocharged 3.0-liter inline six-cylinder engine producing 335 HP (250 kW) with a torque of 450 Nm. Must also be installed and the 4.4-liter V8 producing 456 HP (350 kW) and 650 Nm of torque.
For the European market X7 may be offered with several diesel units, including a turbocharged 3.0-liter six-cylinder engine producing 261 BHP (195 kW) and torque of 620 Nm. Also in the future can be considered a variant X7 M50d with four turbines of the 3.0-litre six-cylinder engine producing 394 HP (294 kW) and torque of 760 Nm.
In the future we can expect hybrid and plug-in hybrid option, possibly even a high performance model with V8 engine M850i, which develops 522 HP (390 kW) and 750 Nm of torque.