That's why Volvos are considered the safest car in the world: Video
Volvo XC70 vs truck Scania: there were no injuries!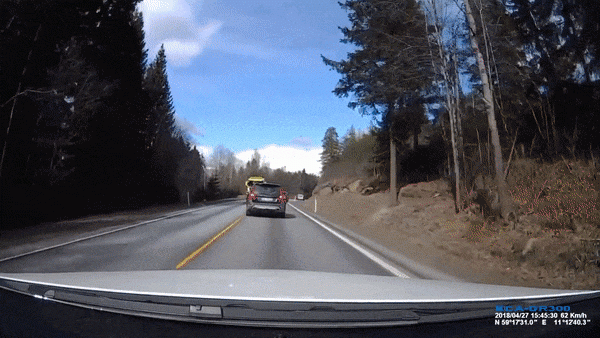 Motorists involved in an accident, it happens. Accidents happen offensively ridiculous, and there are terrible. One of the most dangerous is a head-on collision of cars. The most tricky frontal collision of the machine with a slight overlap, as in crash tests by the IIHS: Crash test cars
Here is a recent video case study of how important it is to have a modern car with a sophisticated design of protection and safety, so that even in serious accidents all the inside had a chance to get out of the car independently.
Country route. In front of the car with the DVR moves the Volvo XC70. Suddenly all terrain wagon begins to shift to the left edge of its lane (possibly the driver is distracted), crosses the centerline and immediately crashed into a Peterbilt Scania. The speed of the collision was certainly not exorbitant, but even here there is all the power of the blow. It seems that the driver of the car to survive in such an accident impossible. Even the truck sat on the left front wheel, which from the blow was thwarted with his mighty arms (what happened to the truck – behind the scenes).
Without injuries will not do, impossible to survive… that's what's on the tip of my tongue at the sight of such brutal collision. That would be true only if staffing was not a Volvo. The driver of the car involved in the incident has not only survived, but apparently was not seriously hurt and was not trapped in the cabin. In the first seconds after the accident he began to clean up the wreckage in the car to get out.
Later on Reddit wrote that the driver is lucky to be alive – not a single scratch. But we believe otherwise – he just drove the Volvo.