That's how dangerous it could be flown away from the truck wheels
Flying away from the truck wheel almost killed the driver of the SUV: Video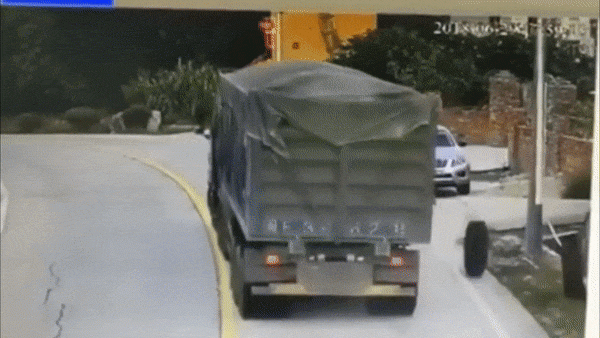 It's hard to imagine a more ambiguous situation on the road than away from the vehicle wheel. On the one hand, it archibase like the poor guy who lost one of the points of support of the vehicle and for other road users. On the other hand, it looks ridiculous and as though even comical. However, like "funny" side did not look separately moving the road wheel, in reality it turns into a real battle shell, ready to bring destruction and disaster to anyone that you meet on your way.
Especially dangerous are the wheels of the trucks that come loose from the wagon at speed. One wheel can weigh 100 kg or more. Add to this the inertia of the motion, say 80 km/h and get the potential of destruction is not worse than that of a passenger car. Only one thing, due to the small contact area, the wheel is able to literally break their way through various obstacles, causing even more damage.
Not to be unfounded, we present an example in the next video. It eloquently illustrate what we're talking about.
Two wheels fly off of the rear truck of trucks moving at speeds of about 70 – 80 km/h. Instantly the first of them immediately rams standing on the side of the Nissan Navara pick-up, making mince right side of the front of the car: bonnet, bumper, wing – everything was destroyed by a blow of immense power. Inside the airbag triggered, and the frightened driver hurried to get out of the car, and for good reason. Because the second wheel of the truck, approaching on a hummock, with a height of about six meters fell precisely on the driver's side of the roof of a pickup truck, crushing it with one powerful blow.
The driver in the incident was not injured – lucky. But the car would be long and expensive to restore. Hence we conclude: the wheels on the road – is completely ridiculous and extremely dangerous! Be careful on the road!