Swedish Volvo XC40 SUV has once again become the car of the year Japan
The Japanese prefer Swedish quality domestic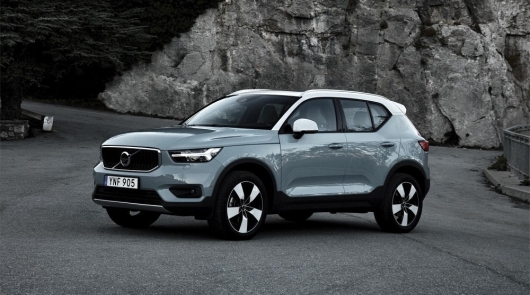 Everything began! The closer to the New year, the more there are all kinds of ratings and carried out calculations about automotive and automobile companies and agencies. As they say, the chickens are hatched. Everyone is curious to know what a year lived world autotoolset. What brand and model is preferred, what tires were put on wheels, and what flavors hung in the shop. Everything must be taken into account that penny!
One of the important components of these ratings have become so-called "Best car of the year". The Americans calculate your rating at the beginning of next year on autoshow in Detroit in the framework of the "North American car and truck of the year" in Europe will bring your total under a logical name of "European car of the year" and world car of the year will be announced at the competition in January 2019
Is your parochial rating, and Japan. You also wonder to know what the car prefers a spoiled Japanese consumer? Surely this is something of their own, native. Toyota? Mazda? No, I understood as observant readers of the title, the winner in the ranking was the Swedish manufacturer with its new small crossover, Volvo XC40. This model received the title of "Best car of the year Japan 2018-2019 years".
As is customary in other similar competitions, the finalists eliminates the jury. In the land of the rising sun right to choose endowed with 60 people, which includes not only automotive journalists and professionals from the world of cars, but also students of technical Universities. As they say, let the students learn to be beautiful in his youth.
The competition was attended by the cars sold in the Japanese market from 1 November 2017 to 31 October 2018.
The contest Volvo XC40 scored 363 points
Toyota Corolla took second place with 314 points.
Volkswagen Polo was in third place with 197 points;
Toyota Crown 170 points and fourth position;
Fifth place (156 points) once again the Japanese model Mitsubishi Eclipse Cross.
Note that this is one of the oldest competitions of this kind, Japan Car of the Year (JCOTY) is carried out since 1980. Finalists during this time were the following car model:
2017-2018 Volvo XC60
2016-2017 Subaru Impreza
2015-2016 Mazda Roadster
2014-2015 Mazda Demio[2][3]
2013-2014 Volkswagen Golf
2012-2013 Mazda CX-5
2011-2012 Nissan Leaf
2010-2011 Honda CR-Z
2009-2010 Toyota Prius
2008-2009 Toyota iQ
2007-2008 Honda Fit
2006-2007 Lexus LS430
2005-2006 Mazda MX-5
2004-2005 Honda Legend
2003-2004 Subaru Legacy
2002-2003 Honda Accord
2001-2002 Honda Fit
2000-2001 Honda Civic
1999-2000 Toyota Vitz/Platz/Fun Cargo
1998-1999 Toyota Altezza
1997-1998 Toyota Prius
1996-1997 Mitsubishi Galant
1995-1996 Honda Civic
1994-1995 Mitsubishi FTO
1993-1994 Honda Accord
1992-1993 Nissan March
1991-1992 Honda Civic
1990-1991 Mitsubishi Diamante
1989-1990 Toyota Celsior
1988-1989 Nissan Silvia
1987-1988 Mitsubishi Galant
1986-1987 Nissan Pulsar
1985-1986 Honda Accord
1984-1985 Toyota MR2
1983-1984 Honda Civic
1982-1983 Mazda Capella
1981-1982 Toyota Soarer
1980-1981 Mazda Familia