Spy photos of the sports version of the 2018 Toyota Camry
Whether you are waiting for the emergence of a new Toyota Camry
1. Looking forward to 2. No interest in a Camry
Vote
Results
The 2018 Toyota Camry in camouflage
One of the most popular sedans in the world, and part of the dream of many Russian motorists, Japanese model Toyota Camry planning to upgrade to a 2018 model year. Interestingly, this is not a standard upgrade, the car is rumored to maybe get a new engine and possibly acquire a top high-performance sports model. Spy photos of the updated Toyota included.
And so, in the leaked photos depicting the camouflaged Toyota Camry. Apparently the footage shows the model, pumped court division of the TRD. What makes me such arguments?
The reasons are several, the main one is "four-barrel" exhaust, unusual for models in this class, the second part is new sports "boot" disks and finally sport bodykit new Camry. Of the alleged new things is to install a modified suspension (without it, we believe that the Camry will not be able to achieve normal handling with a powerful engine, especially in these Japanese sedans have long been observed problems on the part of sanity when the driver of the car at speeds over 100 km/h) may be running a new engine, change the interior of the car.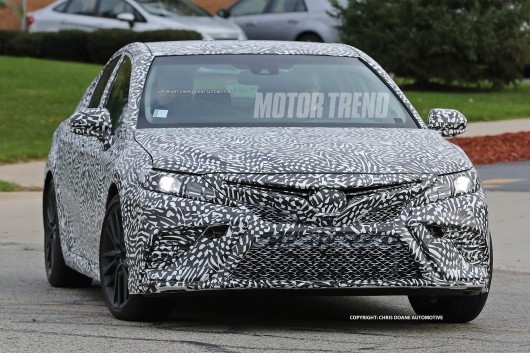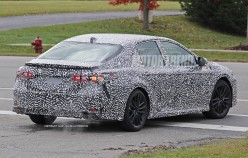 The new Camry is expected to be built on TNGA architecture from Toyota, which had previously been applied to the updated Prius, which again should improve the performance of dry weight and make handling better. Also rumored to be in the range of engines will be added to 2.0 litre four-cylinder turbo, 3.5 V6 remains optional top engine. Both of the above engine is combined with eight-speed automatic transmission. There is of course another representative of the power units used on Camry, 2.5 liter four-cylinder engine that will be applied paired with a six-speed transmission. Later, perhaps the appearance of a hybrid version of the model.
If to speak about the instance of the prototype, which we see in the photos and if its creation is actually engaged in a courtly stable TRD, the potential of the buildup V6 under the hood of the car can be huge, more than 300 HP
A little more about the style of Camry

If you are interested in how to develop the style of the Toyota Camry, our supposition is such that he is more likely to be evolutionary than revolutionary. This suggests the bumper, the cut led headlights, the overall dimensions of the vehicle and the proportions of his trunk. The narrow rear lights are reminiscent of the style element from the Toyota Avalon. The photographer managed to capture a piece of the dashboard. The photo shows the modified air ducts and chrome trim on the toolbar.
Waiting for the next batch of photos.