Skoda has revealed the unique sketches of the new subcompact SUV Kamiq
Skoda Kamiq, the new urban crossover with a new design: first photos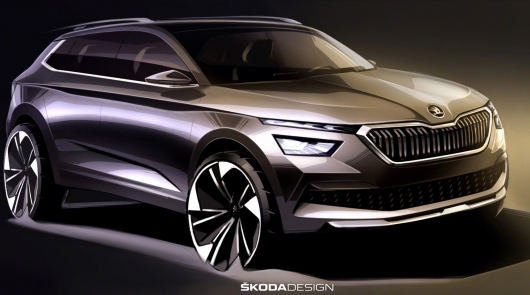 After the disclosure of the official name of its new urban SUV, Kamiq, the premiere happened last week, Skoda has released two official sketches provide details about its exterior design.
The novelty, as shown in the two pictures, will receive the distinctive features of the Czech brand, with obvious signs of complication of design and its gradual transition to a higher stylistic level. At the same time, both the front and the back, the novelty is quite recognizable, there is a continuity, one can see is a Skoda.
Front light optics was unique for the brand, the headlights and auxiliary lighting in it is broken horizontally into two sections. The main bottom (fog lights), support from the top. Located above the headlight lighting elements work as daytime running lights (DRL), combined with dynamic turn signals. The strip itself serves as a kind of design continued with both ends narrow, almost the whole width of the cowl filesresearch radiator that has become a typical element for SUV Skoda.
The profile of the crossover lends a sporty look slightly lowered roof, descending down from the middle of the uprights. At the rear, on the tailgate, between the angular "C"-shaped tail lights, you can see the inscription "SKODA" in large letters, instead of the default branding icon – arrow with three feathers.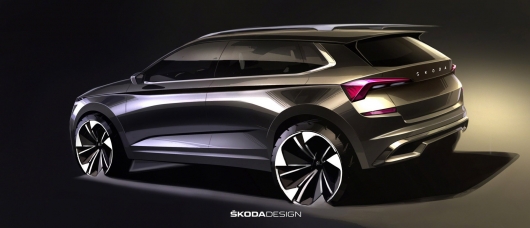 Wei visibility at the urban crossover will be set a variety of plastic lining in the lower part of body panels (front, side, rear) to protect against moderately bad roads and bumps. Silver roof rails and large wheels, as an integral attribute of any modern car are also present on the Skoda Kamiq. Long dynamic lines running through the length of the car body, to round out the look.
It is reported, the model will be built based on the MQB architecture A0 of the development of the Volkswagen Group. The closest counterparts Kamiq the platform will be the Spanish Seat Arona and German VW T-Cross. They will share the engine lineup with the Czech SUV B-segment. Most likely front wheel drive layout will be the only one in the list of options. About the AWD not saying anything yet.
The day of the official premiere of Skoda has chosen the Geneva motor show in 2019.