See the biggest buggy in the world created from the old BMW X5
Here's how to make old SUV X5.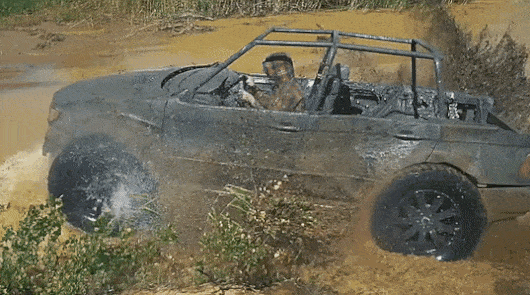 The BMW X5 ! The dream of many motorists! The first generation of the crossover today, unfortunately, the dream students and young drivers. Although I must admit that in the back of the X5 E53 was much better than their younger relatives, which can hardly be used for real off-in our days (we are talking about crossovers, the X5 in body E70, F15 and the new generation G05).
Thanks to the unique technical characteristics of the first generation X5 was really no shame there, where the asphalt ends. Perhaps that is why someone recently came up to do with the X5 E53 real buggy. Because you know that the current X5 as well, or not suitable for such tuning.
So, recently on the Russian YouTube channel called AcademeG appeared interesting video, which you can see from the old X5 did, probably the biggest off-road buggy in the world.
So, instead of tuning the roof of the SUV was a metallic arc. Also, the car lost the windshield and door frames. Including machine has got a huge off-road wheels. Naturally, some fine-tuning and got the car's suspension a little to increase the road clearance.
By the way, note the amazing process of turning an old broken crossover in real superbuggy ready to cut on the road equally with Cars, Cornfields, Predame, etc. for Example in the video you will see that the tuners had to cut the wings due to the fact that the car has received a huge off-road wheels.
Unfortunately, despite the detailed video, the authors said nothing about whether the modified transmission SUV, and his motor. If you watched the video carefully, you could see that in front of us E53 X5 with a V8 engine capacity of 4.4 liter (there is a label on the back of the machine).
Most likely, the authors of this bold tuning, which breathed new life slain BMW X5, not subjected to the car engine and box any tuning, since the power of the eight-cylinder motor and the torque in this car is enough to travel on the road.