See how the new system works Mercedes, which helps the SUV to go out of the sand
What do you think is going on here?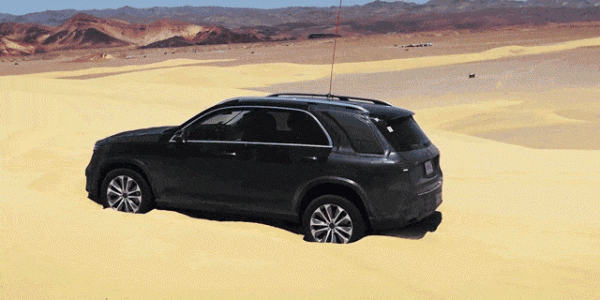 The world has long been waiting for a new generation of the Mercedes GLE, which will soon be released to global markets. This long-awaited SUV will replace the currently existing model, which, in essence, remains the same ML-class. After all, the idea is that the Germans made a restyled ML-key and changed the name of the model, in fact the car remained with the old technology. But the new generation is another huge step forward. It is already known that, most likely, this car will be one interesting feature that allows the SUV to go from loose sand in the dunes. About her talk today.
So, Mercedes GLE equipped with a pneumatic spring system that if the car sits in the sand, she get help with a similar terrain. To do this, the springs cause the car to bounce up and down. At the time of the jumping movement of the wheels of the car helps traction on loose sand.
This feature is called "Freischaukelfunktion" and literally translates as "swing function". This option is included in a future configuration of the new GLE SUV. This function is very similar to the old off-road stunt drivers when to leave the mud, method of swinging back and forth, requiring dramatically to include the front, the rear transmission.
Unfortunately, this manual method is the buildup difficult to master drivers. In order to use it on the offroad, you want a decent experience.
The system "Freischaukelfunktion" makes it easy. That is, you will not need experience behind the wheel of the new GLE to leave the sand if you get stuck. The system will do everything for you.
According to some, this system can raise and lower each wheel. Theoretically, this allows GLE off-road traction of a truck with solid axles. However, it is too early to call this Mercedes technology is the best solution for crossovers. But I must admit that looks and sounds fucking great.
Here's a look at how this system works in real off-road conditions.