Russia's roads are worse than in Peru
24 place from the end of the road in the country do not change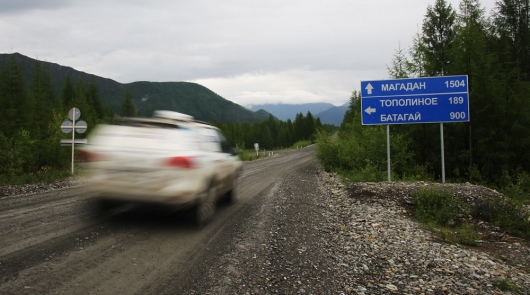 The so-called "global competitiveness Index" (published on the website of the world economic forum) is an annual report, which assessed the ability of countries to provide high levels of prosperity to their citizens. One of the markers of comparison is the level of quality and development of automobile road network. In the ranking compiled by the 2018 Russia took 24th place at the end or 114 out of 137 countries.
Interestingly, a number of countries with much less developed economic and social indicators easily bypassed Russia in this comparative index. For example: Pakistan (76), Ghana (78th), Jamaica (79th place in the list). Zambia, Ethiopia, Mongolia and Peru are also significantly avoid our country road, which, according to the research of this indicator should vary the length and quality of the roadway, without pits or irregularities.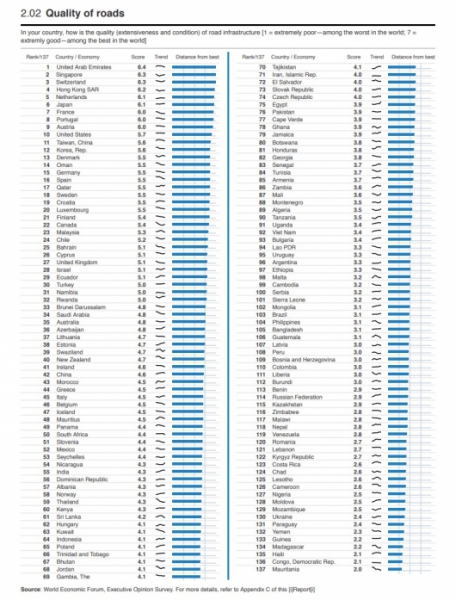 Click on the photo to reveal
It is also interesting that the road better even in the countries that were part of the Warsaw Pact and the Soviet Union. Armenia, Georgia, Slovakia and the Czech Republic, Tajikistan. For example, Tajikistan, according to the experts, who compiled this list, located at the 70th place with a score of 4.1 and the growing trend towards road improvements, but in Georgia, which was delivered at the 82nd position in the list, on the contrary, there is a downward trend in quality of roads with a total score of 3.8 units.
Among the Top 10 countries with the highest quality road the most developed road network for the first place is the United Arab Emirates (figure 6.4, the best coverage of the road network, a downtrend), second place: Singapore – 6.3, third place Switzerland on the same index. Hong Kong (6.2), Netherlands (6.1), Japan (6.1), France (6.0), Portugal (6.0), Australia (6.0) and United States (5.7), all of them are in the top 10 countries with the best roads in the world.
It seems that despite the introduction in 2015 of a levy on carriers in respect of harm caused by roads of General use of Federal value, "Plato", the construction and repair of roads in the country are still one of the lowest levels in the world. Well, I am glad this is just one trend in the index at RF positive, look at what place he will leave the country and if she can get rid of one of its most serious problems.
Well, in addition to Plato, we recall, must approve the new Standards of road repair. The document prohibits the defects on the road both during operation and during maintenance works, the condition of signs and roadway repairers will increase the liability, including material fines: a new standard in road repair will it Help? View.