Reminder: a New type of markup will introduce from 1 June 2018
Details about new types of markup from 1 June 2018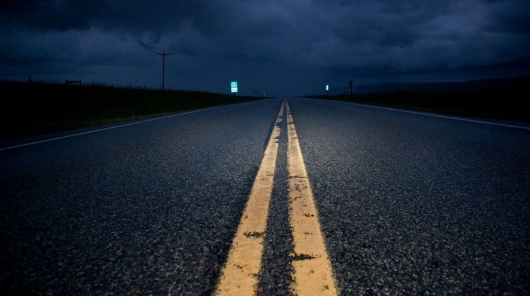 Recall that the Agency, in cooperation with Rosstandart since the beginning of summer this year will introduce several new colors of road markings. The truth here is to draw the readers ' attention that this change does not mean that after a few days we (drivers) EN masse will see a new type markings on the roads in towns and cities across the country. No, because the speech while goes about the Guest and not about changes in the Rules of the road. That is, until one of these changes will be spelled out in the SDA, applied to the markup will not be. However, the State standard for the markup is ready and here's how it looks on paper in the document: GOST R 51256-2018
It will be blue, yellow and even green, which will be inscribed the lines on the roadway, in addition to or in substitution of standardized GOST R 51256 2011 colors.
As stated in the order of Rosstandart on 20.02.2018, No. 81-CT "On approval of national standard of the Russian Federation", approved by the national standard of Russian Federation GOST R 51256-2018 "Technical means of traffic organization. Markings road. Classification. Technical requirements". The order will take effect from 1 June 2018, replacing the current state standard No. 51256-2011.
And, indeed, innovations (new standard) will apply from the beginning of the first summer month, as planned. Recall that it changes for motorists and for what it's all planned.
First, recall why it was necessary to introduce a new colour marking. So the road will make the markings more visible to drivers, will help beginners to better navigate in tight traffic, which will contribute to a variety of colors for that layout.
Secondly, it will be used? "This standard applies to the marking of highways, streets and roads of cities and rural settlements", says GOST R 51256-2018. That is, the markup will be applied across the country, regardless of the scale of a settlement, city or region.
Thirdly, the markup will be applied horizontally – on the asphalt surface, and vertically on the pillars, poles, bars, or bumpers.
New colors.
Technical requirements for horizontal marking. For permanent horizontal markings (including duplication of the image of road signs) establishes the following colors:
White
Yellow
Red
Blue
Black
Green
For temporary road marking is set to Orange color.
For example, as we learned earlier, the blue markings will be used to designate boundaries, lanes on multilane intersection, and yellow will be the centerline on the road, solid and dashed lines. Such lines will be evident to motorists and will be more visible in difficult driving conditions. For example, in the snow.
That is, the line marking separating the streams and lanes of cars: single, double, solid, dotted and mixed lines (solid + dotted), soon will be applied to both white and yellow.
In addition, the standard introduces several new symbols painted on the asphalt, for example:
"Electric vehicle charging station";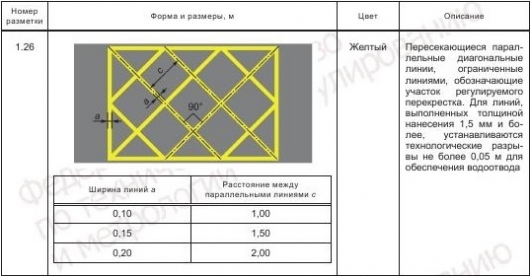 Officially introduced already used in an experiment marking "waffle iron", which are prohibited if there is congestion;
Provides an arrow indicating the headland"
It is also proposed a new variant of the crosswalk, instead of the usual "Zebra", which will be allocated a double dashed line.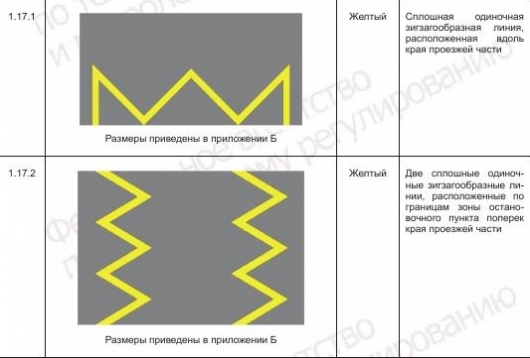 Finally, you will apply new horizontal markings near public transport zigzag line at the sidewalk across the roadway.