Quiz: Who is faster a motorcycle, electric car, F1 or F16 aircraft
Battle of the Kawasaki H2R, Tesla S, two supercars and istrebitelej F16, and Learjet.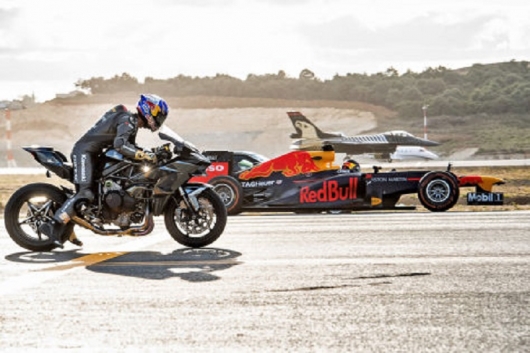 This you have never seen. Recently in the airport in Istanbul took an unusual battle in which he fought vehicles in different categories. So, MOTOBIKE Kawasaki competed in speed of acceleration with the electric Tesla S sedan, two sports cars and military aircraft. What happened, see the video.
Guess who eventually came out the winner? If you don't watch the movie, many people immediately think that the outcome of this battle is predetermined, so as to start out unequal power rivals. Especially pale ground vehicles look next to the military fighters. But do not rush to put on the aircraft. Do not forget that the main enemy as fighters, electric cars and sports cars is their weight.
In the end, the race was won by a motorcycle.
The race was held recently on the runway of the new Istanbul airport, which is still under construction. Check-in was timed to air festival.
By the way, initially off the line was the first electric car Tesla Model S.
But then the motorbike Kawasaki H2R took the lead in the race.
In the end, the motorcycle became the winner, ahead of a Formula 1 car just 0.04 seconds. And it's all thanks to the excellent ratio of weight to power. Third place in the race took the F16 fighter.
By the way, here you can see another interesting battle of the Kawasaki H2R with a powerful sports car.