Perhaps the most insane concept cars in the history of Mercedes
1995 Mercedes Vario Research Car: Forgotten concept cars
Why buy four cars if you can buy one for all occasions?
Title: Mercedes-Benz Vario Research Car
Debut: 1995, Geneva motor show
Technical features: front wheel drive, variable speed transmission, a carbon fiber reinforced plastic body, the electronic actuator steering and brakes
Why this concept is so important: the Idea to build four cars in one machine sounds really great: sedan, wagon, convertible and pickup on the transformation of each model required less than 15 minutes. Brilliant!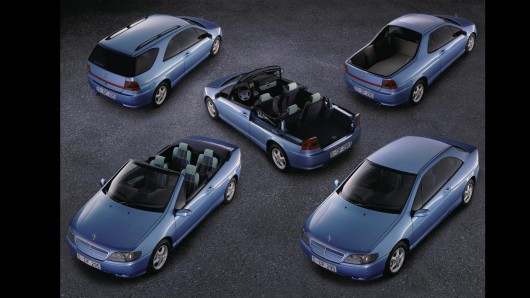 Every car is purely your goals, high multiple at a time. Someone buys a sedan or station wagon for the family, another is betting on a convertible to get a pleasant experience from the summer driving, while the truck is being used as workhorses. More than two decades ago, Mercedes wanted to combine them all in the automotive study, called Vario, a compact two-door compact car front-wheel drive layout and a universal body made of carbon fiber.
Each of the four additional elements of the exterior weighed 30 to 50 kg and would have ensured "a high level of stability and shock resistance".
VRC was developed based on the needs of the mass consumer, there was no need to have a huge garage where the buyer stored the parts of your car, Mercedes suggested that in the future they will be able to create a network of rental stations, where the owner could rent the necessary part of the roof or to hold parts of your car are absolutely free of charge without age limit.
In addition to its unusual body (by the way, the model looks very attractive, even 20 years later), the concept also had the recognition of road signs (95th year!), which can be called a grandmother of modern systems of recognition of characters. She could determine the maximum speed at a particular site, and then visually alert the driver of excessive speeds.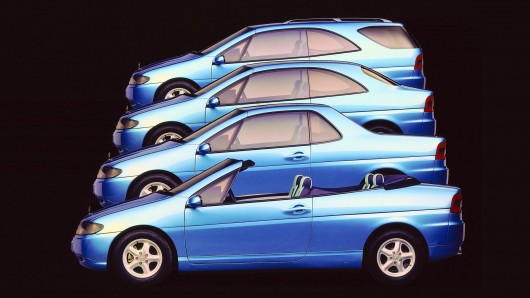 In addition, the VRC concept was actually the very first model in the Mercedes study, know the benefits of using electronic steering gear and brakes by eliminating the hard mechanical linkages in these important elements.
Needless to say, this concept probably would never have seen the light, because it would absolutely not wise on the part of automakers to sell only one car, instead of generating a large profit on the sales of four different models with completely different bodies.
However, the idea is the place to be and we liked it!