The new generation 2017 Audi A5 Sportback vs old Audi A5 Sportback
Comparison of two generations of the Audi A5 Sportback.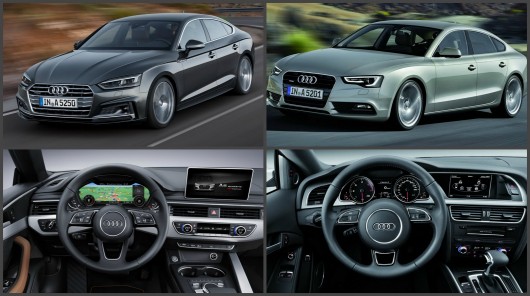 And so after the company Audi has officially unveiled their new A5 and S5 Sportback, it is time to compare the new model with the old. Will you be able to distinguish the new generation from its predecessor? We tried.
Unlike the new Audi A5 coupe and cabriolet, the new model in the back of Sportback look completely different. These models are aimed at slightly different customer base. So we will not compare the A5 in the usual body styles, and compare today two generations of the Audi A5 Sportback. What do you think of the new in the new model?
In fact, there are many differences. First, here is an updated model, which used a new "design language", which reveals the different style of Audi. Note the new hexagonal grille, new bumper, all new headlights, a new bonnet and a more aggressive rear optics.
How do you think which car is better? Old generation or new? In fact, no accounting for tastes. But I must admit that the previous generation looked more sporty than the new. The new generation 2017 Audi A5 Sportback looks more elegant and representative. But, unfortunately, the emphasis on sportiness somewhat blurred.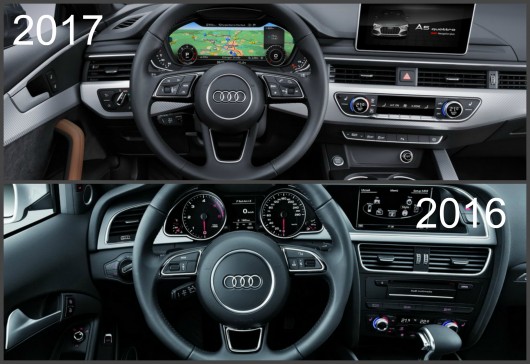 Inside the new model also received the new interior, starting from the digital dashboard (12.3 inches) + new infotainment system (8.3 inches). Salon 2017 Audi A5 / S5 Sportback was spacious, due to the increase in interior space. A length of the interior increased by 17 mm wide by 11 mm. Also in the cabin was much more legroom (+ 24mm).
New models Audi A5 / S5 Sportback is based on the platform MLB, which will increase not only the size of the body, but the wheelbase.
Thanks to the wheelbase, engineers have managed to increase the internal space of the car.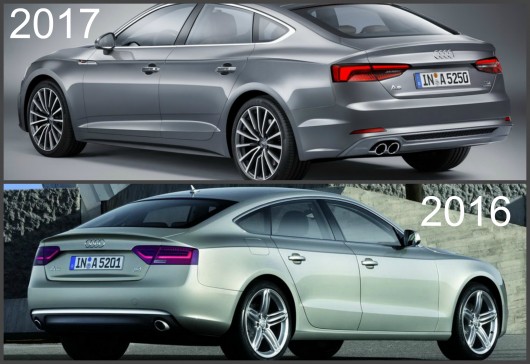 Compared to internal and external changes in design, with regards to the powertrain, the novelty has received the same engines that are installed on the new generation A5 coupé, which appeared on the market recently.
Especially noteworthy is "hot" six-cylinder engine capacity of 354 HP and a torque of 500 Nm, which is installed on model S5 Sportback. It is much more powerful than he could afford, Sportback S5 in the previous generation (power 333 BHP torque 440 Nm).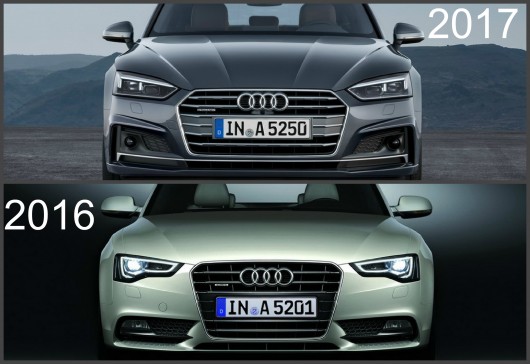 Also, the new model compared to the previous 2017 Audi A5 Sportback has received new technologies, ranging from advanced adaptive cruise control, and ending with the various new driver assistance systems on the road.
As you can see, Audi engineers good updated Audi A5 Sportback. But another question. Will the new model to force owners of previous generations to sell their old used cars and buy a new one. It seems to us, the company Audi will be hard to do, since, despite significant changes in the design, yet the design of two generations of the car are very similar.