New Ford Focus received five stars in crash tests
Crash test new Ford Focus from EuroNCAP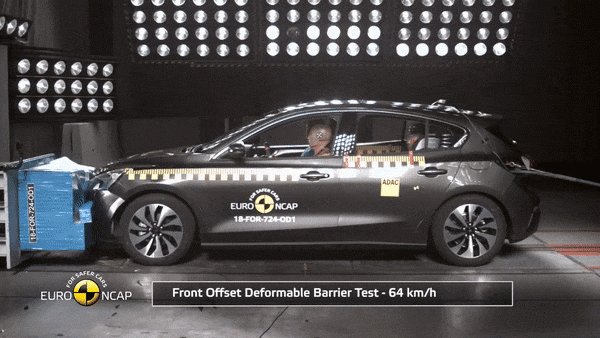 Program European new car assessment (EuroNCAP) has conducted three very important crash test in 2018. During testing, the test was subjected to three innovations: a compact crossover Volvo XC40, the latest hatchback from the Ford – Focus 2019 model year and electric car Nissan Leaf the second generation.
The first two models from Volvo and Ford, also notable for the fact that will be sold in Russia, so our buyer is especially important to look at the possibilities for the protection of passengers of these two foreign brands.

The result of all the three cars were at the height. Five points has deservedly received as electric car and a crossover with an American hatchback.
Ford Focus 2019
Showed the highest score in adult protection occupant – 85% according to the estimates of EuroNCAP.
Child aged 6 to 10 years, located in the holding device on the back seat protected with maximum efficiency. In the event of front and side impact, danger to life and health of a minor participant accident have been identified.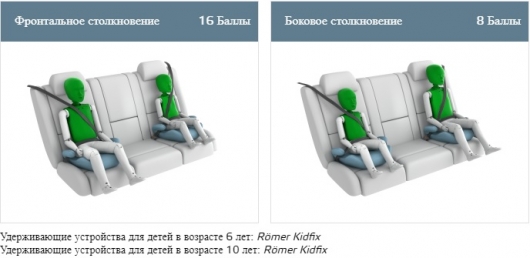 This high level of protection of people inside of a hatchback became available thanks to numerous safety devices, which included:
Impact protection front
Front airbag
The belt tensioners
Load limiter seat belt
Protection from side impact
Side airbag for head protection
Side airbags to protect the chest
Side airbags to protect the pelvis
Protection of child passengers
Isofix
Switch off airbag
Work electronic assistants was estimated at 75%, which means that systems work smoothly, and really help to avoid larger troubles.
Do not forget the engineers of Ford and the pedestrians. For their protection, the model is:
The system of Autonomous emergency braking (AEB) to pedestrian protection
The system of Autonomous emergency braking (AEB) to protect cyclists
The system of Autonomous emergency braking in urban environments AEB City
Thanks to the pedestrian in 72% can feel safer.
Volvo XC40 2019
The standard of all three tested models, of course, the Swedish crossover. Data speak for themselves: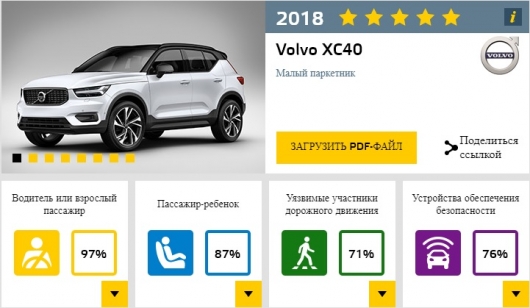 The driver and passengers protected 97%
A juvenile passenger in 87%
For pedestrians it turned out 71%
Numerous security system worked out at 76% (quite a high score)
XC40 deservedly receives five stars.
Nissan Leaf
Crash test showed the following results for the electric vehicle: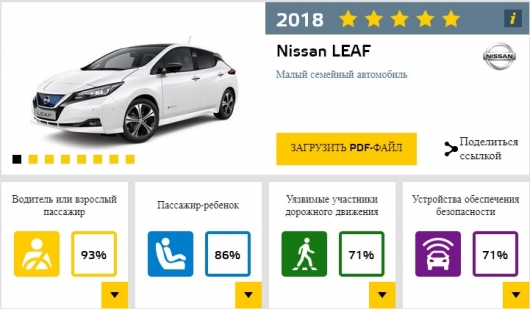 Here is how to carry out the crash test video: