MPs will develop a separate law on auction "beautiful rooms"
The idea of auctions for "beautiful rooms" leaves of deputies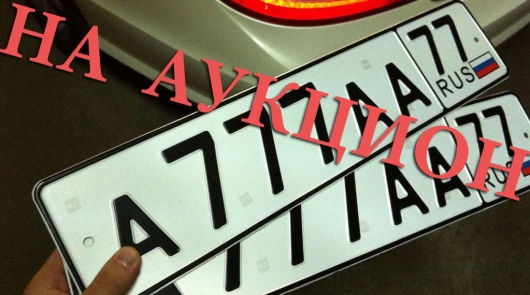 After many modifications, which took almost eight years, the State Duma was adopted in the third reading the draft law "On state registration of vehicles". It is noteworthy that the draft law was first introduced back in autumn 2011, in one form, but in the end, after multiple discussions some of the important elements of the future law were removed, which greatly reduced the revolutionary future changes that are likely to come into force in 2019, for motorists in the country.
For example, the final version removed the point on which the owners could choose their own favourite room at a special auction. However, Deputy Chairman of the state Duma Igor Lebedev and the Chairman of Committee of the state Duma Yaroslav Nilov (LDPR) proposed to adopt a resolution to appropriate Committee on transport and construction, together with the government is entrusted to develop and submit to the Senate a separate bill auctions for license plates that could regulate this activity.
As before, the developers of the project, the issue of "white" auctions requires a specific solution, not allowing the "gray" dealers to conduct illegal trades, leaving from payment of taxes. And as we know, the amount of tin with a "beautiful" room can reach astronomical heights, causing significant damage to the budget with unpaid taxes and fees.
The proposal for a regulation on the procedure for assignment of license plates was approved, including the head of the Duma Committee on transport Eugene Moskvicheva and accepted for review in draft form. In view of this, to put the point in the long history of civilized market coveted license plates, is too early. When the bill numbers will be finalized, and perhaps passed, we finally see what it's like to buy number as lots. Just have to wait. How long?