Mercedes has set the speed record for SUVs at the Nurburgring: Video
Mercedes-AMG GLC 63 S became the fastest SUV on the Nurburgring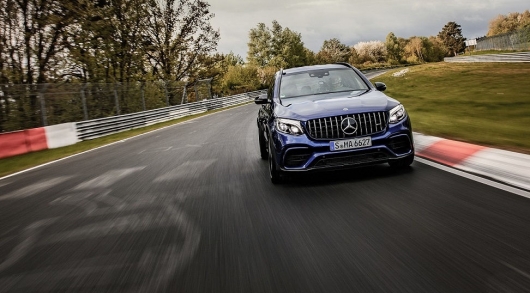 Recently at the Nurburgring was another hero-SUV, setting a record lap for any production car Alfa Romeo Stelvio managed not to break during flight at the Nurburgring and bypass the previous record holder, the German crossover Porsche Cayenne. But all in the "Green Hell" is changing with lightning speed and now Mercedes-AMG GLC 63 S becomes the new force to be reckoned with.
A little technical characteristics of the winner. Weight 2.046 kg, GLC weighs 45 kg more, his rival from Italy, competing in the same weight category. With the power of 503 horsepower hidden in its 4.0-liter V8, the crossover from Stuttgart has two extra "ponies". The difference, as it was not large, but it did not stop on the road show Mercedes all he was capable of. The record Alfa Romeo was taken:
Mercedes says an SUV driven by Markus Hofbauer, product engineer at Mercedes-AMG, was the route for "officially measured and certified" time of 7 minutes and 49.4 seconds. This is for a few moments is better than the rate in 7 minutes and 51.7 seconds shown Stelvia Italian crossover. Well, the record was recorded and now Benz has officially become the fastest production SUV to lap the legendary racing track in Germany.
How long will his leadership? Competitors clearly will not give up without a fight, so the next attempt another record run. Who at the start? The BMW X5? Porsche Again? Or Lexus RX?