Mercedes-Benz E-class 2020: the First information about the restyled car
The new E-class out on the road for testing.
Well, apparently, the company Mercedes has started preparing the next update of the exterior E-class, moving on engineering tests of the restyled model, which is likely to present toward the end of next year as a model 2020. Here are the first pictures taken by the fearless fotosporno.
Of course, as expected, the derived tests on the restyled E-class station wagon was hidden from the eyes of a clever camouflage. But despite the hidden looks, you can still understand what the new model will get a change in the outer design which is similar to the style of the new generation A-class and CLS-class.
Thus, the redesigned E-class will get to change the front part: change the grille (become more aggressive), headlights (will be more angular) and the bumper (will be more streamlined and will get a great new ducts).
The rest of the car will undergo only slight cosmetic changes. But most of all transformation experts expect inside. So, of course, the new E-class will receive the latest infotainment system with MBUX (first introduced on the new A-class), which was supposed to replace the outdated COMAND system, standing on the current models W213 E-class.
As A class, the new infotainment system will complement the already luxurious cabin, the redesigned sedan and wagon.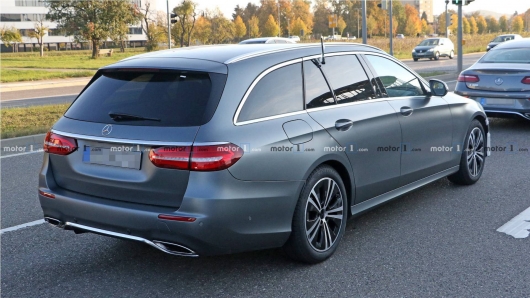 We also expect that Mercedes along with a restyled E-class will bring to market a new hybrid model, with the 362-horsepower hybrid powertrain (a 3.0-liter six-cylinder + electric motor). In addition, it is planned to replace the four-cylinder 2.0-litre turbocharged engine producing 241 HP most Likely, instead, Mercedes will use the inline 2.0-liter turbo engine capacity of 225 HP, which is installed in the upgraded C300.
For Europeans, who like diesel cars, will also be available the upgraded motors.