Mercedes, Bentley or even Land Cruiser? Choosing a car for a wedding with Elite Car
The wedding, of course, not necessarily once in a lifetime, but whatever it was, the trip to the Registrar, to the photo shoot and the restaurant needs to be remembered. And, therefore, the machine for these purposes you need to choose with all the thoroughness. Fortunately, now is not the 90s, and the choice is not limited to black or white the Volga – our good friends at Elite Car in case of an important celebration a couple of dozen different models. Let's see what will fit in your case…
Affiliate material
The best or nothing
Ambition – anything but not a crime, believe in Daimler, and if you agree with them, no time to explain, just rent Mercedes-Benz. Here you have three options to choose from:
Classic black E-Klasse, 2019 in the AMG-package, with a 194-horsepower diesel engine. A lot of space in the back row, all modern systems of comfort and security, soft lighting in the cabin and nothing more for 14 000 rubles per day. You know the value of yourself and your partner (and she's tall), but does not aim by any means to stand out – if you buy such a car, your life together will be held in a calm and measured pace and at a decent level.
The legendary "cube" Gelandewagen will suit those for whom the main thing – experience. It is loud and awkward? No doubt. Cramped in the cabin? Perhaps. But it is possible to break into a new stage in life, opening the door with his feet – the G-Klasse will give you a charge of insolence for many years to come. If "cube" is definitely your have to choose between the 3-liter black for 20 000 rubles per day, or take you to a complete separation 5.5-liter white for 28 000 rubles per day.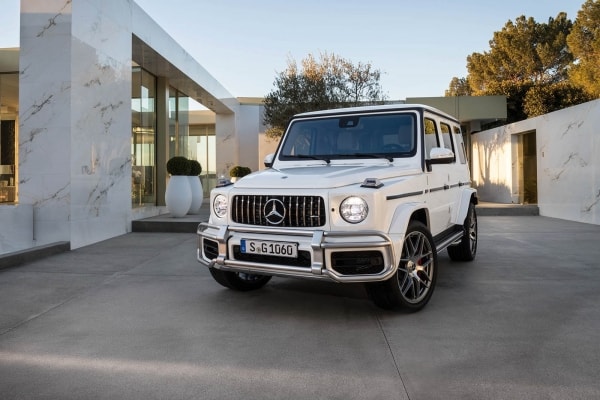 Mercedes-Benz G-Klasse 2018–present
E-Klasse – trivial, and G-Klasse – not gracefully? Then take a selfish flagship S-Klasse Coupe over 46 000 rubles per day: 455 forces, 4.7 litre V8, incredible black leather interior – nothing better in the automotive industry has not yet figured out. One day you will go to such grantaire on the azure coast and sentimentally remember the first time I rolled on such a machine the day of the wedding.
Alternatives
If you want the car class Gran Turismo, but Mercedes is expensive, get a Bentley. The Continental GT is a classic of the genre, the model is more conservative than the S-Klasse. You will not have such amount of modern electronics, as in a German car, but it will be lovely soft leather, real wood and 5-liter V8: 32 000 rubles per day – and you're a bit of an English aristocrat.
How to make so that you can go would be very fast, but sit higher and not be afraid of bad roads? Porsche answered this question 20 years ago, releasing the Cayenne – a car with a full parczewskie genes sports cars and, moreover, (which few know) with a good capacity of an SUV. Now the Park Elite Car eat fresh Cayenne 3 generation 2018 with a 3-liter 340-horsepower engine 28 000 rubles per day, which – believe me! you will even too much.
Porsche Cayenne Turbo 2018–present
Ephemeral dreams of a Villa in nice and the shopping in Milan you prefer a realistic business plan to life? Already planned buy a spacious house for a family with two or three children, dog and two cats? You already know what your car is, and it is certainly not capricious British or the over-engineered German. Only Toyota Land Cruiser 200 – solid as a rock, and not yielding to the Europeans in terms of comfort. At Elite Car, there are two "Kruzak" – white dorectal for 16 000 rubles per day, or black in the last restyling for 20. Fuel? Well, of course, diesel if you practical really, it is pointless to pay more for consumption certainly not in your rules.
If all the above seems too pretentious (each in its own way), relax and grab something a little more modest but something that will leave a pleasant imprint in the memory. For Example, The Range Rover Evoque. Reasonably sufficient motor 150 forces, reasonable fee 8800 rubles per day and the British… the full premium for the young and carefree.
What else is there?
Yes you are so simple, you can not please everyone! Okay, go to the directory Elite Car – rent a car in Moscow and explore all on their own. There are BMW and Lexus, and Infiniti, and even Genesis. Choose and don't forget to order a van for guests – then again a decent selection from the humble Hyundai H1 to the VW Multivan and Mercedes-Benz Vito.