Lexus has published photos of a new concept –
Before the Paris motor show, Lexus has published photos of the new concept –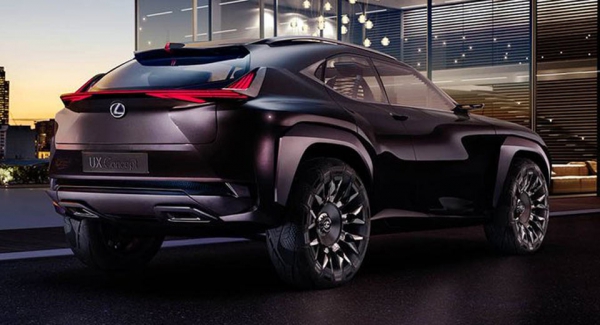 And so, ahead of its debut in Paris, pictures of the latest concept, the Lexus pop up on the Internet.
The motor show in Paris looms in the distance and in preparation for this important for all brands to the event on the Internet there are more and more different kinds of "leaks" of new models, conceptcar and test prototypes. Today we look at the early concept Lexus UX which, as you'd expect from a premium brand owned by Toyota, will be very "sharp" design, created in the same vein as previously submitted to the NX and RX SUVs.
It is not surprising for the concept, UX got a beautiful massive alloy wheels and probably Lambo-doors. About the latter can be indirectly assumed in the case if you take into account the location of the door handles. Another feature that is applied on the UX and is extremely popular among the concepts, is to install side cameras instead of conventional mirrors.*
*Technology given the green light in the land of the rising Sun at the legislative level and in Japan in the near future cars with cameras instead of mirrors should get on the streets and roads. It cannot be excluded that the Lexus UX to the time when he will go into the series will be equipped with this technology on a regular basis.
Returning to the concept. The prototype visible twin exhaust system, from which we can conclude that under the hood, installed an internal combustion engine. Most likely it will be the internal combustion engine paired with an electric motor, today it is fashionable to produce hybrid cars and electric cars.
The concept of UX is likely to serve as a preliminary version of the serial model of the small urban crossover from the prestigious Japanese automaker.
Rumor has it that Lexus has already acquired the trade mark "UX 200", "250 UX" and "UX 250" for its new crossover. So the arrival of the UX remains a matter of time. Will wait for the prestige version of the recently introduced Toyota C-HR.
Official online premiere should happen soon. Most likely, the presentation of the novelty will take place ahead of a public debut scheduled for October at the 2016 Paris motor show.
Currently, almost no information about when to wait the beginning of sales of crossover UX (rumored to be the second half of 2017), and how much it will cost and in what segment interpose. In fact UX is unknown nothing but modest pictures from the back.