Leak: will Hyundai make a Sonata station wagon
The Hyundai is preparing a station wagon for the popular world model Sonata
The world has not gone mad for SUVs and crossovers. According to a source closely familiar with the situation around the Korean new edition of "Korean Car Blog", the Hyundai Sonata will prepare for the next model year, in an unusual body. It is reported that the model will degenerate into a full-fledged universal, at least for the European market.
Yes, Hyundai is very serious tracks changes on all automotive markets and offers in each case unique. So, as you know, USA and possibly Russia, Hyundai began construction of a Palisade SUV. The model was first shown in late November at the motor show in Los Angeles: Officially from Los Angeles: Hyundai Palisade appeared first on live [Photos]
But in Europe, and for most of the population of Russia such cars inaccessible either for financial reasons or is not economically beneficial to possessions (too expensive). Therefore, for these countries, the Koreans are developing a more viable option without the AWD, is available in base manual transmission, which could accommodate as much space as an SUV.
Station wagons are still very popular throughout Europe, especially in Germany and Scandinavia, and it seems that Hyundai seeks to grab a slice of the domestic market of these countries. As for Russia, we have the midsize sedan class value from 1.3 to 1.7 million rubles cannot be called popular, so expect that in the future Hyundai will be relocating to our market a new generation of models in the station wagon hardly worth it. Although, anything is possible.
Nevertheless, the next generation Sonata sedan is currently in active development. They even managed to capture photospin: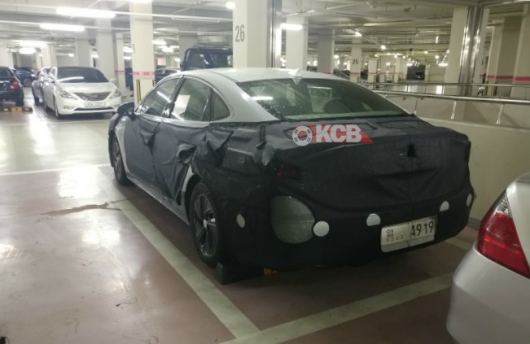 As can be seen, while on a test prototype eighth generation, nothing really visible for the dense matter of camouflage. Early testing stage, after all.
Specific dates of occurrence are not yet known for either the sedan or wagon Sonata. It is believed that the sedan will arrive in 2020 as the model 2021, station wagon, probably will start at the same time.