Lada Niva 6×6 as a response to the Mercedes G63 AMG 6×6
When little full 4 wheel drive.
In the last few years the cars with the wheel formula 6×6 becoming increasingly popular. We've all seen the SUV is a monster Mercedes G63 AMG 6×6 and crazy tuning project Hennessey VelociRaptor 6×6. We were also surprised six-wheeled mini-truck, created on the basis of the Suzuki Jimny. But until recently we didn't see any domestic car project 6×6. Fans of domestic cars can now rejoice. Fortunately, the guys from the channel 54 Garage has finally created the six-wheeled SUV on the basis of the Lada Niva.
Inspired by the idea of making six-wheeled domestic car, team Garage channel 54 as the basis took the usual donnaconna up a four-door Lada Niva 4×4. Mechanics have created an interesting and simple rear axle with four wheels that is equipped with leaf springs. To protect the entire structure against lateral twisting, the mechanics equipped the SUV of the guide frame.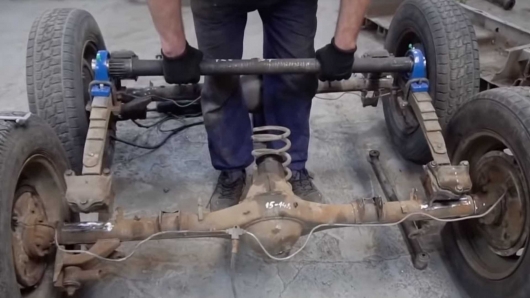 The main problem, as you may have already realized, was to transfer torque to the four wheels located in the rear of the machine. Niva never was equipped with an axial design with two differentials, so the factory solution does not exist. So the mechanics had to work hard because there was no factory solution.
Despite all the difficulties, they managed to do the impossible. By the way, the first tests testiclesvas Frets showed that the rear suspension copes well with road. It's brilliant!
Source: Garage 54 on YouTube