It showed the new Mercedes-Benz SLC

Mercedes renamed its roadster and add a few new engines
Mercedes-Benz  has updated and renamed the SLK Roadster inSLC, completed the renaming of its models.
Presented on the eve of the world premiere, which will be followed next month for 2016 Detroit Motor Show, SLC was refined appearance, changed system hardtop and new engines. The range of powertrains, including 1.6-liter turbo will enter the engine entry-level 1.6-liter turbo and a V6 with a turbocharged masthead formodel AMG.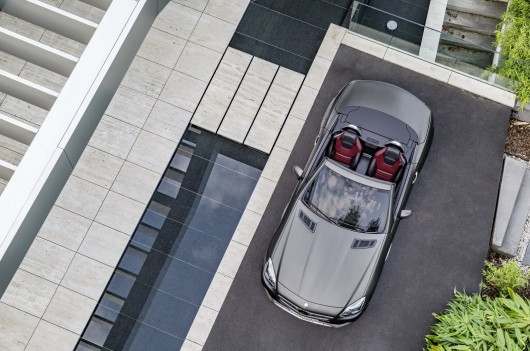 The appearance of the new SLK, which now bears the name of the SLC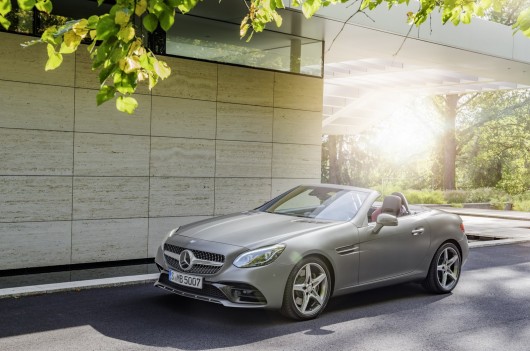 Visually, the most compact roadster from Stuttgart receives a modified hood, "diamond" radiator, a new bumper and new headlights, optionally available with LED system, Intelligent Light. Rear view is also different, the new model gets redeveloped bumper with integrated tailpipes and updated graphics stop signals.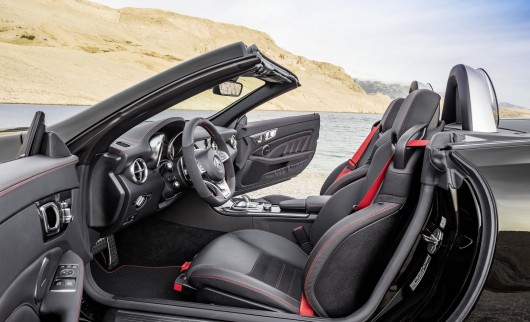 Inside the e Mercedes installed a new perforated sport steering wheel, revised toolbar installed an updated version of the infotainment system COMAND Online with new features and a large 4.1-inch screen. In addition to all the new items installed new types of veneers and finishes, as well as the leather interior.
Changes were made to the roof of the electro-SLC, it can now be opened and closed at speeds up to 40 km / h, in addition, received an automatic roof load separator combined with the optional extra Vario-roof or Keyless-GO.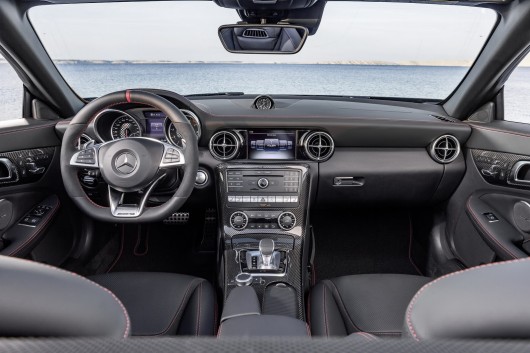 The new range of engines for the Mercedes SLC is ready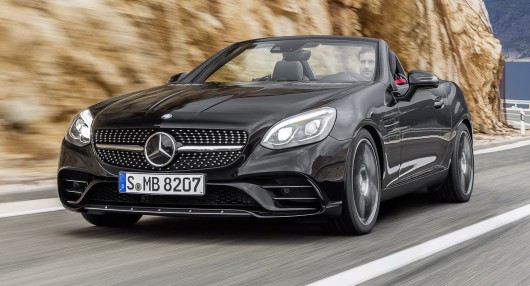 One of the main features of the updated new flagship SLC 43 AMG, which replaces the outgoing SLK retired with atmospheric 5.5-liter gasoline V8  55 AMG with a new 3.0 liter "lighter" with a twin-turbo V6.Surprisingly, the 3.0 liter turbo engine loses 54 hp in comparison with the V8, which had 362 hp, but will receive an additional 19 Nm of torque. Peak torque was 520 Nm ranging from 2,000 to 4,200 r / min.

Transmission and Suspension 2017 Mercedes-Benz SLC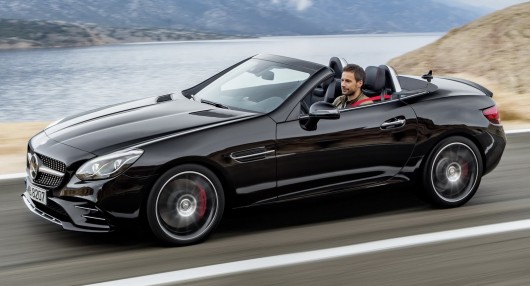 While the SLK 55 AMG used the seven-speed automatic transmission, SLC 43 AMG goes on PPC last generation, 9G-Tronic  with five different modes: Comfort, Sport, Sport Plus, Eco and Individual. Even the new Automatic did a miracle, SLC 0.1 seconds slower when accelerating up to 100 km / h, compared to its predecessor, the SLK 55 AMG, which was doing 100 km / h in 4.7 seconds (affects less power), and the maximum a top speed of re-AMG model is limited to 250 km / h.
On the other hand, improved fuel economy, about 0.6 l / 100 km as compared with the precursor. Now it is 7.8 l / 100 km.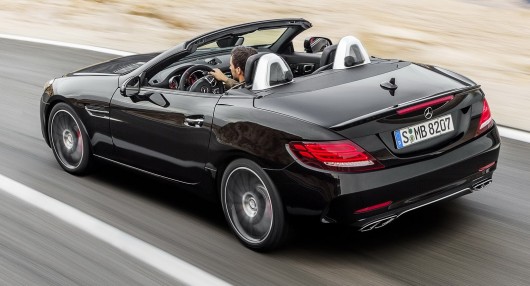 In addition to the standard sports suspension, SLC 45 AMG can complete the optional AMG RIDE CONTROL, sport suspension with adjustable damping.
Initial level Mercedes SLC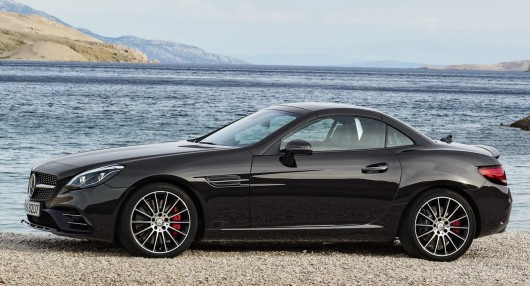 On the other side of its line of Mercedes introduces new entry-level models for those markets, where buyers can not afford to purchase expensive AMG version, but darker than the less want to touch the beautiful. SLC 180 is equipped with a 1.6-liter turbocharged four-cylinder gasoline engine in the 154 hp Modest can reach 100 km / h in 7.9 seconds.
In Europe, the SLC line will also include the SLC 200 to 181 hp (2.0 liter turbocharged petrol engine), SLC 300 to 242 hp (2.0-liter petrol turboversii) and SLC 250d diesel with 201 ponies (engine displacement of 2.0 liters). SLC 180 and SLC 200 are equipped with 6-speed manual transmission, while the automatic transmission 9G-TRONIC is available for these models as an option and is installed as standard in the SLC 250d, SLC 300 and SLC 43.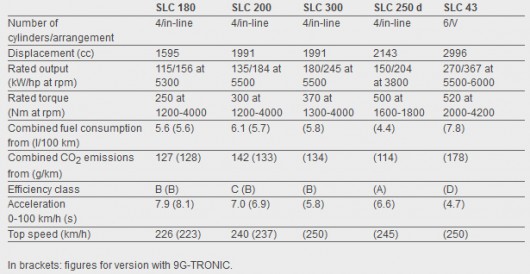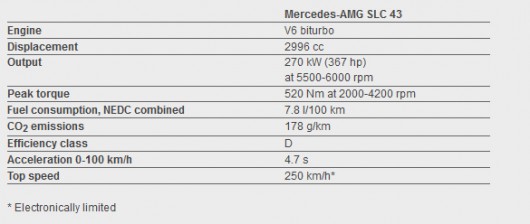 Photo Mercedes-Benz SLC 2017