In Hyundai told how much it will cost Santa Fe
Hyundai Santa Fe fourth generation
The fourth generation, the flagship Hyundai Santa Fe crossover, on the eve of the show to the Russian audience at the Moscow international motor show in 2018, was posted on the official website hyundai.ru as several trim models with prices and technical characteristics. So, according to the section of the carmaker, the base version of the car will cost 1.999.000 rubles. The maximum amount to be paid taking into account a variety of additional options and a more powerful engine will be 2.699.000 rubles.
In addition to the three trim levels: "Family" (1.999.000 rubles), "Lifestyle" (2.159.000 rubles) and "Premier" (2.329.000 rubles), for an SUV, you can additionally order some of option, unique body color and interior trim. The maximum cost of the finished Assembly "Premier" versions with a 2.4-liter engine with 188 HP and six-speed automatic transmission corresponds to 2.329.000 rubles.
If you take a similar completion, the diesel engine 2.2-liter (200 HP) Theta-II 2.4 GDI, he's got the minimum package starts with "Lifestyle" and would cost 2.329.000 rubles.
Model "Premier" will cost 2.499.000 rubles, and "High-tech" option package which will include: ventilated front seats, glazing with additional insulation (windshield and front side glass), power driver's seat in 14 directions, and passengers in 8, wireless charger (Qi standard), the system automatic Parking assistant hold vehicle on the lane, the system automatic braking before an obstacle at the front, intelligent cruise control with lane departure in the tube, system cameras and much more, will cost 2.699.000 rubles.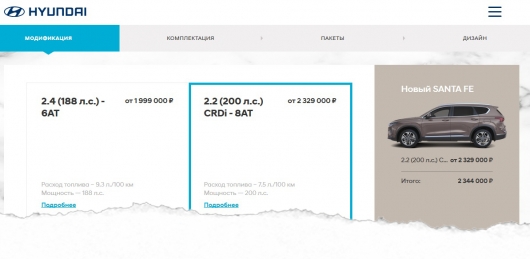 More info to come and see it on the official website of the Hyundai here.
By the way, the package "Premier" for the opportunity to enjoy a seven-seat version of the SUV with optional third row with both petrol and diesel engine. Plus 50 thousand rubles.
In appearance, the developers in the exterior of the SUV made a bet on the massive grille. This wavy structure, which is available in chrome and matte-black color. At the edges it is supplemented by the creative architecture of optical devices – running lights and headlamps.
Increased area of the side glass of the vehicle, which contributes to the effective natural interior lighting. Profile of the SUV is smooth, elegant roofline sloping to the rear, which gives the Santa Fe an elegant gloss.
Inside the "Korean" combines conservative design concept with adaptability, however, as always. Note that this model of the Korean SUV has become one of the most anticipated in the Russian market, taking in the ranking of 11 th place.