In 2018, the secondary car market continued to grow old
Old cars are becoming more Mature in 2018

What is the company specializing in the sales of used cars through online auction, this means that such an online service has a large database through which you can analyze the condition of the used car market. And engaged the experts of the service examined under the microscope the state of the market don't new cars for sale in the fall of 2018.
So, according to CarPrice, for cars aged 10 to 15 years accounted for 32.6% of the total number of machines, which is 9.2 percentage points higher than the fall of 2017. The average cost of a used car in Russia declined by 5.5% compared to last year and amounted to 449 127 rubles.
Here the ratio of cars by age in September-November 2018 compared to the same period last year: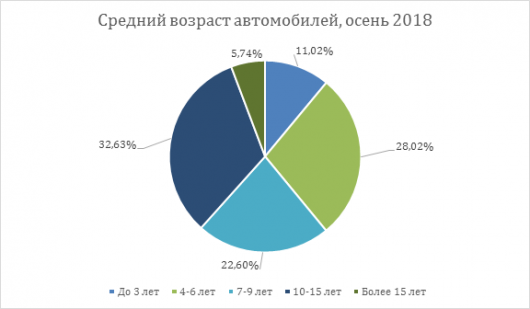 What we see here? Yes, the fact that the market of used cars is aging and the reason for this, according to experts, the deficiency of "three years old".
Denis Dolmatov, General Director of the company CarPrice, explained the trend as follows: "In 2015, the new car market "failed" on the third, the results of this failure are visible today, when these cars go to the secondary market. Any shortfall leads to higher prices. In our opinion, at the beginning of 2019, "three year olds" will rise in price by 5-10%. But the car is "aged", most likely, will not be more expensive: their price depends on condition, mileage, number of owners, condition of the body. Price changes for new cars they have almost no influence just because 7-10 year old models long out of production".
Also in the market becomes less fresh cars age 4-6 years. Experts CarPrice this is attributed to the increase in the term of car ownership. The owners of these machines are in no hurry to part with them, waiting for what will happen to the market and prices. And it is quite logical. Any owner of such vehicle, I think will agree with this.
And here is the most popular selling cars (comparison for autumn of 2018, and 2017)
As for the same period last year, the mass on the proposal by the car was the Ford Focus III. Restyled Opel Astra H has retained its second position in popularity in Russia, and here is last year's Skoda, the three leaders broke restyled Focus of the second generation. Further in accordance with the data in the table, there is a serious change.
It is noted that the list included only the most in demand in the auto market, from which were excluded the car for less than 40 thousand rubles, due to poor technical condition of most machines.