I bought a Mercedes E-class for 150, 000 rubles, and have never disappointed in this purchase
Bought a Mercedes for 150 thousand rubles, invested another 280 thousand rubles and never regretted.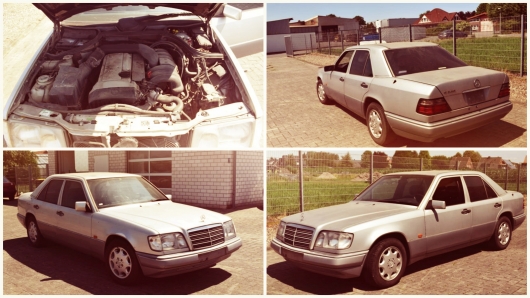 So it happened, but I have more than 20 years, I go for a used German car business class. My first car was the legendary Mercedes w124 1988. Since then, I have not cheated on their tastes and at the moment own a recently purchased sedan e320 1995.
Although I can afford to buy a fresh major "eshku" or plastic new Solaris foil. But, alas. Well, I'm not attracted to the modern car industry.
Another thing – the old classic, which is imbued with a unique spirit of the 80s and early 90s.
Yes, in our times, of course, not many heroes who refuse to buy an old car business class. But to me the difficulties of owning an old Mercedes is never frightened. The experience of owning the old "eskimi". For more than 20 years I was a happy owner of various Mercedes E-class in the 124-m body. There was even the experience of owning a legendary blunt (E500), the engine of which was designed by Porsche.
In General, buying old 124th, I was not afraid. The main thing was to find ušatannyj and not a criminal option. Unfortunately, to find "not a crime" was not so easy. In the 90 years in Russia were imported a lot of uncleared cars, many of whom were wanted by Interpol.
In the end, our craftsmen, interrupting rooms, have produced a huge Park counterparts who have recently began to surface across the country after the emergence of a unified database of traffic police in the framework of the simplified order of registration of vehicles.
I knew that finding an old Mercedes in good condition, I will not experience global problems, which are now feared by many motorists.
In General, I have an idea how to treat many of the problems in this machine and, of course, how to exploit it correctly.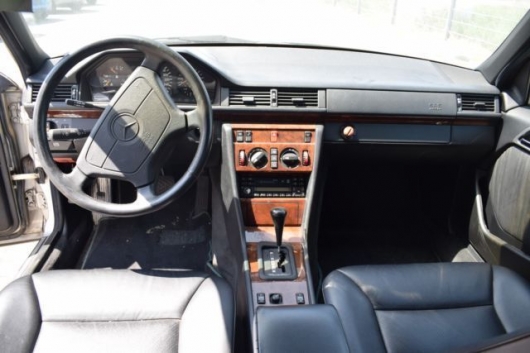 There is much I can do myself. Yes, there are some things that I difficult to do yourself. But if necessary, I had to turn to in a major service where you can be sure that the car will not break and will not be stripped down to the molecules. Plus, of course, I know where to get normal parts for this car at reasonable prices without the risk to buy a "Chinese clone" is worse than the quality of spare parts for the old Volga.
By the way, I owned a E-class in w210 body, but he quickly tired of me. However, I sold it due to financial problems. Then, when there was money, I had a choice – to buy E-class w211 in the body or to find my favorite 124th. In principle, I could also buy and w212, or at the advice of friends, to buy a new Korean or Japanese in the loan.
But I decided to buy again 124th. Many of my friends began to think I was crazy. Colleagues at work thought that a few months old "Murzik", I purchased, turn into the Higgs boson, is pre-disintegrated into molecules. Most friends said that I should have bought a new car on credit since 5 years, because, in their opinion, it is today the most important thing in our society to maintain a privileged status. But I firmly decided that I needed to buy again the old E-class.
So, here is what I found for 150, 000. Diesel Mercedes E320 with the 3.2-liter engine produces 220 HP with a completely live automatic gearbox.
Someone can say that that not purchase is complete nonsense and is possible only a man without money and without a head. Not, I hasten to reassure you. It is a wise decision and planned in advance. And, of course, the machine was bought on the last money, as it is now practiced among many motorists.
Yes, the market was much more recent cars in this body and in the next. And I would have no problem paying 5 times more money. But my task was to find not squeezed like a lemon car with a questionable history and an army of previous owners. I was looking for a car with one or two owners max. Unfortunately, during the long months of nationwide search I could find only E-class 1995 in good condition with clean history and with an honest mileage.
The quality of the salon all at the highest level. The level of finish in an old Mercedes is 1000 times better than the new "Solaris", Rio, etc.
Despite the age of the car, in the cabin I found all quiet – no squeaks, no knocks or any strange sounds.
Unfortunately, the old bucks love to rust in the Express mode. This fate is not passed and my version. But I consciously took a car with visible corrosion because once was planning on replacing the sills, front wings, podarit glasses, mount bumpers and brew several small through-holes.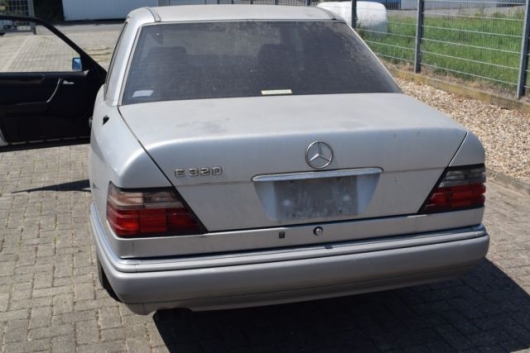 Also rust was on the hood and the trunk lid. But surprisingly, the doors (except one) and the arch was alive. And in the original paint. What do you want? The car is 1995 model year. Believe me, this is the best I found on the market. All that stuff I met a few months of searching for the 124th was really like squeezed oranges, which were very popular regular hosts on the principle of "squeezed – give to another".
Of course, before searching I realized that to find such an option will be like winning the lottery. And, apparently, I turned up good luck.
In the end, the incredible quest to find adequate E-class was a great success. What I saw in our market of used cars. I didn't even expect it so you can mock the German automotive industry. The Germans probably would have been shocked to learn how their Mercedes craftsmen in the garage trying to put parts from Russian and Chinese vehicles.
In General, I have seen plenty of automotive Frankenstein. I at one time thought that he did not find something worthy of my attention. But then I really just got lucky. I finally found an honest diesel-124 e320 with original mileage 320 000 km.
Yes, the mileage was indeed original, unlike the one that was on the junk, which, in my opinion, is at least 5 times twisted mileage.
Luck brought me a car that was out of the garage of a large office, decided to release their corporate garage, where he was for several years occupied a lot of space, becoming dusty furniture, old-124, E-class. Once this machine has served faithfully, carrying the Deputy Director General. And "the Deputy" probably got a more recent version (maybe even S-class), and this machine was sent to the courier Department. But the days passed and the day came when the courier and the division with more efficient modern cars. In the end, our hero put in the garage as interior decoration for a long time and forgot about it.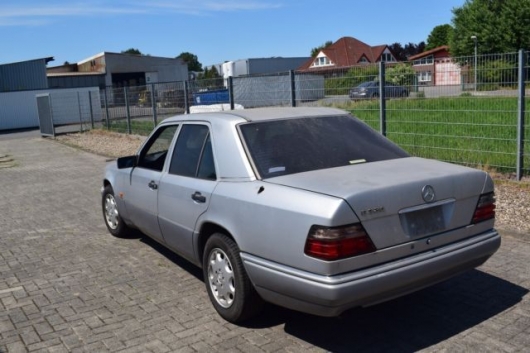 Yes, the time certainly did its evil deed, leaving an imprint on the body in the form of rust. But the car was technically serviceable. See, affected expensive and timely maintenance at a dealer. Apparently, the office had spared no money to feed dealers.
In my version do technically everything was working properly. As I said, the main disadvantage – the condition of the body. But it was very neglected and fixable. Thank God, bottom and side members were alive.
It was amazing that the engine whispered. But more surprised was an automatic that worked like a clock, smoothly switching speed. And that's not all. During my electronic diagnostics-124 did not show any mistakes. It was a miracle. During a long search of the car, it was the first instance that are not problems because of its difficult past, in which his previous owners considered their duty to maintain the car, passing this responsibility to the next owner.
After buying quite live Mercedes with original mileage first time my investments were related to corrosion control. Also I had to change all the fluids, belts and brake pads and brake hoses.
In principle, greater for 50,000 km I didn't do anything. Then I had to change the front arms, the radiator and the passenger door handle.
At the moment on the body I did everything that was planned and started all the holes and changed all the body parts that needed replacement due to corrosion. Including the changed one door and front fenders with an appropriate painting. Panepinto pasted on the bumper and hood. Also brought to mind something from the suspension.
Buying a put in the old Mercedes still 280000 RUB.
With the engine and box no problems. Everything works like a Swiss watch. And I worry for these units. As I said, if 124-m should be as expected, it is unlikely that you will fail in the long term. Yourself must have heard how much these cars went at the time in a taxi in Germany and other countries.
Fortunately I got a really well-groomed option. Oil changed every 7000 km.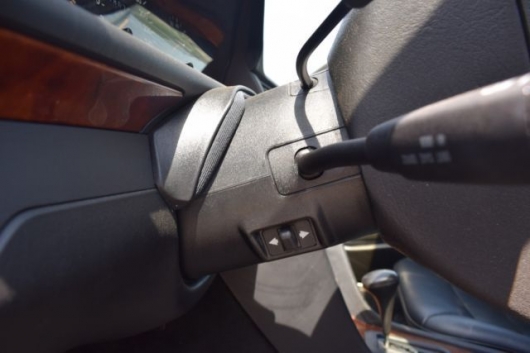 So everything is fine. In the future, most likely, the car will not present any surprises. This car in those years were issued with a large margin of safety. Which is not true of modern cameras.
With regards to disadvantages, it is, of course, the voracity of the 3.2-liter engine and vehicle tax with 220 mares, which otherwise, as a modern dues will not name.
I want to reiterate that initially I would have to buy a fresh car, giving the penultimate generation E-class 500-600 thousand rubles was to string up and to fork even on the W212, giving him 1 million (E200).
But I deliberately did not do that, because I believe, like many car enthusiasts and fans of the old Mercedes that the 124th was really the last standing classic E-class.
Unfortunately, what has replaced the legendary "jaeschke", does not go to any comparison with the unbeatable classics. No wonder the model in this body became one of the most successful and best-selling. Most likely, for this model it was a historical peak.
But it confirms the truthfulness of the words of the fans of this German brand: Mercedes you can't do better – it can make others.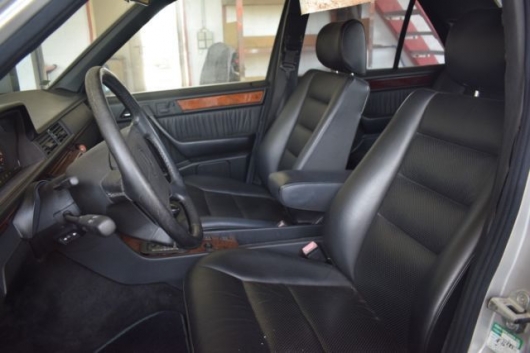 In conclusion, I want to say that contrary to the view that in Russia it is impossible to find an old air car, to make it still it is possible. Yes, of course, without investment you cannot do it in any way. Also need the experience of owning and repairing a car. Without him not even try to climb in such a venture. And, of course, when searching for auto need and luck. Where do without it in our country.
Don't want to invest – buy on credit, or for cash boring modern car industry, are constantly depreciating on the used car market, with which you will inevitably have to forget about the great resource of the main units of the machine.