How will the 2017 Mercedes-AMG E63 in reality?
AMG version of the Mercedes-Benz 2017, rendering photos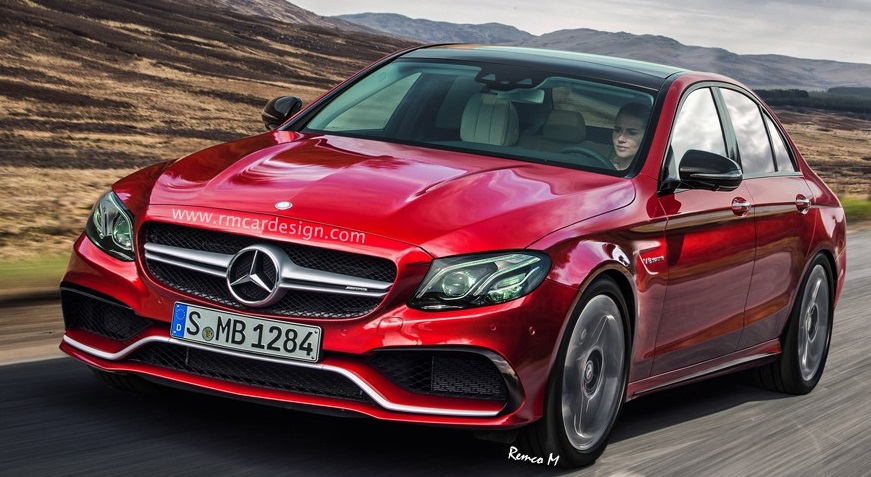 The new  2017 Mercedes-Benz E- Class was shown earlier this month at the North American International Auto Show in Detroit.But the big intrigue remains. Sport version of the midsize sedan from Stuttgart still waiting in the wings.
Seeing the E-Class from all possible angles, we must admit that our curiosity about the AMG version is now not very strong. Do not get us wrong, it's not because of the new E-Class not look fantastic – he's really good! All lies in the fact that recent improvements AMG were quite simple. Contravene the following algorithm.
Take the standard car, the grille is replaced with one that has a strong central horizontal bar with a large three-beam star in the middle. In tune front bumper installed large air ducts to provide greater cooling needs of the mighty 4.0 liter sports car heart. Wheels to AMG version- necessarily have 21-inch alloy wheels, and instead Civil exhaust system, for AMG dual exhaust system is installed, along with a massive diffuser in the rear bumper sports and pronounced spoiler on the trunk lid. That's basically all science, the new version is charged by AMG ready.
That's what guided the designer templates, when he created his rendering of a photo of a new, yet undisclosed Mercedes -AMG E63. Looking at the two pictures shown, it is clear that he took into account all possible nuances in order to make a perfect sketch of the future version of the E63, model AMG. The only thing special line cowl neckline that will be present in the model.


The only thing that we can not see in this photo rendering, the engine of the car. Mercedes-AMG E63, is expected to come with an excellent novelty, 4.0-liter bi-turbocharged V8. But what we have seen under the hood of GT and less than their fellow C63. In contrast to these two vehicles, E63, will have increased capacity, about 600 horsepower, more than GT S and C63 with their S 510 hp
Benz Mercedes-  AMG E63 will be launched in the series with a seven-speed automatic  gearshift from AMG, but he also has to get a new nine-speed version (based on 9G-TRONIC), after it goes on sale.
In general, we wait. And while we wait, we vote, do the sketch will match the original? It is interesting to know your opinion?