How many miles you can drive in the car, refueled for 50 euros in different countries of the world
That's how many kilometers you have enough 50 Euro in different countries
Of course, the theme of the year in our country can rightly be considered superpoderosa of fuel at filling stations, which by the end of the year almost resulted in the oil crisis. On the subject of rise in price of fuel who has just not expressed. However, this does not help anyone. Including even those who do not have a car. We have all felt the rise in price of fuel on their skin, which resulted in the acceleration of inflation, which is reflected in the price tags in stores. But as far as fuel in Russia is expensive compared to other countries in the world?
Yes, of course, in each country, the income levels are quite different, which naturally leads to different purchasing power. Nevertheless, it is always interesting to see how much money you spend for fuel to residents of other countries.
And the best way to find out is to compare how much you can drive miles on any car in a particular country at a fixed amount. Here's an interesting study by British insurance company that figured out how much you can drive kilometers behind the wheel of the car, align it for 50 euros (3770 rubles).
For the study of insurance company Veygo has fixed the cost of 1 liter of gasoline in 50 countries. As an example, analysts of the insurance company took the Ford Fiesta (the best-selling car in the UK). They then calculated how far you can go behind the wheel of this car in each of 50 countries, a car loaded with 50 euros (in fact, insurers have a basis for the British £ 50, but it is unlikely the Euro will change the result, as today, the pound and the Euro is no different: £ 50 = 56 = EUR 3 770 RUB at the exchange rate on November 19, 2018).
Depending on the country for 50 euros you can drive from 441 to 3792 kilometers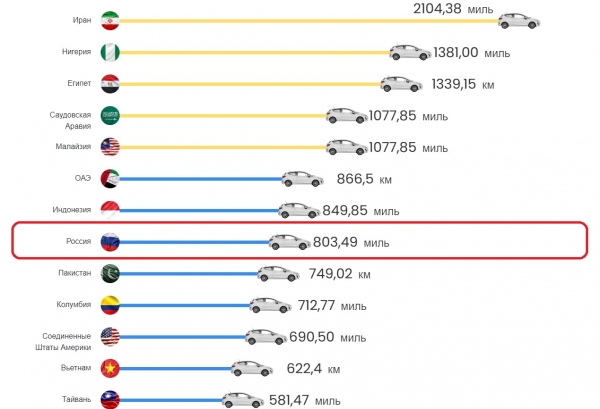 The results are certainly stunning. After all, fuel prices in different countries differ quite substantially. In such oil producing countries as Iran, Saudi Arabia and Nigeria, the cost of fuel is much less than in the countries-importers. For example: the long way Ford Fiesta you can drive in Iran. In this country, the fuel costs 0,24 Euro per 1 liter (18 rubles per 1 liter). As a result, for 50 euros in this country, you can buy 200 liters of fuel. This amount of fuel purchased in Iran, driving a Ford Fiesta you will pass 3 792 km.
Further, the list of countries with the cheapest fuel and, respectively, where 50 euros go a long way, looks like this:
Nigeria (223 km 2), Egypt (155 km 2), Saudi Arabia (1 735 km) and Malaysia (1 735 km).
And where in this study Russia? In principle, our country, despite the significant increase in fuel prices over the last year, still ranks in the TOP 10 countries with the cheapest fuel in the world. The rating of the insurance company Veygo our country occupies 8 th place.
So, according to a study in our country for 50 euros you can buy 81,17 liters (1 liter price of 0.62 Euro = 46 rubles). To fill a full tank of Ford Fiesta, you need to spend around 25.87 euros (1940 rubles). With an average fuel consumption established by the automaker, behind the wheel of a Fiesta for 50 Euro spent on gasoline, you will pass in Russia about 1293,09 km.
And in what country you will travel the least path, spending 50 euros on fuel? According to the report, the most expensive fuel cost in Hong Kong, where the average cost of 1 liter of gasoline is equal to 1.80 euros. In the end, a full tank of fuel will cost you 75,73 Euro (5 679 rubles). So for 50 euros you can drive in Hong Kong only 440,96 km.
How many kilometres is enough for 50 euros of fuel in different countries of the world?
Country
The price per litre
in Euro
The price of a full tank
for 50 euros
Liters per
50 euros
Kilometers
for 50 euros
Iran
0,24
For 9.88
212,59 l
3386,67 km
Nigeria
0,36
15,05
139,51 l
2222,50 km
Egypt
0,37
15.52
135,28 l
2155,15 km
Saudi Arabia
0,46
19,29
108,89 l
1734,63 km
Malaysia
0,46
19,29
108,89 l
1734,63 km
United Arab Emirates (UAE)
0,57
Is 23.99
87,54 l
1394,51 km
Indonesia
0,58
24,46
85,85 l
1367,70 km
Russia
0,62
Around 25.87
81,17 l
1293,09 km
Pakistan
0,66
To 27.75
75,67 l
1205,40 km
Colombia
0,69
Amounted to 29.16
Of 72.00 l
1147,09 km
USA
0,72
30.11
69,75 l
1111,25 km
Vietnam
0,80
33,40
Of 62.88 l
1001,70 km
Taiwan
0,85
35,75
58,74 l
935,78 km
Philippines
0,87
36,69
57,23 l
910,89 km
Mexico
0,87
36,69
57,23 l
910,89 km
Bangladesh
0,87
37,63
55,80 l
888,36 km
Australia
0,91
38,10
55,11 l
877,09 km
Argentina
0,91
38,10
55,11 l
877,09 km
Thailand
0,93
From 39.04
53,79 l
856,17 km
Peru
0,94
39,51
53,15 L
846,51 km
China
0,96
Of 40.45
Of 51.91 l
825,59 km
Canada
0,97
Of 40.92
51,31 l
815,94 km
Brazil
0,99
41,40
50,73 l
807,89 km
India
Of 1.00
41,87
50,16 L
798,23 km
South Africa
1,01
42,34
49,60 l
790,19 km
Chile
1,10
46,10
Of 45.55 l
724,20 km
Turkey
1,11
46,57
45,09 L
717,77 km
Japan
1,13
47,51
44,20 l
703,28 km
Poland
1,18
49, and 39
42,52 l
675,92 km
Romania
1,21
50,80
41,34 l
658,22 km
South Korea
1,22
51,27
40,96 l
651,78 km
Austria
1,28
RS 53.63
Of 39.16 L
622,82 km
Czech Republic
1,29
54,10
38,82 l
617,99 km
New Zealand
1,33
55,98
And 37.52 l
597,07 km
Singapore
1,36
56,92
36,89 l
587,41 km
Switzerland
1,40
58,80
35,71 l
568,10 km
Germany
1,43
60,21
Of 34.99 l
555,22 km
UK
1,44
60,68
34,61 l
550,40 km
Belgium
1,46
61,15
34,34 l
545,57 km
Ireland
1,46
61,15
34,34 l
545,57 km
Finland
1.52 m
63,97
32,83 l
521,43 km
France
1,53
64,44
32,59 l
519,13 km
Sweden
1,53
64.44
32,59 l
519,13 km
Israel
1,57
65,86
Of 31.89 l
506,94 km
Portugal
1,57
65,86
Of 31.89 l
506,94 km
Denmark
Of 1.61
67,74
Of 31.00 l
492,46 km
Italy
1,62
68,21
30,79 l
489,24 km
Netherlands
1,66
69,62
30,16 L
479,58 km
Norway
1,74
72,91
28,80 l
458,66 km
Hong Kong
1,80
75,73
27,73 l
440,96 km
Source: Veygo
TOP countries where for 50 Euro you can drive more kilometers

TOP countries where for 50 Euro you can drive less kilometers